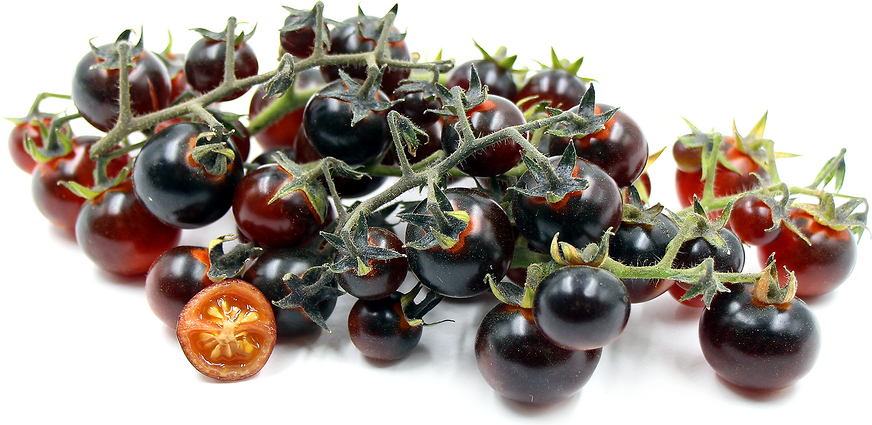 Indigo Blue Berries Cherry Tomatoes
Inventory, lb : 0
Podcast
| | |
| --- | --- |
| Food Buzz: History of Tomatoes | Your browser does not support the audio element. |
Description/Taste
Indigo Blue Berries cherry tomatoes are small fruits, averaging 1 to 2 ounces in weight and 1 to 3 centimeters in diameter, and have a round, somewhat uniform appearance. The tomato's skin is smooth, taut, and glossy and ripens from an amethyst hue to a dark purple, almost black tone. Indigo Blue Berries cherry tomatoes develop their darkest pigments on the sun-exposed side, while the shaded surface will showcase a dark maroon tone. Underneath the surface, the red-brown flesh is thin, aqueous, and succulent, encasing a center filled with tiny golden yellow seeds suspended in a gelatinous liquid. Indigo Blue Berries cherry tomatoes will have a slight give when squeezed and contribute a crisp and tender, popping sensation when bitten. The tomato's flesh has a prominently sweet and fruity flavor balanced with acidity to create a sweet, tangy, and sharp taste.
Seasons/Availability
Indigo Blue Berries cherry tomatoes are available in the summer.
Current Facts
Indigo Blue Berries cherry tomatoes, botanically classified as Solanum lycopersicum, are a small, pigmented variety belonging to the Solanaceae or nightshade family. The cherry tomatoes ripen in approximately 75 days and are an American variety developed in the early 21st century. Indigo Blue Berries cherry tomatoes were naturally created using traditional breeding techniques to produce a cherry tomato with increased anthocyanin content. Anthocyanin gives the tomatoes their dark pigmentation and also provides additional nutritional benefits. It is important to note that the variety was not created using GMO or genetically modified techniques. Indigo Blue Berries are also known as Blue Boar Berries and are primarily a home garden cultivar planted as a novelty among tomato enthusiasts. Growers also favor the variety for its crack resistance, disease tolerance, and extended shelf life. Indigo Blue Berries cherry tomatoes are not commercially cultivated outside of local growers and are mostly found throughout the United States.
Nutritional Value
Indigo Blue Berries cherry tomatoes contain high levels of anthocyanins, naturally occurring antioxidants expressed in the dark blue-purple nature of the fruit. Antioxidants help to reduce inflammation and protect the cells against free radical damage. The cherry tomatoes are a good source of calcium to build strong bones and teeth and iron to develop the protein hemoglobin for oxygen transport through the bloodstream. Indigo Blue Berries cherry tomatoes also contain some phosphorus, sulfur, and potassium and are rich in vitamins A, B, and C.
Applications
Indigo Blue Berries cherry tomatoes have a rich, sweet flavor suited for fresh and cooked preparations. The small tomatoes are most popularly consumed straight out of hand and are added to salads, sliced and tossed into side dishes, mixed into grain bowls, or used as a burst of freshness on appetizer platters. Indigo Blue Berries cherry tomatoes can also be stirred into pasta, roasted as a side to meats, or placed as an edible garnish on main dishes. Indigo Blue Berries cherry tomatoes can be incorporated into any recipe calling for cherry tomatoes and complements the subtle earthy flavoring in rice or quinoa dishes. The variety pairs well with herbs such as oregano, basil, mint, and parsley, cheeses including parmesan, mozzarella, and feta, meats such as beef, pork, poultry, and turkey, seafood, zucchini, mushrooms, and broccoli. Whole, unwashed Indigo Blue Berries cherry tomatoes will keep 1 to 2 weeks when stored at room temperature away from direct sunlight.
Ethnic/Cultural Info
Blue tomatoes like the Indigo Blue Berries cherry tomato have been purposely bred to yield high levels of anthocyanin, the pigment responsible for the blue and purple coloring of many fruits, including blueberries, plums, eggplant, cherries, and blackberries. The first improved commercial blue tomato variety was indigo rose, a cultivar developed by Dr. Jim Myers at Oregon State University. It has been said that Myers discovered pigmented, wild tomatoes growing on the Galapagos Islands and in South America and spent over 12 years naturally crossbreeding the tomatoes. Dr. Myers sought to create a flavorful tomato with increased nutritional value and an unusual appearance. Indigo rose tomatoes were released in 2012. After their release, Dr. Myers and the Oregon State University team continued breeding blue tomatoes with increased anthocyanin levels. The team crossed indigo rose with heirloom varieties to further improve flavor. Bradley Gates of Wild Boar Farms in St. Helena, Napa Valley, was also inspired by the influx of improved blue tomatoes and began creating his own breeds. In a little over five years, Gates bred many different blue tomatoes, including Indigo Blue Berries, Indigo cherry drops, blue beauty, and indigo apples. Wild Boar Farms is recognized as one of the leading tomato breeders in the United States, and Gates proudly proclaims that they offer "some of the most outrageous varieties available on the planet."
Geography/History
Indigo Blue Berries cherry tomatoes are an open-pollinated cultivar developed by Brad Gates of Wild Boar Farms in St. Helena, Napa Valley, California. The variety was naturally created using traditional crossbreeding techniques and is a descendant of the original improved blue tomato varieties created by Dr. Jim Myers. Indigo Blue Berries cherry tomatoes were introduced around 2015. Today Indigo Blue Berries cherry tomatoes are a specialty home garden variety planted for their novelty, flavor, and unusual appearance. The cultivar is not commercially cultivated, but some specialty grocers may sell it through roadside stands and farmers markets throughout California and other warm regions of the United States.