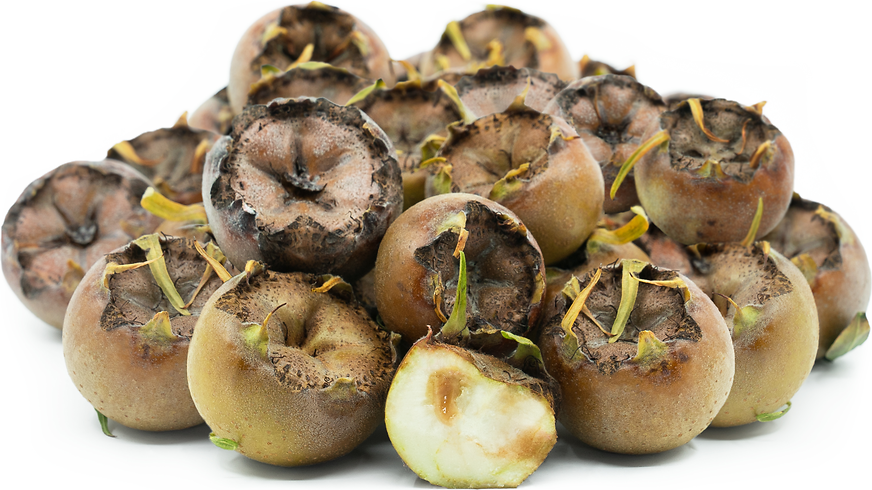 Nottingham Medlar
Inventory, lb : 0
Description/Taste

Nottingham medlars are a small varietal, averaging 3 to 5 centimeters in diameter, and have a round to ovate appearance with a central, large calyx on one side of the fruit. The skin is tough, taut, and light to dark brown with a textured, almost russet-like feel. The calyx is surrounded by spreading, tapering sepals, and the ivory-to-cream-colored flesh is firm and solid. It is important to note that in their hard, dense, and sour stage, medlar fruits must be allowed to soften and mature in a process known as bletting before consumption. The fruits can be left on the tree or stored in a ventilated area to blet, and during this transition, the acid and tannins within the flesh are converted into sugars and starch, becoming edible. Bletted medlars will have wrinkled, malleable skin, and the flesh will turn dark brown and develops a sticky, paste-like consistency. Some consumers think the fruits look rotten in this stage, but the flesh is entirely edible and safe for consumption. The seeds should be discarded as they are inedible. Nottingham medlars have a rich, sweet, and sharp flavor with caramel, apple sauce, date, and spice-like undertones.


Seasons/Availability

Nottingham medlars are harvested in the mid to late fall and can be stored through the winter.


Current Facts

Nottingham medlars, botanically classified as Mespilus germanica 'Nottingham,' are the fruits of a small, deciduous tree belonging to the Rosaceae family. Medlar is an ancient fruit that has fallen into obscurity in the modern day, but historically, the trees were widespread in private gardens and were a highly desired fruit. In Victorian England, medlars were a popular wintertime treat as it was one of the only fruits to ripen in the cold. The fruit's sweet and sugary taste also acted as a preferred sweetener before sugar was introduced into England. Medlar was once so well-known across England that it was a fashionable tree in home gardens. It was also referenced by famous authors, including Shakespeare and Chaucer, despite frequently being described using crude nicknames and symbolism. As quickly as medlars rose to fame, they were abandoned in England for fruits such as apples and pears that were more convenient to grow and did not require bletting. Nottingham medlars are one of the most popular varieties currently in England, and the trees are often planted for their compact nature, only reaching 2.5 to 3 meters in height. Nottingham medlar trees are also ornamental in nature, displaying twisting branches, dark green leathery foliage, and a large crop of seasonal fruits. The fruits are smaller than other varieties but contain a strong, sweet, and sharp flavor, favored for fresh eating, jam-making, and other cooked preparations. Nottingham medlars are also disease and pest-resistant, highly productive, and hardy, surviving without the need for excessive attention or care. Presently, Nottingham medlars are found through select farms and heritage growers as a novelty.


Nutritional Value

Nottingham medlars are a source of fiber to regulate the digestive tract, potassium to balance fluid levels, vitamin C to strengthen the immune system, and iron to develop the protein hemoglobin for oxygen transport through the bloodstream. The variety also provides some magnesium to control optimal nerve functioning, calcium to build strong bones and teeth, phosphorus to repair cells and tissues, and other nutrients, including niacin, antioxidants, riboflavin, B vitamins, and vitamin A. During the 17th and 18th centuries in England, medlar was thought to aid digestion, and the leaves, bark, and fruits of the tree were incorporated into natural medicines to soothe stomach issues. The fruits were also used as a source of vitamin C during the bleak winter season and were sometimes used in the treatment of kidney stones.


Applications

Nottingham medlars must be bletted before they are considered ripe and will have a soft, sticky, and paste-like texture. Once bletted, the calyx can be removed from the fruit, and the flesh can be sucked directly from the skin, discarding the seeds and skin. Nottingham medlars can also be consumed with sugar and cream, paired with wine or whiskey as a simple dessert, or used as a sweetener in tarts, puddings, cakes, and other desserts. The fruits were especially favored for baking into pies with apples to create a decadent, sweet, and spice-filled treat. In addition to baked goods, Nottingham medlars are simmered into marmalades, jams, jellies, and chutney, or they are incorporated into sauces to drizzle over roasted meats. In the Victorian Era, medlars were made into a paste or cheese, formed into unusual shapes with detailed molds. These pastes and cheeses were a popular holiday dish and were typically served as an appetizer or dessert. Nottingham medlars should be stored for 2 to 3 weeks if they are still hard when picked from the tree. It is recommended to wash the fruits in a bowl of warm salt water to remove dirt and debris and store the fruits in a well-ventilated location with the calyx, also known as the eye, facing down. The fruits are left to naturally soften in a cool and dark location, and once soft, they can be consumed in any preparation calling for medlar.


Ethnic/Cultural Info

King Henry VIII was a lover of medlar and made the fruits fashionable among the royal court during the 16th century. He requested medlars to be planted in the Hampton Court Palace gardens, one of the homes of the king and his many wives and was rumored to have enjoyed the fruits in medlar tarts. The tarts were traditionally served at his extravagant banquets. While the court dined on decadent desserts and savory meat main dishes, King Henry VII was famous for having his champion knight charge through the banquet hall as entertainment. King Henry VII also gave medlars as gifts to other kings. The king gifted large quantities of medlar to King Francois I in France, along with other items such as ducks, geese, and swans, as celebratory presents for successful political deals. The most notable celebration between the kings was the signing of the 1518 Treaty of London. The 17-day jamboree between France and England was held in Calais, France, and consisted of jousting tournaments, feasts, and attendees sleeping on-site in tents. Legend has it that so much gold fabric was used to make the tents that the event also became known as The Field of the Cloth of Gold.


Geography/History

Medlar is an ancient fruit native to a region spanning the southeastern edge of the Balkan Peninsula, into Iran, and north to Crimea. The fruit trees thrive in temperate to sub-Mediterranean climates and were known by the Greeks sometime around 700 BCE and the Romans in 200 BCE. Medlar trees were spread across Europe and were planted in England by the Romans. Trees were sown along the Roman's paths in southeastern England, and by the Middle Ages, the fruits were cultivated in communal and private gardens. Medlar reached the height of its popularity in England in the 17th and 18th centuries, and the fruits were a common item sold in local markets. During this time, there were several varieties of medlar cultivated as a medicinal and culinary tree. Nottingham medlar was thought to have been developed in England around the same time as the fruit's increasing popularity. Nottingham medlars were first referenced by Richard Weston in 1777 and were mentioned in writings sourced from the London firm Luker and Smith. The variety was also recorded in "Uncommon Fruits for Every Garden," written by Lee Rich. Author Rich mentions that Nottingham may be one of the oldest varieties still growing in England. Today Nottingham medlar is present but challenging to find as medlar has generally fallen into obscurity. The fruits are produced by a few specialty gardens and farms in England and are sold through farm stands and local markets. The fruits are not sold in retail grocery chains but are occasionally offered seasonally at Borough Market in London. Outside of England, Nottingham medlar is grown on a small scale in Europe and Australia. The Nottingham medlars featured in the photograph above were sourced from Brogdale Farm in Faversham, Kent, England.