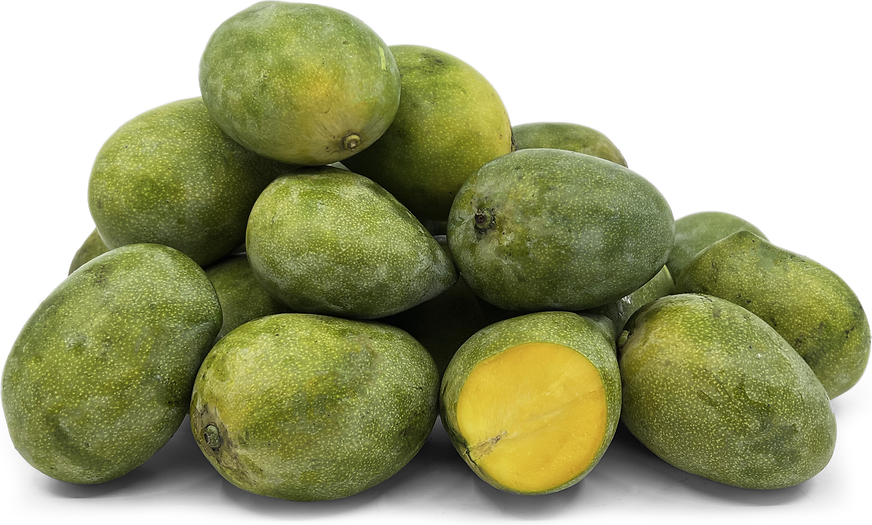 Kalapadi Mangoes
Inventory, lb : 0
Description/Taste

Kalapadi mangoes are a small to medium-sized varietal, generally smaller than other Indian commercial cultivars, and are oval to oblong in shape with one curved to small, pointed end. The variety averages 100 to 200 grams in weight at harvest and has thick, smooth, and taut skin. The mangoes ripen from green to a variegated blend of green and golden yellow hues, and even when ripe, the fruit may have some green present. The skin also features a powdery coating naturally produced by the fruits to keep pests away, and prominent tiny dots are scattered across the surface. Underneath the skin, the dark orange to yellow-orange flesh is dense, low in fiber, and aqueous with a tender, succulent, and soft consistency. The flesh also encases a central, flat, inedible seed that is typically discarded during consumption. Kalapadi mangoes only release a subtle scent when ripe and should feel heavy for their size. The fruits have a high sugar content, ranging from 19 to 22 Brix, creating a sweet taste combined with tangy, tropical, fruity, and spice-filled nuances.


Seasons/Availability

Kalapadi mangoes are available in the summer in India, with a peak season in March through June.


Current Facts

Kalapadi mangoes, botanically classified as Mangifera indica, are an Indian variety belonging to the Anacardiaceae family. The monoembryonic cultivar is considered one of the sweetest mango varieties grown in Southern India and is a favored summer delicacy. Kalapadi mangoes, also known as Kalapad, Kalapap, Kalpadi, and Kalapady, are a smaller commercial variety, only produced in limited quantities, and are primarily sold in Southern India as a fresh eating or dessert mango. The variety grows on evergreen trees reaching 10 to 15 meters in height and typically takes 3 to 5 years to bear fruit. Kalapadi mango trees annually produce high yields of fruits, and the variety is consistently chosen as a home garden cultivar for the tree's small stature. In the modern day, Kalapadi mangoes are seasonal mangoes valued for their versatility, as the fruits can be eaten raw or cooked in their green and ripe stages. The variety has also been used to breed several hybrid mangoes commercially produced in India, including Prabhashanker and Mahmood Bahar mangoes.


Nutritional Value

Kalapadi mangoes have not been extensively studied for their nutritional properties. Like other mangoes, the variety is a source of fiber to regulate the digestive tract, vitamin A to maintain healthy organ functioning, and potassium to balance fluid levels within the bloodstream. Kalapadi mangoes also provide vitamin C to boost the immune system, magnesium to control optimal nerve functioning, calcium to build strong bones and teeth, iron to develop the protein hemoglobin for oxygen transport through the bloodstream, and other nutrients, including vitamin K, copper, phosphorus, manganese, and zinc. In Ayurveda, the traditional medicinal practice in India, mangoes are viewed as a method to cool pitta, the energy in the body, and to soothe inflammation.


Applications

Kalapadi mangoes have a sweet and tangy taste suited for fresh and cooked preparations. The variety is traditionally consumed straight out of hand when ripe, discarding the seed and skin. Kalapadi mangoes can also be sliced and served on fruit platters, mixed into salads, or eaten as a fresh topping over parfaits, porridge, and other breakfast dishes. In India, Kalapadi mangoes are popularly blended into smoothies, shakes, and juices as a refreshing element. The fruits are also pureed and frozen into ice cream, sorbet, and popsicles. Try incorporating Kalapadi mangoes into mango kalakand, a sweet made from condensed milk, whole milk, and mangoes. The variety can also be simmered into chutney, combined with yogurt and spices to make shrikhand, added to custards and puddings, or infused into panna cotta. Younger, green Kalapadi mangoes have a firm and slightly sour taste, commonly cooked into curries for added texture. The fruits are also used in maanga murungakka, a type of sambar using mangoes and drumstick fruits, cooked into a candy known as manga thera, or pickled as a tangy condiment. Kalapadi mangoes pair well with spices such as saffron, cardamom, ginger, and cinnamon, nuts such as almonds, cashews, and peanuts, and herbs including basil, mint, or cilantro. Whole, unopened Kalapadi mangoes will ripen in 1 to 2 weeks when stored at room temperature away from direct sunlight. Once ripe, the mangoes should be immediately consumed for the best quality and flavor.


Ethnic/Cultural Info

In Hindu mythology, mangoes were the prize of a contest between the gods. Legend has it that the mischievous sage known as Narada visited the house of Shiva and Parvati, two well-known Hindu gods. Narada offered a beautiful mango to the gods in return for their hospitality, and when the mango was received, Parvati noticed that her sons Ganesh and Katikeya wanted to try the fruit. Parvati was going to split the mango in half when Narada stopped her, saying that the fruit could not be divided. He instead suggested the two sons compete in a contest for the fruit. The first son to run around the world three times would be awarded the fruit. Kartikeya immediately left in a sprint, while Ganesh remained in the home. When Kartikeya returned, he was surprised to find Ganesh holding the fruit. While Kartikeya was circling the world, Ganesh circled his parents three times, symbolic that they were his world, winning him the mango. In depictions of Ganesh, the Hindu god is often seen holding a mango.


Geography/History

Kalapadi mangoes are native to India. Much of the variety's history is unknown, but the mangoes were thought to have arisen from the village of Kalappadi in the Bodinaikkannur area of the state of Tamil Nadu. Bodinaikkannur also borders the Indian state of Kerala, and the variety spread in cultivation over time into the neighboring state. Kalapadi mangoes thrive in tropical to subtropical regions of India with rich soils and are commercially grown on a small scale. The variety is less known than other Indian cultivars, but it has remained a popular home garden tree throughout Southern India. Today, Kalapadi mangoes are grown in the states of Konkan, Tamil Nadu, Kerala, Maharashtra, and Karnataka. When in season, the fruits are sold directly through growers, in fresh markets, at roadside stands, and through select grocers. The Kalapadi mangoes featured in the photograph above were sourced through Spar supermarket in Chennai, India.