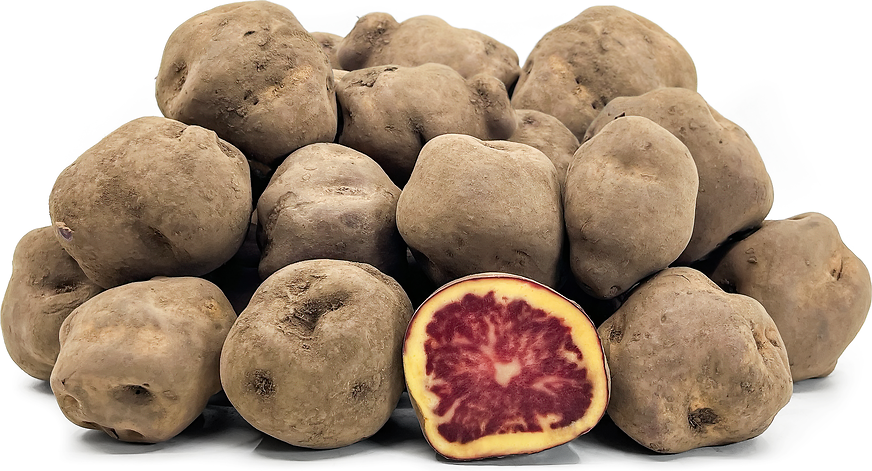 Cangre de Toro Potatoes
Inventory, lb : 0
Description/Taste

Sangre de Toro potatoes are generally small in size and have a globular to oval, lopsided shape. The semi-rough skin is a vibrant purple-red and is often covered in dry soil, giving it a brown appearance. The skin is also thin and covered in many deep-set eyes giving it an irregular shape. Underneath the skin, the flesh is dense and dry with a bright crimson center surrounded by a yellow to ivory border. When cooked, Sangre de Toro potatoes have a firm and starchy texture with an earthy flavor.


Seasons/Availability

Sangre de Toro potatoes are available year-round in Peru.


Current Facts

Sangre de Toro potatoes, a member of the Solanaceae or nightshade family, are edible, underground tubers that can grow at 4,200 meters in elevation in the Andes mountains and are native to Peru. Translating from Spanish to mean "bull's blood," Sangre de Toro potatoes were named for their dark maroon skin and crimson flesh. Sangre de Toro potatoes are favored for their unique coloring, firm texture, and thin, edible skin, and are considered a premium variety in the market for their high antioxidant content. Many of the Sangre de Toro potatoes are grown organically in the mountains and are used in culinary applications to showcase their red flesh.


Nutritional Value

Sangre de Toro potatoes are an excellent source of antioxidants, iron, and vitamin C. They also contain some magnesium, phosphorus, and calcium.


Applications

Sangre de Toro potatoes have a firm and dry texture that makes them suitable for frying, baking, boiling, and sautéing. The tubers are most popularly sliced and baked into chips to showcase their crimson interior, and the flesh does not absorb excess oil to create a light, crisp bite. Sangre de Toro potatoes can also be boiled and layered in causa, a traditional Peruvian recipe using potatoes mixed with tuna or chicken salad, or they can be tossed into soups and stews. In innovative restaurants in Peru that are using traditional ingredients with a modern twist, Sangre de Toro potatoes can be mashed and liquified with butter, salt, and milk to create a creamy a light red sauce, or the potatoes can be mixed into stir-fries with cauliflower and bell pepper. Sangre de Toro potatoes pair well with ginger, onions, scallions, garlic, parsley, cilantro, meats such as beef, pork, poultry, and fish, tomatoes, peppers, and rice. The tubers will keep 3-5 weeks when stored in a cool, dry, and dark place.


Ethnic/Cultural Info

In Peru, native potato farmers are working with local businesses to source fresh tubers such as the Sangre de Toro to be used in popular Peruvian dishes at the restaurants. One unique cuisine is known as "chifa" is a fusion of Peruvian and Chinese cooking, utilizing Asian spices with Peruvian ingredients. Chifa is only found in Peru and has become one of the most popular styles of food served for all economic levels. Created in the late 19th century when Chinese immigrants arrived in Peru for jobs in the railroad, mining, and commerce industry, many chefs utilized cooking techniques from each culture to create a large portioned, family dining experience. Chifa restaurants are most well-known for their dish lomo saltado. Using native Peruvian potatoes to make French fries and serving them with steak marinated in soy sauce, aji amarillo peppers, parsley, tomatoes, onions, and white rice, lomo saltado is a balanced dish of Peruvian ingredients and Chinese flavors. Many Peruvians traditionally dine at Chifa restaurants on Sundays and share many different dishes between the whole family.


Geography/History

Sangre de Toro potatoes are a native variety found in Peru and potatoes, in general, have been cultivated in regions across the country for over eight thousand years. Today Sangre de Toro potatoes can be found in select regions of Peru, cultivated on a small scale in Cusco and provinces such as Huancavelica, Churcampa, Tayacaja, and Acobamba, and are sold at fresh local markets.