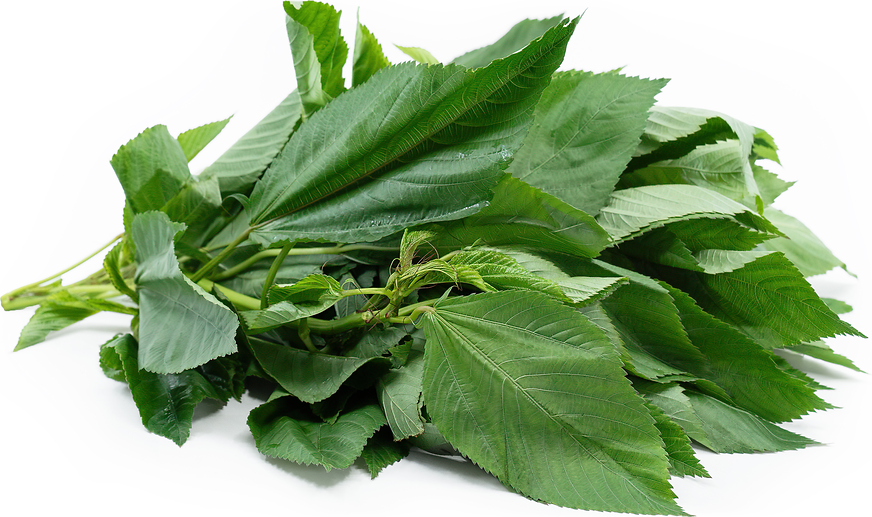 Moroheiya Leaves
Inventory, ea : 0
Description/Taste
Moroheiya leaves are small to medium in size, averaging 4 to 15 centimeters in length and 2 to 8 centimeters in diameter, and have an oval, elliptic, to lanceolate shape, tapering to a point on the non-stem end. The thin, dark green leaves grow in an alternate formation along the stems and are broad, flat, and pliable, showcasing a glossy, smooth surface with prominent veining. The leaves also have a light green, dusty olive-hued underside, a central midrib, and serrated edges. Moroheiya leaves have a crisp, succulent, and slightly chewy consistency when raw, and only the young leaves are consumed fresh. Raw Moroheiya leaves have an extremely bitter and vegetal flavor, even when young, and are generally considered unpalatable at maturity. Cooked Moroheiya leaves are preferred, developing a mild, subtly bittersweet, and earthy taste. It is also important to note that the leaves are known for their unusual texture when cooked, creating a thick, sticky, dense, and viscous consistency similar to cooked okra.
Seasons/Availability
Fresh Moroheiya leaves are available in the summer through early fall. Dried and frozen leaves are available year-round.
Current Facts
Moroheiya leaves, botanically classified as Corchorus olitorius, are the edible foliage of a branching plant belonging to the Malvaceae family. The fast-growing plant can reach anywhere from 2 to 4 meters in height, depending on climate and growing conditions, and is an ancient green valued for its nutritional properties, bittersweet flavor, and unique, slippery texture. Moroheiya leaves have been used in culinary and medicinal preparations across Asia, the Middle East, and Africa for centuries and have acquired many names, including Molokhia, Mulukia, Mulukhiyaj, Saluyot, Bai Po, Nalta Sag, Shimatsunaso, Jute Mallow, Jew's Mallow, and Egyptian spinach. Moroheiya leaves are commonly found in local markets and can be purchased fresh, dried, or frozen. The leaves used as a nutrient-dense green popularly utilized as a thickener for soups, stews, rice dishes, and tea.
Nutritional Value
Moroheiya leaves are a source of beta-carotene, a compound converted into vitamin A in the body to maintain healthy organ functioning, vitamin C to strengthen the immune system, vitamin E to protect the cells against free radical damage, and calcium to build strong bones and teeth. The leaves also provide some fiber to regulate the digestive tract, potassium to balance fluid levels, and other nutrients, including manganese, vitamin K, folate, and copper. The slimy texture of Moroheiya is a result of mucin, which can protect the membranes of the stomach and help prevent indigestion.
Applications
Moroheiya leaves have a vegetal, earthy, and bittersweet flavor suited for cooked preparations. Young leaves are sometimes added to salads raw, but most consumers favor cooking the leaves to reduce their bitter taste. Moroheiya leaves are popularly boiled and used as a thickener in soups and stews. It is important to note that some recipes call for slicing the leaves, while others use the leaves whole. This preparation step is mainly dependent on preference, as the chopped leaves typically create a thicker consistency. Acids such as lemon juice, vinegar, and tomato paste or pita bread, rice, and other types of grains are served with soups and stews to create a thinner texture. Moroheiya leaves can also be blended into juices and tonics, stir-fried with other vegetables, or soaked in marinades and cooked as a side dish. In Japan, Moroheiya leaves are incorporated into ohitashi, a vegetable dish of blanched greens mixed with soy sauce. The leaves can also be fried as tempura, served in ponzu, or mixed into rice-based dishes. In addition to fresh leaves, Moroheiya greens can be dried for extended use, ground into a powder, or steeped into a tea. The powder is used in commercial products as a nutritious noodle ingredient. Moroheiya leaves pair well with spices such as coriander, curry, and masala, aromatics including garlic, ginger, chile peppers, and onion, meats such as beef, lamb, shrimp, and fish, tomatoes, potatoes, lemons, cowpeas, and sauces such as soy sauce, ponzu, and wasabi. Whole, unwashed Moroheiya leaves will keep for a couple of days when wrapped in a damp paper towel, placed in a plastic bag, and stored in the refrigerator.
Ethnic/Cultural Info
In Egypt, Moroheiya is known as Molokhia or Mulukia, a name roughly translating from Arabic to mean "royal vegetable" or "majestic." This regal moniker was given to the plant as it has been the subject of several myths and legends throughout Egyptian history. Molokhia was rumored to have been a soup ingredient that healed the Egyptian king Fatimid Caliph Al Mu'iz Li Din Allah. The story recounts a time when the king was suffering from incessant pain in his intestinal tract, and the doctor recommended he consume a soup filled with Molokhia. The king ate the soup and felt better, eventually healing, and he attributed his survival to the Molokhia greens. Molokhia has also been the subject of many other Egyptian legends, from early Egyptians thinking the plant was poisonous to the greens being reserved only for the king, preventing the commoners from eating the plant. It is unknown if these stories are true or fables, but through the oral tradition of sharing these legends, Molokhia has become deeply intertwined into Egyptian culinary and folkloric practices for thousands of years. One of the most famous Egyptian preparations incorporating Molokhia leaves is a soup recipe of the same name. Molokhia soup is generally comprised of Molokhia leaves boiled with spices, garlic, and lemon juice. Once the soup mixture has thickened, it is served over rice or flatbread and meat such as chicken, rabbit, shrimp, lamb, or pigeon.
Geography/History
The origin of Moroheiya leaves is disputed among historians, with theories linking the plant to Africa and Asia, specifically around India. Moroheiya plants grow wild on both continents and have been present since ancient times. The leaves have been used in medicinal and culinary preparations for centuries, and over time, the plants were spread throughout Asia, into the Middle East, and tropical Africa, where they became commercially cultivated. Moroheiya leaves were carried to Japan in the 1980s through linguist Kasuke Iimori. Mr. Iimori was introduced to Moroheiya during a trip to Egypt and established the Moroheiya Popularization Association in Japan to promote the green. The leaves were touted as nutritious vegetables in Japan and became extensively cultivated due to increased publicity and nutritional studies. Today Moroheiya leaves are cultivated in tropical to warm temperate zones of Africa, Europe, the Middle East, and Asia. The leaves are also grown on a small scale in the Caribbean and Brazil, sold through local markets in fresh and dried forms. In Japan, Moroheiya leaves are produced in the Gunma, Okinawa, and Kanagawa Prefectures.
Recipe Ideas
Recipes that include Moroheiya Leaves. One

is easiest, three is harder.