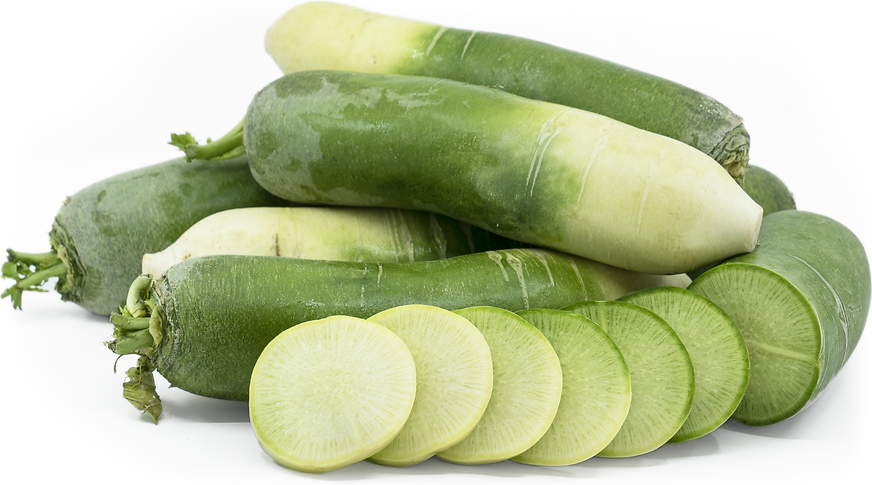 Green Radish Daikon
Inventory, lb : 0
Description/Taste

Green Daikon radishes are generally medium to large in size, averaging 7 to 8 centimeters in diameter and 18 to 30 centimeters in length, and are commercially sold when they range between 500 to 800 grams in weight. The roots are cylindrical, elongated, and uniform, with a rounded stem end extending straight through the body and tapering to a pointed or semi-blunt tip. The skin is firm, thin, and semi-smooth, showcasing a bi-colored white and green hue. Green Daikon radishes develop their signature green hue from sun exposure, and around two-thirds of the root grows above ground, giving most of the root a green tint. The portion of the root that grows underground remains white to pale green. Beneath the surface, the flesh is crisp and dense with a tender, succulent, and snap-like crunch. The moisture-filled flesh also exhibits a gradient coloring, transitioning from white at the tip to bright green toward the stem end. Green Daikon radishes should feel heavy for their size, indicating that the flesh is plump and not dried out. When eaten raw, the roots have a mild, subtly sweet, earthy, and lightly peppery flavor. Green Daikon varieties are known for being sweeter and less pungent than white daikon radishes. Once cooked, the flesh softens to a consistency similar to a potato and develops a neutral flavor.


Seasons/Availability

Green Daikon radishes are available in the late fall through winter.


Current Facts

Green Daikon radishes, botanically classified as Raphanus sativus var. longipinnatus, is a category of emerald-pigmented varieties belonging to the Brassicaceae family. The bi-colored radishes were developed in China and are grown as a commercial and home garden variety throughout Asia. The name Green Daikon is a general descriptor used in fresh markets for several varieties, including Gegu, Weixian, Shawo, Aonaga, Qiaotou, and Weiqing radishes, but some roots are sold by their varietal name, depending on their historical significance and popularity. In China and Japan, Green Daikon radishes are also nicknamed Fruit radishes for their sweet taste and aqueous nature and Vitamin radishes for their increased nutritional content compared to the more common white daikon. Green Daikon radishes are specialty cultivars commercially sold as an alternative to white daikon radishes. The roots are less frequently seen in markets, but chefs and home cooks value their mild, peppery flavor for fresh dishes. Green Daikon radishes are also planted in home gardens and are easy to grow, making them a popular choice for everyday culinary preparations.


Nutritional Value

Green Daikon radishes are a source of fiber to regulate the digestive tract, potassium to balance fluid levels, and vitamin C to strengthen the immune system, reduce inflammation, and boost collagen production within the skin. The radishes also provide calcium to build strong bones and teeth, phosphorus to develop genetic material such as RNA and DNA, vitamin E to protect the cells against the damage caused by free radicals, and other nutrients, including iron, magnesium, vitamin A, copper, manganese, folate, and zinc. In Traditional Chinese Medicine, Daikon radishes are believed to provide enzymes that assist in synthesizing starches and fats. They are also used to reduce phlegm within the body and soothe indigestion after meals. The roots are steeped into teas and boiled with seaweed to fight infections, detox the body, and eliminate the harmful buildup within the digestive tract.


Applications

Green Daikon radishes have a peppery, subtly sweet, and earthy taste suited for raw and cooked preparations. When raw, the roots have a crisp, succulent texture and are popularly served fresh to showcase their vibrant green coloring. Green Daikon radishes are sweeter and less pungent than white daikon varieties and are typically cut into thin round slices. The roots can be eaten with miso paste, added to salads, or served on appetizer platters. Green Daikon radishes can also be grated as an edible garnish over cooked meats, omelets, and vegetable dishes. Each daikon radish may have varying flavors depending on growing conditions and the portion of the root being eaten. In Japan, there is a belief that the top of the radish near the leaves is the mildest and firmest. The middle portion is softer and sweet, and the tip is the most tender but also the strongest in flavor, exhibiting peppery notes. In addition to raw preparations, Green Daikon radishes can be lightly cooked. The roots are typically boiled to develop a softer, potato-like consistency and are simmered in dashi for added flavor. The radishes can also be pickled for extended use and consumed as a tangy, sweet, and peppery condiment. Green Daikon radishes pair well with meats, including beef, pork, duck, poultry, and fish, herbs such as coriander, mint, dill, and thyme, carrots, mushrooms, and flavorings such as rice vinegar, soy sauce, tamari, coconut aminos, and sesame oil. Whole, uncut Green Daikon radishes will keep for 1 to 2 weeks when wrapped in newspaper or plastic and stored in the refrigerator. Once cooked, the radish pieces will keep for 3 to 7 days, and the leaves will keep up to 3 days in the fridge. Daikon radishes can also be blanched and frozen for extended use for up to one month.


Ethnic/Cultural Info

In the Shandong Province of northeastern China, Weixian radishes are a famous protected green radish variety cultivated in the region for over 300 years. Weixian radishes are also known as Weifang radishes, and the roots received this name in honor of their original cultivation location in Weifang City in the Shandong Province. The green-fleshed radishes are favored throughout Shandong for their sweet, aqueous, crisp, and fleshy nature, and under the Weixian name, there are a few varieties known as Xiaoying, Daying, and Erdaying. Weixian radishes are said to develop a distinct flavor from the region's sandy soil and varying temperatures. Shandong has four distinct seasons, and the temperature difference between night and day is substantial, creating a sweeter taste. Legend has it that Weixian radishes are descendants of varieties that were grown in ancient times. During the Qing Dynasty, spanning from 1644 to 1911, a well-known tale recounts the time when radishes were used to send a powerful message. In the story, a writer named Zheng Banqiao worked for the county magistrate in Weixian County for seven years. Banqiao was known for being dedicated and loyal to his position. One day during his service, the imperial court sent an imperial worker to Shandong for routine inspections. As a part of the customs of visiting for these inspections, the imperial worker decided to send Zheng Banqiao a gift, but instead of giving a traditional present, the imperial man gave one hundred taels of silver. This gift was higher than what a superior should be giving a subordinate, and culturally, it was unacceptable for a subordinate to take this gift. Instead, the subordinate should politely return the gift with more than ten times the amount as a sign of respect. The imperial man waited for Zheng Banqiao to return his money as he was greedy and wanted Zheng Banqiao to pay him more. Zheng Banqiao eventually sent the imperial worker a large box tied with a red satin ribbon. When the imperial worker opened the box, he was shocked to find that the box was filled with large green radishes and a note that read: "Northeast ginseng and Fengyang pear, difficult to reach Weixian radish skin. Today, a generous gift is given to the imperial envoy, it can exorcise demons and smooth Qi."


Geography/History

Green Daikon radishes are descendants of ancient radish varieties native to the Mediterranean and coastal regions along the Black Sea. Radish plants were introduced to Asia through trade routes and were thought to have been planted in China sometime around 500 BCE. White and red daikon radish varieties were the first types to be cultivated in China, but over time, Green Daikon and purple daikon radishes were created and selectively bred to have milder and sweeter flavors. Green Daikon radishes were initially developed in China and were released to growers throughout Asia, where they became popular in Japan and Korea. Today the green-fleshed varieties are sold through many different seed companies throughout Asia, and concentrated commercial production occurs in Shandong, Hebei, and Anhui Provinces in China. Green Daikon radishes are less common than white daikon varieties, but the roots are commercially cultivated and planted in home gardens throughout East Asia as a specialty crop, especially in China and Japan. China exports Green daikon radishes to Hong Kong, South Korea, and Macao. Green varieties are also produced on a small scale through specialty growers in Europe, North America, and Australia.