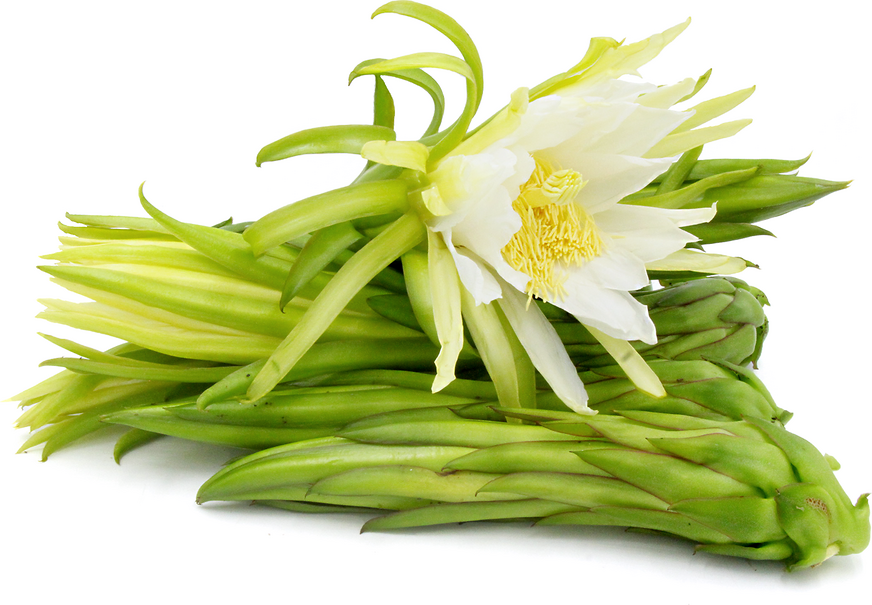 Dragon Fruit Flower Buds
Inventory, lb : 0
Description/Taste

Dragon Fruit Flower buds are unopened flowers surrounded by layers of fleshy sepals growing along vining cactus stems. The buds begin small and oval, about the size of a grape, and expand, growing up to 27 centimeters in length with a cylindrical appearance. The buds are also comprised of tight, compacted layers of green lanceolate sepals with pointed tips. Most of the sepals are green and depending on the variety, they may showcase maroon tips and edges. As the buds mature, the protective layers will lengthen and loosen, eventually revealing the flower. The flowers open into a large bloom with a bell-like shape, averaging 20 to 22 centimeters in diameter, and have slender and delicate, fragrant white petals encasing a golden yellow center. Dragon Fruit Flower buds are traditionally harvested for culinary use before the flowers bloom and have a tender, chewy, and mucilaginous texture reminiscent of nopales. The unopened buds contain a vegetal, earthy, and green flavor with asparagus-like nuances.


Seasons/Availability

Dragon Fruit Flower buds are available in the late spring through early fall. The flowers develop and bloom in stages, and each plant typically cycles through seven different "flushes" of buds in one season.


Current Facts

Dragon Fruit Flower buds are harvested from various species of cactus belonging to the Hylocereus genus. There are two main species within the Hylocereus genus that produce edible Dragon Fruit Flower buds, Hylocereus undatus and Hylocereus polyrhizus, and the buds are a secondary crop, overshadowed by the plant's internationally famous fruits. Dragon fruits, also known as pitahaya, are favored for their unusual appearance, coloring, and nutritional properties, but the flower buds are also recognized as a nutritious culinary ingredient, consumed locally in regions producing dragon fruits. It takes approximately 30 days for the flower buds to develop and transform into fleeting blossoms, and some species may take as long as 60 to 150 days. Dragon Fruit Flower buds are not commercially produced and are primarily utilized in home cooking throughout Central and South America and Asia. The buds are gathered before the flowers bloom and provide a vegetal flavoring to savory dishes.


Nutritional Value

Dragon Fruit Flower buds are a rich source of antioxidants to protect the body against free radical damage and vitamin C to strengthen the immune system while reducing inflammation. The buds also provide fiber to regulate the digestive tract, potassium to balance fluid levels within the body, calcium to protect bones and teeth, and iron to develop the protein hemoglobin for oxygen transport through the bloodstream. In natural medicines throughout Latin America, Dragon Fruit Flower buds are sliced and rubbed over insect bites, providing a thin, calming layer of gel to relieve itching and inflammation.


Applications

Dragon Fruit Flower buds are harvested and used fresh like a vegetable, most often cooked before consumption. The buds have a slightly slimy texture, and it is helpful to cook the buds to reduce some of the viscous mouthfeel. Dragon Fruit Flower buds can be boiled and added to salads, side dishes, and vegetable medleys, or they can be dipped in an egg mixture, battered, and fried. They are also popularly stir-fried into meat and vegetable dishes, cooked into rice and noodles, or simmered in savory soups. Beyond culinary preparations, Dragon Fruit Flower buds can be steeped in tea. In Vietnam, commercial dragon fruit growers noticed that a lot of flower buds were being wasted during thinning to promote the targeted growth of a few fruits on each plant. The thinned flowers are now used for teas to reduce waste and create a sustainable practice. Dragon Fruit Flower buds pair well with aromatics such as ginger, onions, garlic, and chile peppers, meats including poultry, beef, and pork, seafood, and fresh herbs like mint, cilantro, lemongrass, and basil. Dragon Fruit Flower buds are highly perishable and must be used within a few days of harvesting. The buds can also be dehydrated and stored in an airtight container for up to six months.


Ethnic/Cultural Info

Dragon fruit flowers are known as "Queen of the Night" and "Moonflower" for their fleeting beauty. The flowers are nocturnal, only blooming at night, and the entire lifespan of the bloom is around eight hours. Dragon fruit flowers bloom in the early evening and open to allow pollinators to spread pollen, fertilizing the blooms to grow edible fruits. Moths and bats traditionally pollinate the flowers, and in the early morning, bees and other insects will visit the waning flower as the bloom's aromatic scent attracts them. Beyond the flowers, Dragon Fruit Flower buds are a delicacy in China, consumed in a soup known as ba wòhng fâ. The soup is made with lean pork, dates, and apricot kernels, gently simmered for two hours with the buds to create a vegetal, herbal, and savory dish. Fresh or dried Dragon Fruit flower buds can be used in soups, and dried buds are packaged in China as Jin Hua.


Geography/History

Dragon fruits are native to Mexico and Central America and have been growing wild since ancient times. The fruits thrive in tropical, subtropical, to somewhat arid regions and were transported to the Caribbean and South America in the early ages. Dragon fruit was also brought to Southeast Asia in the early 1800s and was initially reserved for wealthy families and nobility. Over time, the plants became commercially cultivated for widespread consumption, spreading across Asia, and were eventually introduced to the Middle East and Australia. Dragon Fruit Flower buds grow on a number of dragon fruit species and can be found worldwide. Today Dragon Fruit Flower buds are harvested from wild and home garden plants in Asia, the Middle East, Australia, North America, Central America, South America, and the Caribbean. When in season, Dragon Fruit Flower buds are foraged from wild plants, sold through local markets, found through specialty retailers, or offered directly from farms producing the fruits for commercial sale.