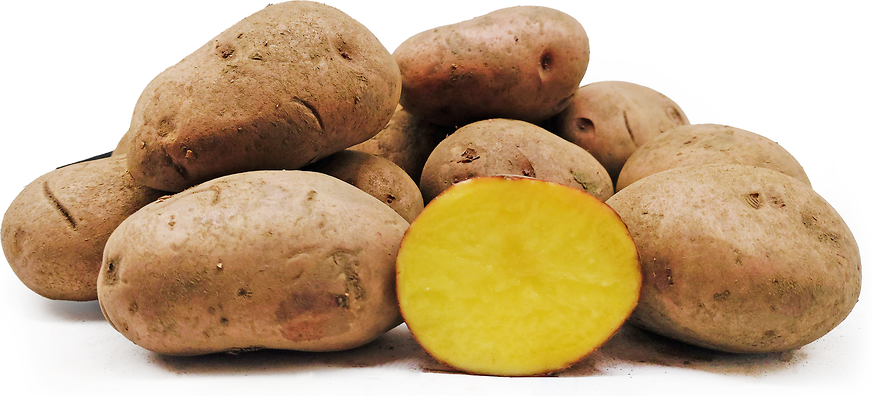 Rosara Potatoes
Inventory, 1 Lb : 0
Description/Taste

Rosara potatoes are medium to large tubers with a uniform, oval to oblong shape. The skin is semi-smooth and firm, ranging in color from dark red to pink, and bears several shallow eyes giving the surface a slightly stippled appearance. The tubers are also often covered in a thin layer of dried soil, sometimes giving the skin a light red-brown, tan hue. Underneath the surface, the flesh is golden yellow, dense, and slippery with a low starch content. Rosara potatoes are a multi-purpose variety containing a firm, thick, and creamy, tender flesh that holds its shape well once cooked. The tubers also contribute mild, earthy, and subtly sweet, neutral flavors.


Seasons/Availability

Rosara potatoes are generally available in the summer in Russia. In milder climates, the tubers can be grown year-round.


Current Facts

Rosara potatoes, botanically classified as Solanum tuberosum, are an all-purpose variety belonging to the Solanaceae or nightshade family. The large tubers were developed in Germany in the late 20th century and have remained a commercially significant cultivar throughout Asia and Europe, favored for its early-season harvest. Rosara potatoes are resistant to disease, adaptable to climate changes, and produce high yields of uniform tubers. The potatoes can also be easily transported long distances without the fear of spoiling or becoming damaged. In the modern-day, Rosara potatoes are most commonly cultivated in Russia, where the variety has been grown for over 20 years for culinary use and commercial processing. The potatoes can be utilized for a wide array of cooked preparations and are used as an everyday table cultivar.


Nutritional Value

Rosara potatoes are a good source of vitamin C to strengthen the immune system while reducing inflammation and vitamin B6 to stimulate metabolism. The tubers are also a source of potassium to balance fluid levels within the body, fiber to regulate the digestive tract, and fatty acids to act as natural energy for the cells.


Applications

Rosara potatoes have a mild, earthy flavor well suited for a variety of cooked preparations. The tubers can be baked with the skin on, or they can be cubed and boiled, developing a tender but firm texture. Rosara potatoes hold their shape well when cooked, making them a choice variety for salads, soups, and side dishes. The tubers can also be boiled and mashed, incorporated into casseroles, or mixed into gratins. In Russia, Rosara potatoes are popularly used in meat stews, baked and covered in hearty toppings, or sliced and cooked into potato zapekanka, a gratin-like dish typically made from leftover meat and tubers. Rosara potatoes can also be boiled and layered into a shuba salad, a Russian recipe comprised of potatoes, beets, carrots, pickled herring, and mayonnaise traditionally served during New Year's celebrations. Rosara potatoes pair well with beets, eggplant, peas, tomatoes, mushrooms, carrots, herbs such as parsley, dill, rosemary, and thyme, meats including beef, pork, poultry, and turkey, sour cream, and Dijon mustard. Whole, unwashed Rosara potatoes will keep for 3 to 5 weeks when stored in a cool, dry, and dark place.


Ethnic/Cultural Info

Rosara potatoes are a popular cultivar planted in dachas throughout Russia. Dachas are seasonal homes, often visited for the summer, that reside in the countryside. Many Russian families have passed these summer homes between generations of family members, and the properties allow city residents to escape the hectic nature of urban dwellings for a more peaceful countryside experience. Dachas also include family gardens, which are traditionally planted with potatoes. It has been reported that Russians consume approximately 130 kilograms of potatoes each year, and the spuds are highly respected, seen as a symbol of resilience. Over 50% of the potatoes grown in Russia are cultivated through home gardens, and potatoes have become so intertwined into Russian culture that the phrase "to the potatoes" is used when going to work in the garden. Rosara potatoes are a fast-growing, early season variety that can be planted and harvested in the summer in northern Russian climates that are generally unable to cultivate other crops.


Geography/History

Rosara potatoes are native to Germany and were created in 1983 at the Windeby's Breeding Station in Schleswig-Holstein. The variety was developed by Saka Pflanzenzucht and is a cross between the varieties secura and esh 2605 77. Saka Pflanzenzucht is a part of the Solana group, an international potato breeder that develops and creates improved potato varieties for over 40 different countries worldwide. Rosara potatoes were registered as an accepted variety in Russia in 1996, and in 2010, the variety was recognized and registered in Canada. Today Rosara potatoes are commercially cultivated and grown in home gardens worldwide, especially in Canada, the United States, Europe, and Russia. Once harvested, the potatoes are sold through specialty grocers, local vendors, farmer's markets, and select supermarkets.