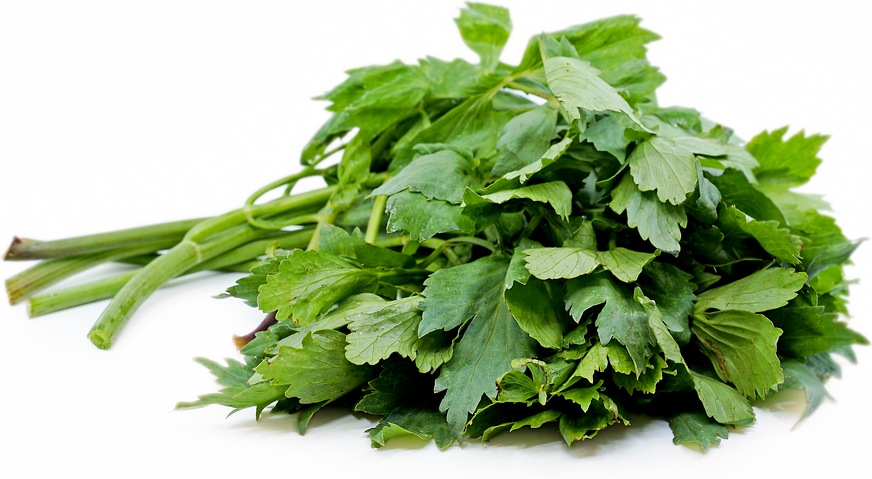 Lovage
Inventory, bunch : 0
Description/Taste
Lovage is a large, leafy plant that can grow up to 180 centimeters tall and spread up to 80 centimeters wide, if not more. It is similar in appearance to parsley and celery with its long and thin hollow stalks and lacy, glossy, dark-green leaves. When mature, the plant bears yellow flowers in umbrella-shaped clusters or umbels. The jagged-edged leaves offer a fresh scent and flavor similar to celery but sweeter and more robust, with notes of anise or fennel and a hint of citrus, similar to parsley.
Seasons/Availability
Lovage is available in the spring and early summer.
Current Facts
Lovage is botanically known as Levisticum officinale, and it is the only member of the genus Levisticum in the Apiaceae family. The Lovage plant is entirely edible from its roots and seeds to stalks and leaves, and its bright, citrusy, celery-like flavor has earned it the nickname "False Celery." The name "Lovage" is indirectly derived from the Latin name Ligusticum, meaning "pertaining to Liguria," a region in Italy where Lovage was native and extensively cultivated. In Italy, Lovage is called Sedano Di Monte or Mountain Celery. In England and some other parts of Europe, it is also often referred to as Smellage or Maggi Plant, and the Germans colloquially call it Maggikraut because its flavor is similar to that of Maggi seasoning, a common umami-rich, soy sauce-like flavoring agent that was invented in Switzerland during the late 1800s. Lovage's popularity has always been centralized in Europe, where it has somewhat fallen out of favor compared to its long history of use. It is not very well known here in the United States, although it has found its way into some modern-day home gardens and onto select fine-dining menus.
Nutritional Value
Lovage is packed with vitamin C and various B-complex vitamins and contains good amounts of calcium, potassium, and magnesium. Lovage is also known for having a substantial amount of quercetin, a flavonoid with anti-inflammatory and antioxidant properties that have been studied for its potential to lower blood pressure, boost the immune system, ease skin irritations, and serve as a pain reliever. No surprise that the various parts of the plant have been used since ancient times in traditional medicine, serving as an herbal remedy for ailments including inflammation, indigestion, joint pain, and headaches. It has historically been employed as a diuretic, a stimulant, and as a treatment for a variety of ailments from jaundice to sore throats, even as a means to regulate menstrual cycles. Cosmetically, Lovage is often made into a salve to soothe rashes and psoriasis and combat acne.
Applications
Lovage leaves are best used fresh and can be substituted for celery in various recipes. Add young Lovage leaves to green salads, steep in hot water for an herbal tea, sauté or simmer in soups and stews, or finely chop for bread stuffing or casseroles. Both the leaves and stems can be used in place of parsley or celery in salsas and chicken, tuna, pasta, potato, or egg salad. Lovage leaf stalks can be sautéed similarly to celery as a vegetable side dish, and in England, the hollow stems are candied as a bittersweet confection. Even the roots and seeds are edible, with the seeds serving as a flavoring agent in confectioneries, liqueurs, marinades, spice mixes, and more. Lovage pairs well with garlic, potatoes, eggs, fish, beans, beef, and poultry. Store fresh Lovage in a plastic bag in the refrigerator and use it within a few days. Lovage leaves can be dried or frozen to extend their shelf life; however, drying will significantly dull their bold flavor.
Ethnic/Cultural Info
In Celtic tradition, Lovage was said to relieve exhaustion, and the leaves were often placed in the shoes of weary travelers or in baths with aromatic essential oils to help relieve muscle aches. It was even used in medieval love potions, and Europeans would bathe in the leaves, believing that the scent would attract new love. Queen Victoria was known to carry candied lovage seeds in her pockets, and legend has it that she even requested pockets sewn into her dresses to carry the seedy snack.
Geography/History
Lovage is native to the Mediterranean region and Southwest Asia, where it has been growing since ancient times when it was used by the ancient Greeks and Romans. It was introduced into Britain by the Romans and later brought to North America by early English colonists. Lovage became a very popular plant in medieval times thanks to its medicinal properties. It was grown in abundance in monasteries and gardens throughout Europe, including the grounds of Charlemagne's estate. Today, Lovage can be found growing wild, and it is also cultivated on a minor scale throughout central Europe, especially in France and Greece, in parts of Britain, Asia, and the eastern United States. It is grown in the gardens at Plimoth Plantation, a replication of the original pilgrim village in Plymouth, Massachusetts. Lovage is more likely to be grown in home gardens or on small farms and is still much more prevalent in Europe than in the United States, but it can be found at local farmers markets or specialty stores.
Recipe Ideas
Recipes that include Lovage. One

is easiest, three is harder.