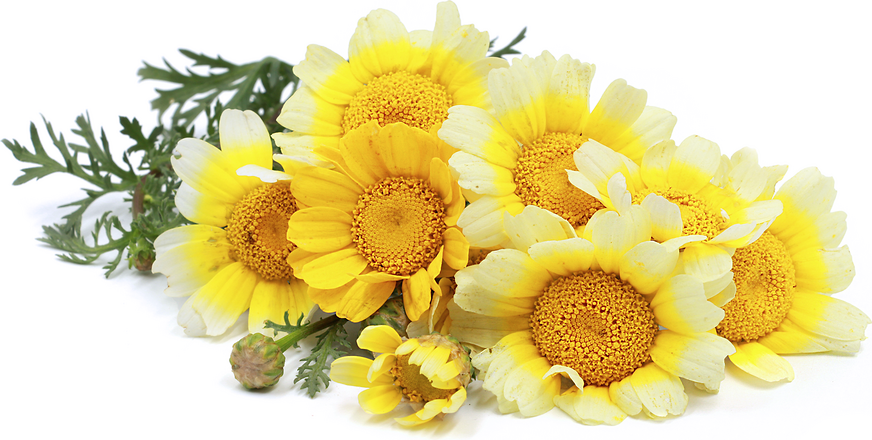 Chrysanthemum Flowers
Inventory, bunch : 0
Description/Taste
Chrysanthemum flowers come in a variety of sizes, ranging from 5 to 8 centimeters in diameter. Chrysanthemums are composite flowers that grow in varying petal arrangements, with some types having a daisy-like structure, others having a rounder, pompom-like appearance, and even some blooms with quill-like petals. The blossoms also have varying hues, from white and light yellow to deep burgundies and purples. Chrysanthemums have a sweet and floral scent with notes of menthol that clear the nasal passages. The flavor profile of Chrysanthemums may differ depending on the variety, but commonly the blossoms have bitter and floral nuances with sweet and peppery undertones.
Seasons/Availability
Chrysanthemum flowers may be found year-round, with a peak season in the summer and fall.
Current Facts
Chrysanthemum flower is the generalized term for thousands of commonly grown perennials, affectionately known as mums. These species of flowering plants are members of the daisy family and bloom in a vast array of colors and shapes. All mum flowers are edible, with the most common variety, pictured above, being Garland chrysanthemums, botanically classified as Chrysanthemum coronarium. This variety is also grown for its leafy greens and succulent stems, known as Shungiku in many Asian cultures. Garland chrysanthemums are one of the only varieties whose greens are edible. Other species of Chrysanthemum greens can cause contact dermatitis when handled without gloves and may result in digestive irritation when consumed. Chrysanthemum flowers produce a natural pesticide that helps with pest control in home gardens but is also toxic to household pests. Throughout history, Chrysanthemums have been a symbol of love, life, and rebirth. They are often gifted at baby showers and birthdays and are placed as offerings to the Goddess Lakshmi during Diwali Puja in Hindu culture. Mums are one of the most used edible flowers today, elevating the color, texture, dimension, and flavor of many different culinary creations.
Nutritional Value
Chrysanthemum flowers are an excellent source of vitamin C to protect the body's cells from the effects of free radicals. The flowers also contain vitamins A and B, two vitamins that support vision, growth, oxygen transportation, and the immune system. The flowers also contain many different minerals, including magnesium for regulating blood sugar and blood pressure, calcium for supporting strong bones, and potassium for flood regulation within the body. Chrysanthemum flowers have historically been used in teas in Traditional Chinese Medicine to help reduce inflammation, hypertension, and respiratory ailments.
Applications
Chrysanthemum flowers are best suited as an edible accent, added at the end of preparation to maintain the flower's delicate shape and texture. The entire flower is edible and can be used whole, or the petals can be separated and spread throughout the dish. Chrysanthemum flowers can be sprinkled over salads, floated over soups and curries, placed into fruit bowls, or used as a garnish for sushi and sashimi. The flowers can also be used to decorate seafood dishes such as calamari, ceviche, and shrimp cocktail or strategically placed on pasta, seafood, sandwiches, appetizers, and other main plates for added aesthetic. In addition to using the flowers in their natural form, the blooms can be frozen into ice cubes to add color and flavor to a beverage, wrapped in fresh spring rolls, or pressed into cookies and soft cheeses for an elevated appearance. Chrysanthemum flowers can also accent desserts such as cakes, scones, sorbets, crème brulee, cookies, puddings, and tarts, or they can be used as a garnish in craft cocktails. Chrysanthemum flowers pair well with chocolate; fruits such as coconut, strawberries, lemons, passionfruit, mango, and cherries; herbs including lavender, parsley, and mint; cheeses such as goat, brie, and blue; leafy greens, and springtime vegetables; including asparagus, peas, green garlic, and fava beans. Chrysanthemum flowers should be used immediately for the best quality. They will keep for 2 to 4 days when stored in a sealed container in the refrigerator.
Ethnic/Cultural Info
Chrysanthemums are highly revered in Japan, where they are used as an imperial symbol. The flowers were imported to Japan as a medicinal plant in the 8th century and were later adopted as the personal emblem of Emperor Go-Toba. Today the flower seal adorns Japanese passports, coins, and the doors of diplomatic facilities. The cultivation of chrysanthemums is also quite popular in the country. Japan grows over 350 varieties of showy blossoms. Varieties developed in Japan are known as wagiku to distinguish them from the rest of the world. Blossoms developed during the Edo period are known as kotengiku, translating to classic chrysanthemums. The flowers are further divided into three basic categories based on the size of their blossoms, ogiku (large), chugiku (medium), and kogiku (small). Kogiku chrysanthemums are often used in the art of Bonsai, while chugiku are used in flower arrangements for funerals and other ceremonies. Every November, the beautiful blooms are celebrated at the Kiku Matsuri festival located at the Yushima Tenmangu shrine in Bunkyo, Tokyo. Over 2,000 blossoms representing 32 varieties of chrysanthemums are tended by the local floriculture association and displayed in arrangements and sculptures. The event is attended by over 100,000 people each year and is a beautiful homage to the imperial flower.
Geography/History
Chrysanthemum flowers are originally native to China, where the blossoms are steeped in legend and have been cultivated since the 15th century BCE. Chinese explorers brought the flowers to Japan in the 8th century CE, where they were adopted as the flower of the emperor's family and remain an important symbol today. Chrysanthemums are placed around the emperor's throne by citizens, earning it the name The Chrysanthemum Throne. The flowers were spread into Europe in the 17th century along the Silk Road and other trade routes and were brought to North and South America at the end of the 18th century. Chrysanthemum varieties can be found growing wild and in gardens throughout much of the world today. They thrive in many different climates, including hot summer areas and areas with cooler and more humid weather. Chrysanthemums should be procured from farmers' markets and reputable food markets if they are for culinary use. Blossoms grown for flower markets and florists should not be consumed due to pesticides and other chemicals used during decorative flower farming.
Recipe Ideas
Recipes that include Chrysanthemum Flowers. One

is easiest, three is harder.