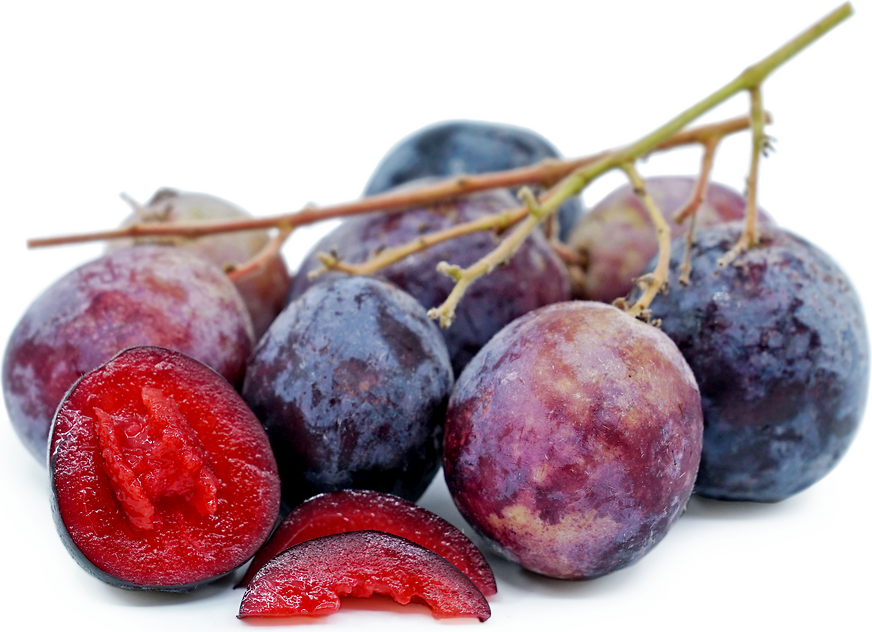 Davidson Plums
Inventory, lb : 0
Description/Taste
Davidson plums are small to medium-sized fruits, averaging 3 to 12 centimeters in length, and have a round, oblong, to pyriform shape. The fruit's skin ranges in color from variegated hues of maroon and gold to purple-red shades, darkening into a purple, almost black hue when ripe. The skin is also thin, smooth, and taut but has a leathery, somewhat tough consistency, often covered in a blue-grey bloom to protect the surface from moisture loss, insects, and bacteria. Underneath the skin, the bright red to ruby-toned flesh is aqueous and soft with a succulent, tender consistency. The fruits also contain 1 to 2 elongated seeds that cling tightly in the flesh. Davidson plums emit an earthy, musky, and semi-sweet aroma. The fruits have a low sugar content and high acidity, contributing to their astringent, sour, tart, and tangy flavor. Davidson plums are generally considered unpalatable when raw, but the fruits develop a sweet, subtly sour, and pleasant fruity taste when combined with sweeteners.
Seasons/Availability
Davidson plums are available for a few weeks in the summer in Australia. The fruits generally appear between December to January, which is summertime in the Southern Hemisphere.
Current Facts
Davidson plums, botanically a part of the Davidsonia genus, are ancient Australian fruits belonging to the Cunoniaceae family. The tart and sour fruits grow at the top or along the trunk of tropical trees, depending on the cultivar, and have traditionally been a nutritional food source for Indigenous Peoples throughout Australia. There are three main species of Davidson plums, including Davidsonia jerseyana, Davidsonia johnsonii, and Davidsonia pruriens. Davidson plums were historically a wild, foraged fruit, easily collected as the ripe fruits naturally fall off the tree, but with the rise of industrialization, much of the fruit's habitat was destroyed. Davidson plums were on the brink of extinction, so in the 1990s, the fruits were selected for commercial production. Davidsonia jerseyana and Davidsonia pruriens are the two main varieties commercially cultivated in Australia, and the fruits have recently seen a resurgence in popularity with the rise of native or bush foods in culinary dishes. Davidson plums grow almost exclusively in Australia, where they are also referred to as Ooray, Orray, or Sour plum. The fruits come into season around the same time as common plums, but despite their plum moniker, Davidson plums and common plums are not related and bear a different genetic makeup, texture, taste, and appearance.
Nutritional Value
Davidson plums are a rich source of anthocyanins, most of which are found in the pigmented skin of the fruit. Anthocyanins provide antioxidant-like properties to protect the cells from free radical damage and reduce inflammation. The fruits are also an excellent source of vitamin C to strengthen the immune system, potassium to balance fluid levels within the body, and contain calcium, zinc, vitamin E, copper, and iron. In addition to vitamins and minerals, Davidson plums include lutein, a carotenoid that assists in maintaining eye health.
Applications
Davidson plums have a tart, sour, and astringent flavor that is mainly considered unpalatable when raw. Indigenous Australian populations would consume the fruits fresh, out of hand, but in the modern-day, the fruits are primarily consumed with added sweeteners or cooked to reduce the mouth-puckering taste. Davidson plums can be thinly sliced and sprinkled with chile powder, sugar, or salt as a healthy snack. The fruits can also be macerated or pressed to make marinades, glazes, and dressings, cooked into jellies, jams, and syrups, or pureed into sauces to serve with roasted meats. Davidson plums have a versatile flavor that can be incorporated into savory or sweet dishes, and the fruit's ruby-colored flesh imparts a dramatic hue to sauces. The fruits can be used in recipes similar to rhubarb, cranberries, or other naturally acidic fruits. In addition to savory preparations, Davidson plums are popularly used to flavor baked goods, including cakes, pies, biscuits, tarts, and muffins, and the fruits are also pickled or pressed to make juices, wine, liqueurs, and cordials. In Australia, Davidson plums are commercially sold in dehydrated, powdered, pureed, or frozen forms. Powdered Davidson plums are used as a nutritional supplement and can be mixed into yogurt, chia seed puddings, smoothies, or baked goods. Davidson plums pair well with spices such as cinnamon, nutmeg, and star anise, vanilla, quince, rhubarb, strawberries, coconut, raspberries, pomegranate, and meats such as beef, poultry, pork, and kangaroo, a delicacy in Australia. Whole, unwashed Davidson plums should be kept at room temperature until ripe, sometimes taking up to one week to soften. Once ripe, the fruits can be stored in the refrigerator for a couple of days. The fruits can also be frozen for extended use.
Ethnic/Cultural Info
Davidson plums were named after sugarcane grower J.E. Davidson of Queensland, Australia. Davidson was an avid collector of Aboriginal artifacts, and in his historical pursuits and business travel throughout Australia in the 19th century, he discovered the purple-fruited species, naming them after himself. Davidson plums are also classified as Bush Tucker, Australian slang for traditional native foods. "Tucker" was believed to have been derived from "tuck," meaning to "tuck into some food." Bush Tucker was consumed for thousands of years among hunters and gatherers as a nutritional food source. As colonists arrived in the 18th century, many plants became overlooked for commercial cultivation and were considered less superior to modern varieties. Bush Tucker has seen a resurgence within the culinary world in the past two decades, and chefs are incorporating the historical ingredients in high-end, luxury dishes to simple, affordable comfort food.
Geography/History
Davidson plums are native to Australia and have been growing wild since ancient times. The fruits were a traditional food source of Indigenous Australians, and there are multiple species found throughout subtropical to tropical regions. Davidson plums were first documented in 1876 as a species in the "Gardeners Chronicle" and under the Davidson name in 1900 when they were mentioned in the book "Edible Fruits Indigenous to Australia," written by F.M. Bailey. Davidsonia pruriens is native to the tropical forests of Northeast Queensland and is one of the species not considered endangered. Despite not being listed as endangered, the fruits are so valued as a native plant that permits are required to harvest wild fruits. Davidsonia jerseyana and Davidsonia johnsonii are native to Northeast New South Wales near the Tweed Valley and Ballina. In New South Wales, any species of Davidson plum is classified as protected, and fruit harvests from wild trees are prohibited. Over time, the fruits have remained localized to Australia, but seeds of some of the commercial species have been sent to Hawaii and neighboring islands such as New Guinea for potential cultivation. In Hawaii, the seeds were planted in the 1980s for research, and there are still several trees producing fruits in South Kona on the island of Hawaii. Today Davidson plums are rare in the wild, and the majority of wild trees reside in North Queensland and parts of New South Wales. Commercial cultivation of the fruits began in 1990, and most of the Davidson plums sold in local markets are generally harvested from home garden trees or commercially cultivated trees. When in season, Davidson plums are available through farmer's markets, specialty distributors, and select grocers throughout Australia. The fruits are also grown through some orchards and plum enthusiasts worldwide, including in Hawaii and California of the United States.
Recipe Ideas
Recipes that include Davidson Plums. One

is easiest, three is harder.
Podcasts