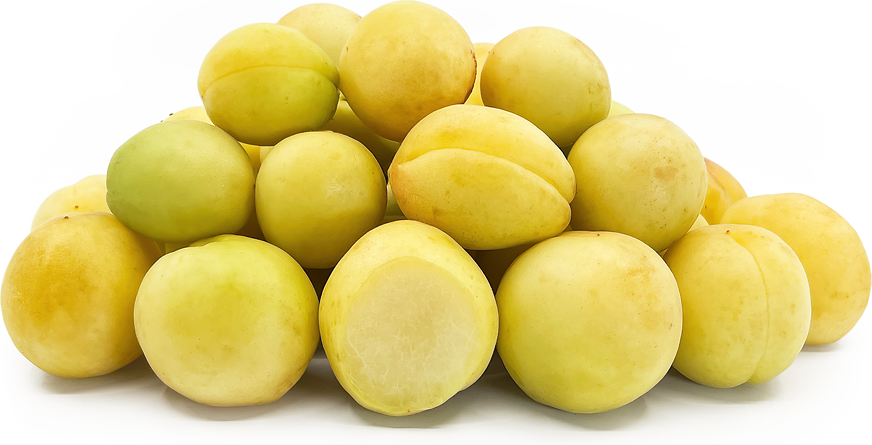 White Apricots
Inventory, 7 lbs : 0
Description/Taste
White apricots are generally small stone fruits that have a round, ovate, to oval shape with a curved base and shoulders. The fruit's skin is thin, smooth, taut, and velvety, coated in a light fuzz, ranging in color from light green-white, almost translucent, to pale yellow. The skin is also blushed with pink or red hues, depending on the variety. Underneath the surface, the flesh is pale yellow to white and is semi-firm, aqueous, dense, and succulent, encasing a central dark brown pit. White apricots generally emit a light aroma when ripe and are known for their high sugar content and low acidity. Each White apricot variety may bear a slightly different flavor, but in general, the fruits contain a sugary-sweet, honeyed taste with a subtle tang masked with syrupy, candy, and nectar-like nuances.
Seasons/Availability
White apricots are available in the late spring through early summer.
Current Facts
White apricot, botanically classified as Prunus armeniaca, is a general descriptor used to encompass many different varieties of sweet, light-fleshed fruits belonging to the Rosaceae family. Like orange-fleshed apricots, White apricots have a short season and are typically only available for a few weeks in the early summer. The pale fruits are less common than orange apricots and are considered a specialty fruit highly favored for their sweet taste. Apricots generally average a sugar content of 14 Brix, but many varieties of White apricots can reach around 20 Brix or higher. White apricots also have low acidity, reducing the tangy, tart aftertaste associated with orange apricots. There are many different varieties of White apricots grown worldwide, with some of the cultivars including Canadian White Blenheim, Sugar Pearls, White Lightning, Moniqui, White Knockout, Xiaobai, Zard, Le Crème, and Shaa-Kar Pareh. In the modern-day, White apricots found in commercial markets are most likely hybrid varieties that have been bred over time to exhibit improved flavor, durability, and texture. Despite their hybridization, the fruits are still known for their delicate nature and short shelf life, leading many varieties to remain localized to their growing regions.
Nutritional Value
White apricots are a good source of vitamin A to maintain healthy organ functioning and vitamin C to protect against free radical damage, strengthen the immune system, and reduce inflammation. The fruits also provide potassium to balance fluid levels within the body, vitamin E to act as an antioxidant, copper to ensure an optimal nervous system, and lower amounts of vitamin K, niacin, phosphorus, and magnesium. In Traditional Chinese Medicine, the kernels of some White apricot varieties have been historically used by herbalists to relieve coughs, replenish qi, and remedy digestive issues. It is important to note that the kernels may contain toxic elements when consumed in large quantities and should not be consumed without prior approval by a doctor or health care provider. Not all apricot kernels are edible and expert guidance is vital.
Applications
White apricots have a mild, delicate flavor well suited for a variety of fresh and cooked preparations. The fruits can be eaten straight, out of hand as a sweet snack, or they can be halved and stuffed with cheeses, sliced and tossed into salads, chopped into fruit bowls, or blended into smoothies. The apricots can also be pureed into sauces and salad dressings, mixed into yogurt or breakfast bowls, or diced and added to salsa. In addition to raw applications, White apricots can be simmered into preserves, jams, jellies, and chutney, halved and grilled for a smokey flavor, roasted and served with meat, or baked into donuts, cakes, strudels, crisps, cobblers, tarts, and galettes. The apricots can also be canned or dried for extended use. When dried, the apricot pieces can be eaten as a chewy treat, cut up and mixed into rice, or incorporated into other savory main dishes as a sweet, textural element. White apricots pair well with nuts such as pistachios, almonds, and hazelnut, fruits including plums, cherries, citrus, and peaches, chocolate, vanilla, fresh cheeses such as ricotta, mascarpone, burrata, and chevre, honey, lavender, and lamb. Whole, unwashed White apricots can be left at room temperature in a paper bag to ripen, but once ripe, the fruits have a short shelf life and will only keep 1 to 2 days when stored in the refrigerator.
Ethnic/Cultural Info
Xinjiang, China, is often labeled as the "hometown of White apricots." The 1.6-million-kilometer area in Northwestern China is officially known as the Xinjiang Uygur Autonomous Region, and apricot trees have been extensively cultivated in the region for thousands of years for export into other cities of China. Xinjiang has a unique geographical profile as there are several mountain ranges, including the Tian Shan mountains, that split the region, forming two distinct basins with large deserts. In the Tarim basin, White apricots are frequently cultivated in the city of Kuqa, and it has been said that the apricot trees are planted in almost every backyard throughout the city. Over twenty varieties of White apricots are grown in the town, and the area is protected from extreme weather changes, contributing to the delicate apricot's successful growth. The area is also known for its ample sunshine and freshwater flowing from the Tian Shan snow runoff, allowing the White apricots to develop their signature sweet flavor and high sugar content. In Kuqa, White apricots are primarily consumed fresh or dried. Some kernels of select varieties are also prepared and sold as a sweet nut.
Geography/History
White apricots are believed by experts to be native to Central Asia and regions of China, growing wild since ancient times. The pale-fleshed apricots were cultivated in China in the Early Ages, and sometime before 1258 CE, the fruits were introduced into the Middle East and were grown throughout the Islamic empire. Today White apricots have been extensively bred and selected for improved traits, including sweeter flesh, a softer texture, and enhanced transportability. There are many different varieties of White apricots grown worldwide, with significant production regions found in China, Korea, the Middle East, Canada, and the United States. White apricot trees have been adapted to grow successfully in temperate climates with mild winters and long warm, dry summers. These trees also need full sun for maximum fruit production and sugar content. When in season, White apricots can be found worldwide in local markets and select specialty grocers.
Recipe Ideas
Recipes that include White Apricots. One

is easiest, three is harder.
Podcasts