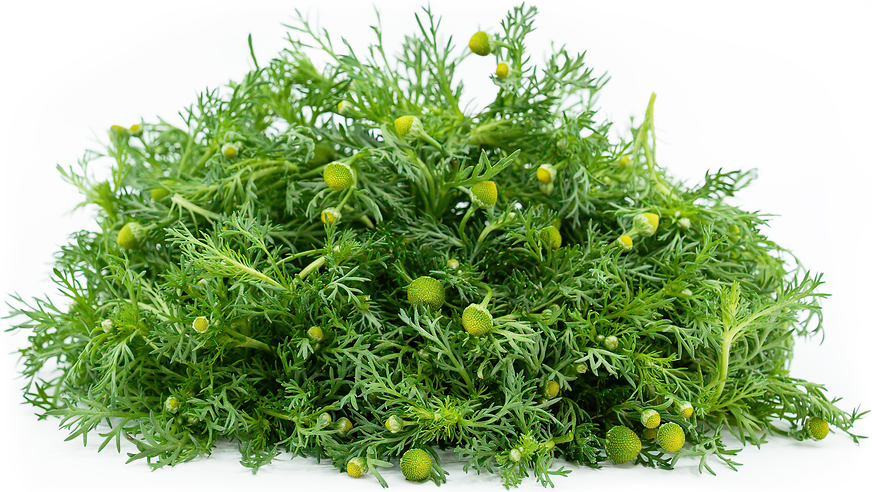 Pineapple Weed
Inventory, bunch : 0
Description/Taste
Pineapple weed is a small, low-growing plant comprised of branching leaves and seasonal flower buds. When young, the plants grow in flat rosettes showcasing bright green, fleshy leaves averaging less than two centimeters in length. As the plant matures, the vibrant green leaves extend along the stems in an alternate formation, developing a deeply lobed and segmented nature, creating a soft, frilly, fern-like appearance. In the spring and summer, small flower heads appear among the leaves, averaging 3 to 6 millimeters in diameter, and have a conical, dome-like shape. The yellow-green flower heads are a type of composite flower made up of tiny disk florets and no ray florets. At the base of the head, there are a few green bracts that have a tapered, lanceolate nature. When the flowers mature, they develop brown achenes that each envelop a seed, and one flower head can hold as many as 500 seeds. Pineapple weed is famous for its distinctly fruity, tropical, pineapple-like aroma when the leaves and flowers are crushed. The scent also incorporates undertones of chamomile, a defining nuance within the plant's pleasing smell. The plant's flowers and leaves can be consumed raw or cooked, and the leaves have a fresh, green, grassy, and sometimes bitter taste, while the flowers have a subtly sweet and herbaceous flavor.
Seasons/Availability
Pineapple weed is available in the spring through late summer.
Current Facts
Pineapple weed, botanically classified as Matricaria discoidea, is an herbaceous annual belonging to the Asteraceae family. The plants are low-growing, reaching approximately 15 to 40 centimeters in height, and are fast-growing, cycling from seed germination, maturity, to seed production in around one hundred days. Pineapple weed was named for its tropical, fruity, and pineapple-like scent and the flower's cone-like shape, resembling a tiny golden pineapple. The plant is also known as Street weed, Rayless mayweed, Wild chamomile, Pineappleweed, Disc mayweed, and False chamomile. It is important to note that though the species is nicknamed and similar in appearance to chamomile, the plant earned this moniker for its use as a medicinal ingredient similar to chamomile, Matricaria chamomilla. Pineapple weed grows wild worldwide, especially in North America, and the species is commonly found in places where plants usually cannot thrive, such as sidewalks, along roadsides, and in cracked concrete. Plants grown in urban settings should be avoided for culinary and medicinal use due to their increased risk of absorbing harmful elements and chemicals. Wild Pineapple weed plants in fields, meadows, and organic gardens can be foraged and utilized as a flavoring in culinary preparations and ingredient in natural medicines.
Nutritional Value
Pineapple weed is used throughout North America in natural medicinal remedies to soothe the skin. The plants are crushed and applied topically on sunburns, skin irritations, insect bites, and sores, or a wash could be created as the plants contain antimicrobial and antibacterial properties. Pineapple weed flowers are customarily dried and steeped into a tea. The tea stimulates the digestive tract, releasing gas and easing indigestion. It is also consumed to improve sleep and calm the nervous system. Among Native American tribes in North America, Pineapple weed flowers were sometimes strung into a garland and used as a necklace and household decoration, valued for their pleasing scent.
Applications
Pineapple weed has a green, subtly sweet taste suited for fresh and cooked preparations. The flowers and leaves are the most consumed portions of the plant, and the leaves are typically picked before the flowers bloom. Once the flowers appear, the leaves are often considered too bitter to consume raw. Young and tender leaves and flowers can be tossed into salads, layered into rolls, or sprinkled over grain bowls and crudité plates as an edible garnish. The flowers can also be simmered into a syrup and used to flavor salad dressings, cordials, cocktails, and desserts. Pineapple weed syrup complements the subtle notes in panna cotta and can be mixed into pudding, oat bars, or cookie batter as a fruity flavor enhancement. The flowers are also cooked into coconut cream and whipped or frozen into ice cream, sorbet, or granita. Beyond desserts, Pineapple weed is popularly used as a flavoring in jams and jellies or infused into tea for a light, fruity, and floral taste. Pineapple weed pairs well with vanilla, maple syrup, brown sugar, cinnamon, fruits such as coconut, strawberries, and citrus, and herbs, including mint, lemon basil, lemongrass, and rosemary. Freshly harvested Pineapple weed should be immediately used for the best quality and flavor. The flower buds can also be dried for extended use.
Ethnic/Cultural Info
In the American mid-west, Pineapple weed was historically used as a medicinal and spiritual ingredient in the Sun Dance of the Cheyenne people. The Cheyenne is one of the well-known tribes primarily located in the South Dakota, North Dakota, Oklahoma, Montana, and Nebraska regions and are a community of hunters and gatherers. Each year on the summer solstice, the day with the most extended daylight hours, the Cheyenne perform the Sun Dance, a traditional ritual to bless, clean, and renew the Earth and the tribe. During the ritual, known as Oxheheom in the Cheyenne's native language, 15 to 30 men are chosen to fast and undergo sacrificial disciplines such as attaching portions of their skin to hooks and dancing around a pole until the hooks are ripped from the flesh. These disciplines are a way of giving offerings to the creator god in hopes that blessings will be delivered in return to bring renewal. Pineapple weed, known as Onone-voneshke-moxeshene, translating to "Prairie dog mint," is also used in portions of the ceremony for its fragrance. It is said the plant tops are chewed and blown on the dancing men in the ritual to give a cooling effect. The flowers are also combined with sweet grass and other foraged goods as a perfume.
Geography/History
Pineapple weed is thought to be native to northwestern North America and northeastern Asia and has been growing wild since ancient times. Much of the species' history is unknown, and it has remained a wild plant foraged as a medicinal ingredient and culinary flavoring. Pineapple weed thrives in disturbed areas, including home gardens, fields, along pathways and roadsides, beside riverbanks, and in pastures. The fast-growing species can survive in a wide array of soils and climates, and the plants are hardy, able to grow after being stepped on, mowed, or cut. Pineapple weed is found naturally growing from central Alaska down to California and east to the Atlantic coast through the Midwest. Outside of North America, Pineapple weed was introduced to the United Kingdom in the late 1890s and was one of the fastest non-native species to naturalize within the country. The plant was rumored to have escaped Kew Gardens in the London Borough of Richmond in England and grew rampant after its release. Today Pineapple weed is primarily sold through fresh markets, direct from foragers, specialty growers, or select retailers in parts of Europe, Asia, and North America.
Recipe Ideas
Recipes that include Pineapple Weed. One

is easiest, three is harder.