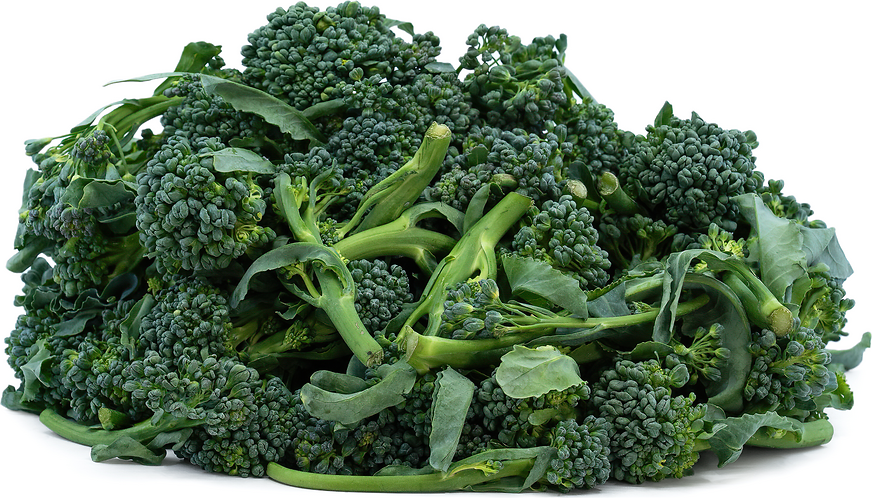 Baby Sprouting Calabrese Broccoli
Inventory, lb : 0
Description/Taste

Baby Calabrese Sprouting broccoli produces a small central head and subsequent smaller side shoots. Once the central head is removed the plant produces dozens of side shoots over an extended period. The stalks are thin and range between 5 and 9 centimeters long and the florets are loose and larger than those of a heading broccoli type. Baby Calabrese broccoli offers a tender texture and offers a mild, sweet flavor with subtle peppery notes.


Seasons/Availability

Baby Calabrese Sprouting broccoli is available for a short time in during late fall and the early winter months.


Current Facts

Baby Calabrese Sprouting broccoli are the small, tender stalks of Italian Calabrese broccoli which is a sprouting type. Botanically known as Brassica oleracea var italica, the heirloom variety is one of many cultivars of broccoli from the Calabrian region of Italy. It is commonly referred to simply as Sprouting Calabrese broccoli and is a favorite of gardeners, farmers and chefs. The sprouting variety is sometimes confused for broccolini, which is a hybrid of two different Brassica species.


Nutritional Value

Baby Calabrese Sprouting broccoli is rich in vitamins C, K and A and is a good source of folates, B-complex vitamins, manganese and iron. It is a source of dietary fiber, potassium and protein, as well as the minerals calcium, copper, magnesium, and selenium, with trace amounts of zinc and sodium. The sprouting broccoli also contains carotenoids, phytonutrients and flavonoids like lutein and zeaxanthin, which provide beneficial antioxidants.


Applications

Baby Calabrese Sprouting broccoli is more tender than the often larger, heading type of broccoli. Baby Calabrese Sprouting broccoli can be sautéed, steamed, roasted, grilled and fried. It is added to pastas, risottos, stir-fry and salads. ingredient and pizza topping. Baby broccoli's flavor marries well with butter, olive oil, lemon, lime, light-bodied vinegars, garlic, tomatoes, chiles, olives, cured meats such as pancetta and prosciutto, flaky white fish, herbs such as basil and rosemary, hard cheeses such as parmesan and pecorino and fresh cheeses such as chevre and feta. Baby Calabrese Sprouting broccoli can be stored in the refrigerator for up to a week. They can be blanched and frozen for up to 3 months.


Ethnic/Cultural Info

The word broccoli wasn't applied to the Brassica variety until it showed up in Italy. The word is derived from the Latin brachium, which means branch or arm. The term broccoli was originally only applied to sprouting forms of Brassica oleracea. Sprouting broccoli was introduced to Northern Europe as Calabrese broccoli and is still known by that name today in Italy and Britain.


Geography/History

Baby Calabrese Sprouting broccoli is native to Italy but has its origins in the western Mediterranean region in what is now southwestern Turkey, coastal Syria, Lebanon, and southern Greece. The variety was named after the Italian province of Calabria and was introduced to Northern Europe and Britain by the early 18th century as Calabrese broccoli. Italian immigrants brought Calabrese broccoli to the United States sometime during the late 19th and early 20th century, where a variety of Calabrese cultivars were developed. Baby Calabrese Sprouting broccoli grows best in cooler temperatures yet can grow in areas with mild winters. It can be spotted at farmer's markets and in grocers in the United States, New Zealand, and throughout Europe and the Mediterranean region.