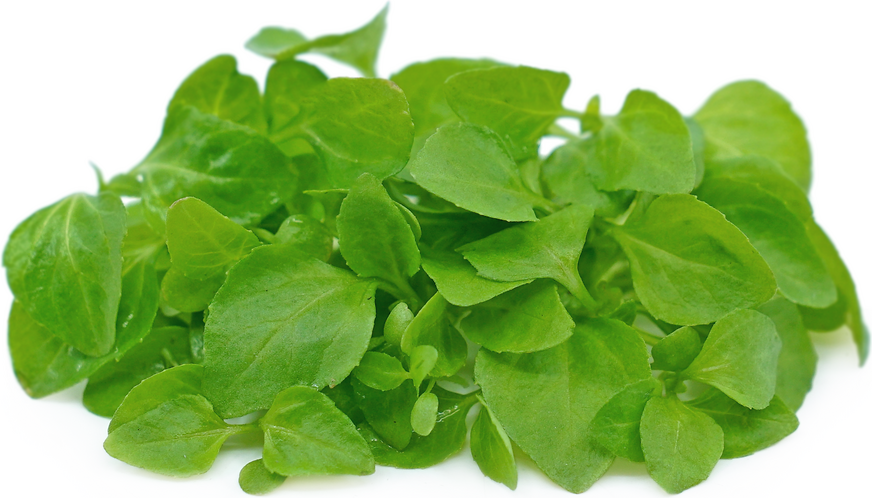 Petite® Buzz Leaf™
Inventory, 4 oz : 0
This item was last sold on : 03/09/22
Description/Taste

Petite® Buzz Leaf™ is very small, measuring approximately 4 to 6 centimeters in length, and has 3 to 4 spade-shaped leaves attached to short, slender stems. The delicate leaves are bright green and often bear jagged, lightly serrated edges. The surface of the leaves is smooth and contains prominent veins that connect into a stout and sturdy dark green stem. Petite® Buzz Leaf™ has a crisp, tender, and succulent consistency and is relatively mild with a slightly herbal flavor followed by citrus notes. Upon consumption, the leaf releases an active compound that creates a unique sensation on the tongue, resulting in a tingling and numbing feeling that stimulates the saliva glands.


Seasons/Availability

Petite® Buzz Leaf™ is available year-round.


Current Facts

Petite® Buzz Leaf™ is a part of a specialty line of boutique greens developed by Fresh Origins Farm, a sustainably focused operation located in San Marcos, California. Petite® greens are more mature than microgreens but are harvested before they have fully developed, approximately 4 to 6 weeks after sowing, resulting in small, tender leaves with full flavor. Petite® Buzz Leaf™ greens are the young leaves of the Szechuan button herb, botanically classified as Acmella oleracea, and have been used for centuries as a natural pain reliever for toothaches and other mouth ailments. The leaves and flowers of the plant impart an effervescent feeling in the mouth, creating a numbing and tingling sensation on the palette. Fresh Origins grows over 125 varieties of Petite® Greens developed with chefs in mind. The delicate Petite® Buzz Leaf™ greens have become a favored choice of chefs and mixologists due to their beautiful appearance and ability to alter and enhance the flavor of accompanying ingredients.


Nutritional Value

Petite® Buzz Leaf™ contains spilanthol, a compound absorbed through the soft tissue in the mouth that gives the flowers their tingling, numbing sensation. This compound provides anti-inflammatory properties, acting as a natural analgesic while also stimulating the trigeminal nerve, triggering a sensory, saliva-inducing reaction in the mouth. For centuries, the leaves have been utilized in folk medicines throughout South America and Asia to naturally numb pain associated with toothaches and sore throats.


Applications

Petite® Buzz Leaf™ greens have a mild flavor and unique effervescent quality that lends itself to culinary preparations and mixology. The leaves can be used to garnish a plate to enhance the flavors already present, or they can be muddled in a cocktail to create a sensory experience. They can also be blended into a sauce that can be used during plating or mixed into a vinaigrette and drizzled over a salad. In addition to sauces, the leaves can be finely chopped into sugars, salts, or oils and used to accent sweet and spicy flavors, or they can be used to garnish desserts like ice cream, cake, or sorbet to create a unique flavor experience. It is recommended to start with smaller amounts and gradually add more to develop a sensory dish. Petite® Buzz Leaf™ greens pair well with citruses such as lemons, grapefruit, limes, and oranges, honey, agave, ginger, mango, cucumbers, seafood, poultry, and springtime vegetables including peas, fava beans, and green garlic. Petite® Greens will generally keep up to seven days when stored unwashed, dry, and in a container in the refrigerator. It is recommended to use Petite® Buzz Leaf™ immediately for the best quality and flavor.


Ethnic/Cultural Info

Szechuan button leaves have been used in Brazil for centuries as a medicinal remedy and culinary ingredient. The plants are known as jambu in Northern Brazil and are prized for their mouth-numbing qualities, making it easier to tolerate the spicy dishes enjoyed by the Amazonian and Paraense cultures of the region. One of the signature spicy dishes is tacaca, a shrimp soup made by street vendors that includes jambu leaves. Arroz de jambu is another typical dish featuring rice, the effervescent leaves, meat, and seafood. Traditionally, the herb has been grown on small family farms, but demand for the unique herb has increased in recent years, leading to more commercial production and availability. The leaves have also gained in popularity in the cuisines of Europe and the United States, leading to the production of the herb in the temperate regions of these areas.


Geography/History

Szechuan button bushes are believed to be native to regions of South America, spanning from Brazil to Argentina, where the leaves and flowers have been used for centuries as a natural numbing agent for toothaches and swollen joints. The herb was spread to Africa, India, and Haiti along trade routes and now grows well throughout many different tropical and temperate zones. The herb's flowers were introduced to the United States in the early 21st century and quickly gained popularity amongst chefs and mixologists. Recently, the leaves of the herb have also increased in demand as chefs continue to seek out new and exciting ingredients. Petite® Buzz Leaf™ was developed at Fresh Origins in San Marcos, California, the leading American producer of naturally grown microgreens and Petite® Greens since the mid-1990s. The temperate climate of southern California allows Fresh Origins to produce high-quality greens year-round, supplying produce purveyors and chefs directly throughout the United States and Canada.