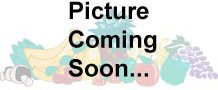 Heirloom Coeur De Beef Tomato
Inventory, 7 lbs : 0
Description/Taste
Coeur de Boeuf tomatoes are large, weighing upwards of 12 ounces, and they have an irregular, heart-like shape with heavy ribbing. They ripen from the inside out, so their skin may still have a greenish appearance even after the inner flesh matures, though it will eventually ripen to be bright red throughout. The flesh is firm and meaty with few seeds and little juice, and it offers a mild, sweet, moderately acidic flavor. Due to the fruit's large size, staking is required to support the Coeur de Boeuf tomato plant, which is a strong producer with large vines.
Seasons/Availability
Coeur de Boeuf tomatoes are available in the summer and early fall.
Current Facts
Coeur de Boeuf tomatoes are scientifically known as Solanum lycopersicum or Lycopersicon esculentum, and they belong to the Solanaceae family, commonly known as the nightshade family. Their name translates as Beef Heart, Bull's Heart, or Bovine Heart, and was given for their shape. As this tomato uniquely ripens from the inside out, its skin may still be green even when the fruit is ripe enough to eat, and hence it is common to find a greenish form of Coeur de Boeuf tomatoes at farmer's markets, particularly in Europe.
Nutritional Value
Coeur de Boeuf tomatoes are an excellent source of vitamin A, vitamin C, and folic acid. They also contain good amounts of fiber, carbohydrate, potassium and iron. Tomatoes are most widely known for their outstanding antioxidant content, notably lycopene. Lycopene is responsible for giving tomatoes their rich red color, and it has been studied for its ability to lower the risk of certain types of cancer.
Applications
Coeur de Boeuf tomatoes can be used raw or cooked. They can be sautéed, grilled, roasted, or fried, and are a popular choice for making the French dish, ratatouille. The large size of Coeur de Boeuf tomatoes lends well for slicing onto sandwiches and salads. In Italy, they are paired with mozzarella, basil, olive oil and sea salt for a classic caprese salad, and also, thanks to their low juice content, they are a favorite variety for use in pastas and sauces. Pair tomatoes with avocado, olive oil, or nuts, as the lycopene content of tomatoes has been shown to be especially effective when eaten with fat-rich foods. Tomatoes are not only complimented by savory flavors, but they can also be paired with other fruits, such as apricots, peaches, or berries. Coeur de Boeuf tomatoes should be stored at room temperature until ripe, after which refrigeration can slow decay.
Ethnic/Cultural Info
The name Coeur de Boeuf translates from French as "Bull's Heart". There are several varieties of tomatoes that are named Bull's Heart in various languages, some of which may be referring to the same tomato, however many are actually different cultivars despite the fact that they share the same translated name. In Italy, for example, there is a similar heirloom tomato called cuore di bue, which translates the same as Coeur de Boeuf, though it is unclear if it is the same cultivar. Coeur de Boeuf is also sometimes translated as "OX Heart" or "Beef Heart", and may be given as a name to other varieties that have a heart shape, or are simply beefsteak-type tomatoes.
Geography/History
Coeur de Boeuf tomatoes are an heirloom variety from France, though not much else is known about their history. They are found most often in markets throughout France, Italy, Spain, and even England, and they are recommended for growing both outdoors and in greenhouses.
Podcast