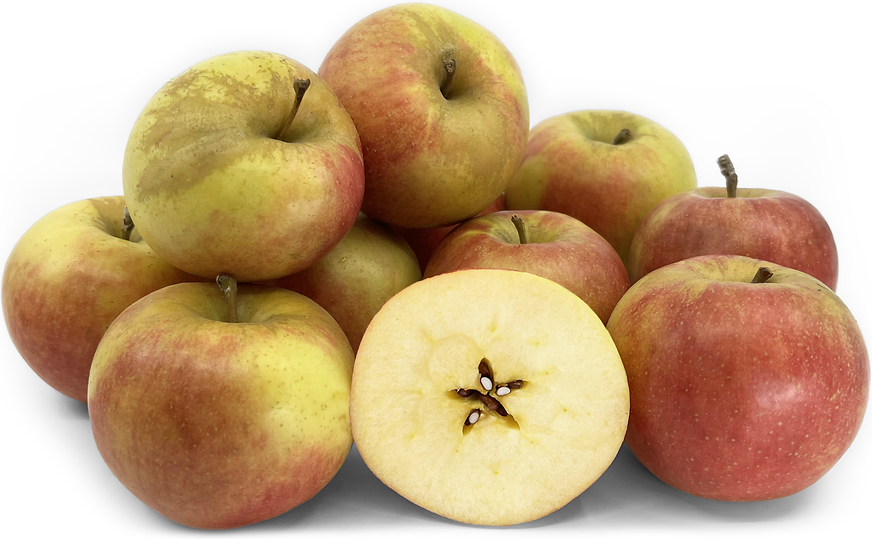 Ludacrisp® Apples
Inventory, lb : 0
Description/Taste

Ludacrisp® apples are a medium to large varietal, averaging 7 to 9 centimeters in diameter, and have a uniform, round, to conical appearance with flat, broad shoulders tapering to a narrow base. The apple's skin has a golden yellow base, covered in patches of bright to dark red blush with some crimson striping. The amount of saturated red blush will vary, depending on sun exposure during cultivation, and the stem cavity is filled with a light brown, sandy russet that sometimes cascades out of the cavity onto the shoulders of the fruit. The skin is also thick, chewy, taut, and semi-smooth, with tan lenticels scattered across the surface. Underneath the skin, the ivory to yellow flesh is moderately coarse, firm, and aqueous with a crisp, breaking consistency. The crunch is lighter and not quite as dense as other commercial varieties, and the flesh also encases a small central core filled with tiny black-brown seeds. Ludacrisp® apples have a sweet, cider-like aroma and a syrupy, tropical, fruity, and floral taste. The sweet apples are complex, with some consumers believing they contain flavor nuances reminiscent of red grapes, pineapples, and strawberries. Other consumers note subtle spice-filled undertones of clove mixed with melon.


Seasons/Availability

Ludacrisp® apples are harvested in the fall and can be stored through the winter.


Current Facts

Ludacrisp®, botanically classified as Malus domestica, is a marketing name for an American apple variety belonging to the Rosaceae family. The apples were developed from an open-pollinated cross of Honeycrisp apples in the late 20th century and were released as a commercial cultivar in the early 21st century in the United States and Canada. Ludacrisp® apples are also known as MAIA-L apples and are a dessert variety favored for their uniquely fruity and aromatic taste. The apples are currently in production in the Midwest and are harvested in mid to late October, approximately 3 to 4 weeks after Golden Delicious, about one week before EverCrisp® apples, and ten days before Fuji apples. Ludacrisp® apples are a fresh-eating variety valued for their extended storage capabilities, crisp nature, and complex flavoring. Growers also favor the variety for its resistance to fire blight, apple scab, and powdery mildew, and the apple trees are fast-growing, productive, and provide a long picking window.


Nutritional Value

Ludacrisp® apples are a source of vitamin C to strengthen the immune system while boosting collagen production, vitamin A to maintain healthy organ functioning and vision support, and fiber to regulate the digestive tract. The apples also provide potassium to balance fluid levels within the body, vitamin E to reduce inflammation, antioxidants to protect the body against free radical damage, and other nutrients, including magnesium, copper, calcium, phosphorus, manganese, and zinc.


Applications

Ludacrisp® apples have a sweet and fruity flavor suited for fresh preparations. The apples are primarily consumed straight out of hand as a dessert cultivar to enjoy the fruit's distinct, tropical taste. Ludacrisp® apples can also be chopped into salads, shredded into slaws, mixed into grain bowls, or added to fruit medleys. The sweet, crisp nature of the variety allows it to complement soft cheeses and salty cured meats on charcuterie boards, or the apples can be sliced and served with dips, caramel, or chocolate. Try adding Ludacrisp® apples to smoothies or using them as a fresh topping over oats, yogurt, or waffles. The apples can also be sliced and layered into sandwiches or placed on toast slathered in nut butter. Beyond fresh preparations, Ludacrisp® apples have ester flavor compounds that give the fruits a flavor reminiscent of tropical nuances found in pineapples, grapes, and strawberries. These compounds remain in the juice after fermentation, allowing Ludacrisp® apples to create fruity, complex-flavored hard ciders. Ludacrisp® apples pair well with vanilla, chocolate, caramel, maple syrup, spices such as cinnamon, ginger, cloves, and cardamom, and herbs including mint, basil, parsley, thyme, and rosemary. Whole, unwashed Ludacrisp® apples have extended storage capabilities and will keep for several months when stored in a cool, dry, and dark place.


Ethnic/Cultural Info

Ludacrisp® apples were nicknamed "Juicy Fruit apples" by the Lynd family as they were trialing the variety for possible commercial cultivation. The apples were said to have a fruity, tropical flavor that reminded the family of the popular commercial chewing gum of the same name. Mitch Lynd, owner and co-founder of the Midwest Apple Improvement Association, even brought the apple to The Ohio State University's Flavor Research and Education Center to help him distinguish the nuances within the Ludacrisp® apple's flavor profile. The Flavor and Education Center determined that ester compounds in the apple's flesh were like compounds found in strawberries, pineapple, and European red grapes. This ester compound combination is what creates the apple's sweet, tropical, and floral flavor. Initially, the Lynd family wanted to name the apples Juicy Fruits, but due to trademark restrictions from the famous chewing gum, a request for names was sent to members of the MAIA. Over 400 names were submitted from members for several varieties that the association was releasing, and after reviewing the selections, 12 names were selected for member voting. Ludacrisp® was the most voted-for name, and it was discovered that members had polar reactions to the moniker, either loving the name or hating it. The MAIA valued the strong emotional responses to the name, deeming it a memorable moniker, and felt that it embodied the nature of the MAIA-L apple. The name Ludacrisp® is a play on the word "ludicrous," meaning something that is absurd, joking, nonsensical, and playful. The apple's name was created to make people smile.


Geography/History

Ludacrisp® apples are a modern apple variety developed by the Midwest Apple Improvement Association, also known as the MAIA, in the late 20th century. The MAIA was established by Ed Fackler and Mitch Lynd in the mid-1990s out of a need for a breeding program suited for midwestern apple cultivation. The association is founded by growers for growers, and the new apple varieties are created, tested, and evaluated on member farms. MAIA is known for releasing EverCrisp®, Summerset®, and Rosalee® apples. Ludacrisp® apples were discovered on the Lynd Fruit Farm in Pataskala, Ohio, a city about nineteen miles outside Columbus. The apples were found growing in a test block of Honeycrisp apple trees and were open-pollinated by an unknown variety in 1999. Seeds from the new fruits were grown and planted as seedlings in 2001, and by 2010, the trees were being propagated for potential commercial release. Initially, the variety was known as MAIA-L, but with its release in 2019 and 2020, the apples were renamed Ludacrisp® as a marketing moniker. Over 55,000 Ludacrisp® apple trees were planted in the Midwest in 2020, mainly in Ohio, and growers must be members of MAIA to be able to plant and sell the variety. Today Ludacrisp® apples are increasing in cultivation throughout the Midwest and are sold through farmer's markets, select grocers, distributors, and pick-your-own farms.