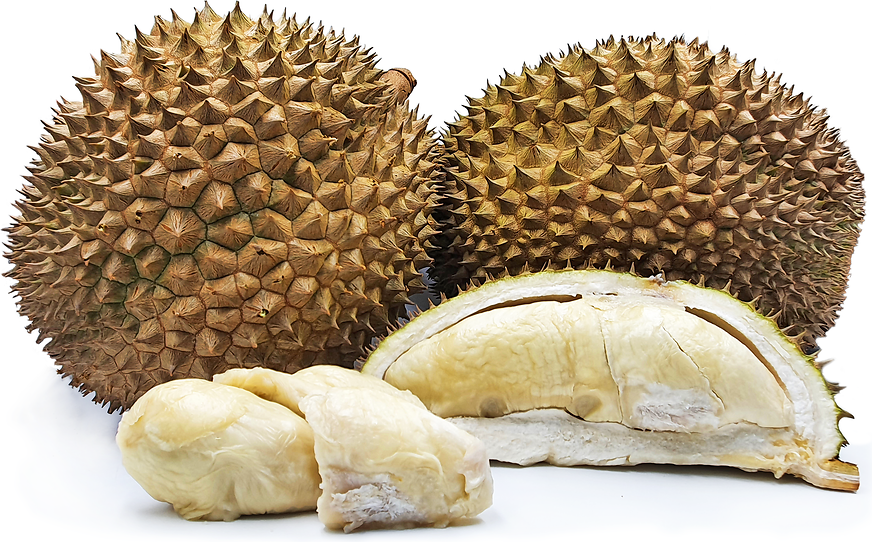 Hepe Durian
Inventory, lb : 0
Description/Taste
Hepe durians are small to medium fruits and generally have an oval to round shape with a fibrous, woody brown stem. The surface is covered in large, pyramidal spikes that are wide and unevenly spaced apart, and the sharp points range in variegated hues of brown, yellow, and green. Hepe durians also have visible, vertical seams that indent into the fruit, creating distinct lobes. The hard husk can be cut along the seams and torn open to reveal a white, spongy interior, encasing multiple thick pieces of flesh tightly nestled into chambers. Each cream-colored to ivory lobe has a soft, wrinkled appearance with a creamy, dense, and smooth, paste-like consistency. Within the flesh, there are also small, narrow, and flat, brown seeds. Hepe durians have a milder, less pungent scent than other durian varieties and contain a prominent sweetness followed by a subtly tannic to bitter flavor.
Seasons/Availability
Hepe durians are available in Indonesia's monsoon or wet season and are typically found through growers in December through February. It is important to note that the season may change each year depending on climate and seasonal weather.
Current Facts
Hepe durians, botanically classified as Durio zibethinus, are a local Indonesian variety belonging to the Malvaceae family. The bittersweet fruits are an older durian variety, cultivated since the early 20th century, and the name Hepe translates from Sudanese to mean "deflated." This descriptor was given to the variety in honor of the fruit's small, flattened seeds. Hepe durians are challenging to find as the cultivar is typically presold to customers. In Indonesia, popular foreign durian varieties such as Monthong are prominently displayed in markets as the commercial fruits appeal to both locals and tourists. Commercially known durians also tend to have a more consistent flavor profile and are easily recognizable for a faster point of sale. Local durian varieties, including Hepe durians, are grown in limited quantities and have a unique flavor profile. During durian season, customers will agree to reserve and purchase a fruit off of the tree in advance. Presales are a popular method of obtaining rare durian varieties, and often Hepe durians will sell out before they reach fresh markets. Hepe durian trees are fast-growing, bearing fruit in approximately 4 to 5 years, and produce around 30 fruits per season. Many growers are also beginning to propagate the variety and sell seedlings for home cultivation. Hepe durians are valued for their thick flesh, small, flat seeds, and sweet, slightly bitter flavor.
Nutritional Value
Hepe durians, like other varieties, are an excellent source of vitamin C, an antioxidant that strengthens the immune system, boosts collagen production, and reduces inflammation. The fruits are also a good source of potassium to balance fluid levels within the body, magnesium to regulate blood pressure, fiber to stimulate the digestive tract, manganese to assist with protein digestion, and contain lower amounts of phosphorus, iron, copper, and zinc.
Applications
Hepe durians are best suited for fresh applications as their soft flesh and bittersweet flavor are showcased when consumed fresh, out-of-hand. The rare variety is difficult to find in markets, and when successfully purchased, Indonesians generally enjoy the flesh raw to savor the fruit's authentic flavors and texture. Hepe durians can be cut along their seams and torn open to consume fresh. It is important to note that the seeds are toxic when raw. The seeds can be cooked, but many choose to discard them as the Hepe durian seeds are too small and flat. In addition to fresh eating, Hepe durians can be blended into smoothies, shakes, and coffee with added sweetener, or it can be layered over sticky rice as a sweet and savory dessert. The flesh can also be cooked with syrup and used as filling for cakes, tarts, crème puffs, rolls, and bars, or it is blended into ice cream and shaved ice. Beyond the flesh, which only makes up approximately thirty percent of the durian, the fruit's husks and seeds are sometimes processed into particleboard in an effort to reduce waste. Hepe durians pair well with passion fruit, mangoes, coconut, mangosteen, bananas, whipped cream, brown sugar, chocolate, pandan, red bean, and vanilla. Whole and fresh, unopened Hepe durians should be immediately consumed for the best flavor and texture. Once the flesh is removed from the husk, it can be stored in an airtight container for a couple of days.
Ethnic/Cultural Info
In Indonesia, Hepe durians were one of former Indonesian President Sukarno's favorite durian varieties. The 20th-century politician was well-known for supporting Indonesia through the struggle for independence from the Dutch Empire and was also the first President of Indonesia. Sukarno is sometimes known by the name Bung Karno, and during his presidency, he had a reputation for highly favoring fruit shipped from Bogor. The West Java city was located approximately 60 kilometers south of Jakarta, the country's capital, and had the fastest transportation time, providing Sukarno with the freshest fruits. Sukarno was known for enjoying durian and publicly stated that his favorite varieties were Hepe, saleja, parung, and ajimah. In the present day, parung and saleja have become extinct, and Hepe durians are the main type that is still available. In the 1960s, Sukarno was also famously remembered for giving durian to the United States diplomat and ambassador Marshall Green at the University of Indonesia's laying ceremony. Green was known for strongly disliking durian, but when Sukarno surprised him with the pungent fruit on stage in front of thousands of people, he was compelled to eat it, especially when the crowd began chanting "makan, makan," meaning "eat it, eat it."
Geography/History
Hepe durians are native to the Bendungan village in the Jonggol subdistrict of Bogor in Indonesia. The variety's original rootstock is believed to be over 100 years old and is owned by durian grower H. Abroh, who said the rootstock was passed down to him from his father. Hepe durians are considered a local variety that is not commonly found in markets. Throughout Indonesia, it is estimated that there are over 200 local durian varieties. In the modern-day, Hepe durians are primarily grown in their native region and are transported into Jakarta for sale through local markets. Many durian growers are also propagating the variety for home garden use and are sending seedlings into Sumatra and Central, West, and East Java. When in season, Hepe durians are available directly from growers in Indonesia, or they are purchased through durian distributors in fresh markets.
Recipe Ideas
Recipes that include Hepe Durian. One

is easiest, three is harder.