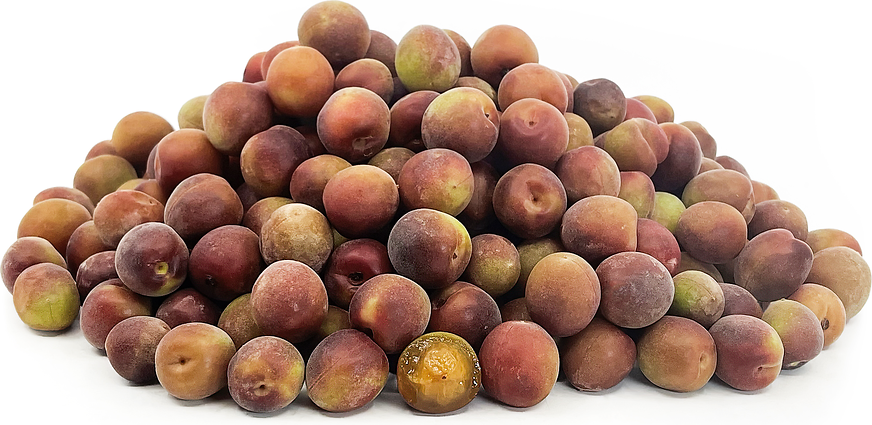 Koume Purple Plums
Inventory, lb : 0
Description/Taste

Koume plums vary in size, shape, and appearance, depending on the specific variety, and generally average 4 to 6 grams in weight. The small plums range from 1 to 3 centimeters in diameter and have a round, oval, or ovate shape, and the skin is typically thin, smooth, and taut. Koume plums will also showcase different skin colorings unique to each variety. The plums appear in variegated shades of dark purple, red, golden yellow, to green, and some may display a suture line or indented stem cavity. Underneath the surface, the flesh is firm, dense, aqueous, and crunchy, found in translucent yellow, green, and red-purple hues. The flesh also encases a center pit with seeds. This pit is inedible and should be discarded. Koume plums emit a robust, fruity aroma when ripe and will remain firm to the touch. The flesh can be consumed raw or cooked and has a subtly sweet, sour, and tangy taste.


Seasons/Availability

Koume plums are available in the late spring through early summer, with a peak season from May to early June.


Current Facts

Koume plums, botanically a part of the Prunus genus, are Japanese plum varieties belonging to the Rosaceae family. The name Koume translates from Japanese to mean "small plum" and is used in commercial markets as a general descriptor for several varieties of plums. Koume plums arrive in markets earlier than other larger plum cultivars, and the fruits typically retain a crunchy texture, making them suitable for infusing into wine or pickling. Within the category of Koume plums, there are varieties found in varying shades of green, yellow, purple, and red, and notable cultivars include Purple Queen, Ryukyo, Koshu, Nanaori, Shiso, Konan, Rinshu, Kogyoku, and Beni-Nanko. Purple Queen Koume plums are one of the most famous varieties, as they are only grown in limited quantities in the Kinan region of the Wakayama Prefecture. This variety is also unique as it has a katakana name, meaning its name is derived from words of foreign origin. Koume plums are a summer delicacy widely found throughout Japan for fresh, cooked, and pickled preparations.


Nutritional Value

Koume plums have not been extensively studied for their nutritional properties. Plums, in general, are a source of fiber to regulate the digestive tract, vitamin C to strengthen the immune system, and potassium to balance fluid levels within the body. Plums also provide vitamin A to maintain healthy organ functioning, magnesium to control nerves, calcium to build strong bones and teeth, and other nutrients, including vitamin K, phosphorus, and folate. Koume plums with red or purple skin contain anthocyanins, natural pigments with antioxidant-like properties to reduce inflammation and protect the cells against the damage caused by free radicals.


Applications

Koume plums have a sweet and sour nature suited for fresh and cooked preparations. The small plum varieties are notably firm and crunchy, and the fruits can be consumed straight out of hand, but they are more popularly used in pickled recipes. Koume plums create bite-sized umeboshi, also known as salted and pickled plums, and the pickled fruits are often served with rice or other dishes in bento boxes. The plums are also used to create liquors such as rum, brandy, or sake, or they are pressed into mixed juices. In addition to fresh preparations, Koume plums are simmered into plum syrup. When heated, the fruits release a dark red, saturated juice, coloring the syrup. Koume plums can also be cooked into jams for extended use. Koume plums pair well with spices such as cinnamon, ginger, cloves, and rosemary, fruits including persimmons, berries, and stone fruit, nuts such as almonds, pecans, and hazelnuts, honey, maple syrup, vanilla, and chocolate. Whole, unwashed Koume plums should be immediately processed or consumed for the best quality and flavor. The fruits may also be stored covered in the fridge for a few days or frozen for extended use.


Ethnic/Cultural Info

Koume plum varieties are traditionally used for pickling in Japan. Pickled plums are known as umeboshi, and the custom of pickling the fruits dates back to ancient times. Plums were introduced from China to Japan sometime during the Yayoi Period, 300 BCE to 250 CE, and in the Asuka period, 592 to 710 CE, it was recorded that smoked plums were carried from China for medicinal use. These smoked plums were labeled as "woomei" or "wu-mei" and were used in natural medicines to soothe coughs and regulate the digestive tract. After the plum's medicinal introduction, plum trees were also planted and bred over time to adapt to Japan's varying climates for culinary use. Plums became a favored fruit for salting and pickling, and the new pickled dish was labeled umeboshi. Samurai during the Muromachi Period, 1333 to 1573 CE, consumed umeboshi on the battlefield. Umeboshi contains citric acid to assist in removing lactic acid that builds in the muscles, and samurai would eat the pickled plums to speed up their recovery and keep hunger at bay. In the Edo Period, 1603 to 1868 CE, umeboshi became a widespread prepared dish, and the pickled plums were used for their antibacterial properties to prevent food poisoning and spoiling in bento boxes, similar to how they are used in the modern-day.


Geography/History

Koume plums are descendants of plum varieties native to China. Plums, in general, were carried to Japan sometime during the Yayoi Period, 300 BCE to 250 CE, and were bred over time for medicinal and culinary purposes. Koume plums were developed throughout various growing regions in Japan, and each variety was created at different points in history. Several cultivars are sold under the general name of Koume plums, and one of the most famous varieties in commercial markets is the Purple Queen Koume plum. Purple Queen Koume plums were discovered growing as a chance seedling of Hakuou in Nakamiso, Tanabe City. Mr. Osamu Hirohata found the seedling in 1982, and in 1996, the plums were listed as a new variety under registration No. 5132377. Purple Queen plums were later adopted by JA Kinan in 2005, and Mr. Osamu Hirohata transferred the breeding rights, stating that JA Kinan was the only entity to sell and distribute Queen plums. Today, Koume plums are primarily produced in Wakayama, Yamanashi, Nagano, and Ehime Prefectures. When in season, the fresh fruits are sold through fresh markets, select grocers, and distributors in Japan.