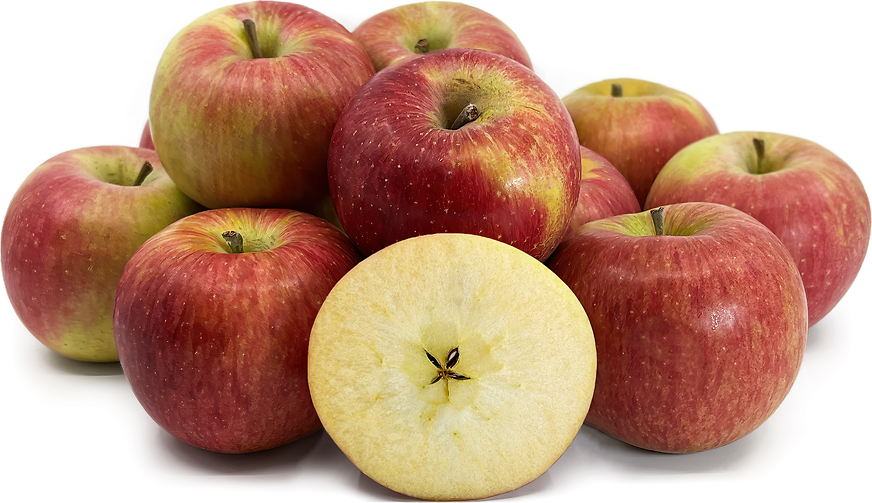 Shinano Sweet Apples
Inventory, lb : 0
Description/Taste

Shinano Sweet apples are a medium to large varietal, averaging 300 to 400 grams, and have a round to oval shape with flat shoulders, a broad, curved middle, and narrow base. The fruit's skin is smooth, taut, and firm with a faint sheen, and as the apples ripen, they develop a natural, sticky feel. The skin also has pale lenticels and a yellow-green base, covered in variegated red blush tones with dark red striping. Underneath the surface, the yellow flesh is soft, aqueous, and semi-dense, with a crisp, tender consistency. The flesh also encases a small central core filled with tiny black-brown seeds. Shinano Sweet apples emit a fragrant, fruity aroma when ripe and should feel heavy for their size, indicating juice content. The apples can be consumed raw and are known for their high sugar content, ranging from 13 to 15 degrees Brix. This high sugar content is mixed with mild acidity, creating a sweet, subtly tangy, and mild taste.


Seasons/Availability

Shinano Sweet apples are harvested in the mid-fall through early winter, with a peak season in October and November in Japan.


Current Facts

Shinano Sweet apples, botanically classified as Malus domestica, are a Japanese variety belonging to the Rosaceae family. The late-season apples were developed in the late 20th century in the Nagano Prefecture and were selected for their large size, soft, juicy flesh, and sweet, mild taste. Shinano Sweet apples are named for the soft, forward sweetness found in their flavor profile and are also named after a town in the Nagano Prefecture. The variety is a part of the Shinano series, a line of apples developed by the Nagano Prefecture Fruit Tree Experiment Station, and there are several commercial apples a part of this series, including Shinano Red, Shinano Sweet, and Shinano Gold. Shinano Sweet apples are prized for their fresh eating abilities and are a specialty apple extensively promoted as a delicacy from the Nagano Prefecture.


Nutritional Value

Shinano Sweet apples are a source of copper to develop connective tissues, magnesium to control nerve functions, iron to produce the protein hemoglobin for oxygen transport through the bloodstream, and fiber to regulate the digestive tract. The variety also provides potassium to balance fluid levels within the body, calcium to build strong bones and teeth, vitamin C to boost the immune system, and other nutrients, including small amounts of vitamin E, manganese, phosphorus, vitamin A, vitamin K, and zinc. Beyond vitamins and minerals, Shinano Sweet apples develop a sticky feel to their skin when ripe. This is naturally caused when oleic and linoleic acid break down in the fruit's skin, dissolving waxy substances that rise to the surface.


Applications

Shinano Sweet apples have a sweet taste suited for fresh and cooked preparations. The variety is popularly consumed out of hand and is savored for its juicy, soft flesh. Shinano Sweet apples can also be pressed into fresh juice, a common use for the fruits in Japan. Try adding Shinano Sweet apples to salads, slicing and serving on charcuterie boards, or chopping and topping over oatmeal as a breakfast dish. The apples can also be layered into parfaits, sandwiches, or spring rolls, served on toast, or dipped into caramel, chocolate, or nut butter as a snack. In addition to raw preparations, Shinano Sweet apples can be cooked and tend to break down in the process. They are mostly incorporated into compotes, jams, and jellies, simmered into apple butter, or cooked into a sauce that can complement roasted meats and root vegetables. Shinano Sweet apples pair well with carrots, parsnips, beets, and celery root, citrus, meats including pork, poultry, beef, and turkey, and cheeses such as cheddar, pepper jack, gouda, brie, and parmesan. Whole, unwashed Shinano Sweet apples will keep for 1 to 2 weeks at room temperature and for two months when stored in the refrigerator's crisper drawer. The apples should be wrapped in newspaper to prevent moisture loss and placed in a plastic bag in the refrigerator to extend the apple's shelf life for the best quality and flavor.


Ethnic/Cultural Info

Shinano Sweet apples were originally known as Ajipika apples when they were first created in the late 20th century. Ajipika roughly translates to "bright or sparkling flavor" and was named for the variety's sweet and refreshing nature. The effervescent moniker was chosen from a public contest, but the name was short-lived due to trademark issues. A mandarin orange had already been trademarked with this name, so the apples were rebranded under Shinano Sweet. Shinano Sweet apples are also part of an apple line in Japan known as Ringo Sankyodai®, which translates to "Three Huge Apples." Each of the three apples promoted in the line is native to the Nagano Prefecture and is heavily marketed as specialty apples of the region. Ringo Sankyodai® includes Shinano Sweet apples, Akiei apples, and Shinano Gold apples and was created by the National Federation of Agricultural Cooperative. When the apples are in season, the line is also nicknamed the "Three Apple Brothers" and is advertised with custom-written jingles aired on the radio in Japan.


Geography/History

Shinano Sweet apples are native to Japan and were developed at the Nagano Prefecture Fruit Tree Experiment Station in 1978. The variety was traditionally bred from a cross between Fuji and Tsugaru apples, and the seeds from the cross were planted the following year, in 1979. Fuji apples were selected as a parent variety for their sweet-tart flavors, and Tsugaru was chosen for its strong sweetness, a combination that developed a balanced, refreshing apple. In 1984, the seedlings first produced fruits, and breeding was completed in 1993. Shinano Sweet apples were filed for registration in 1994, and in 1996, they were granted registration, officially becoming a new variety throughout Japan. Today, Shinano Sweet apples are primarily cultivated in the Nagano prefecture, accounting for over half of the total production, followed by the Aomori and Akita Prefecture. When in season, the variety is sold directly through growers, distributors, and select fresh markets in Japan.