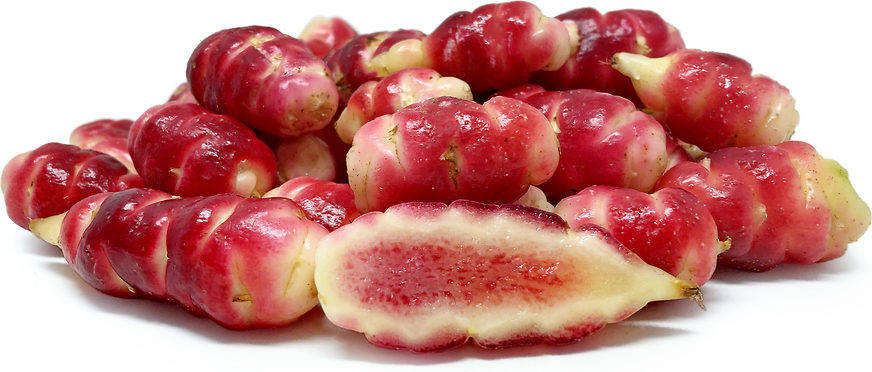 Red Bolivian Oca
Inventory, lb : 0
Description/Taste
Red Bolivian oca is a small, elongated tuber, averaging 3 to 10 centimeters in length, and has a cylindrical, narrow, and knobby shape. The skin is thin, shiny, waxy, and smooth with a dark red to pink base. The surface is also covered in large, pale yellow eyes giving the tuber a bumpy appearance. Underneath the skin, the flesh is crisp, aqueous, firm, and ivory to pale yellow, encasing a patch of dark red, pigmented flesh in the center of the tuber. Red Bolivian oca has a crunchy consistency when raw, with a mild, sweet, and tangy, lemon-forward flavor. Once the tuber is cooked, it develops a softer texture with a slightly sweet and nutty taste.
Seasons/Availability
Red Bolivian oca is available in the late fall through early spring.
Current Facts
Red Bolivian oca, botanically classified as Oxalis tuberosa, is a rare tuber belonging to the Oxalidaceae family. Oca is native to the highlands of the Andes Mountains and is one of the oldest Andean crops, extensively cultivated and consumed as traditional, nutritious food. There are hundreds of varieties of oca that exist in Bolivia and Peru, and many of these cultivars are unknown to the rest of the world. Red Bolivian oca is also known as Rebo oca and is considered to be one of the rarer varieties, highly valued for its red and yellow variegated coloring. The variety is primarily localized to South America, but it has also seen some expansion and has been established in home gardens of oca enthusiasts in the Pacific Northwest of the United States.
Nutritional Value
Red Bolivian oca is an excellent source of vitamin C, which is an antioxidant that supports a healthy immune system, boosts collagen production within the skin, and acts as an anti-inflammatory. The tubers are also high in calcium and zinc, a nutrient that assists in metabolic functions, and provide some potassium, fiber, B vitamins, and iron.
Applications
Red Bolivian oca is well-suited for both raw and cooked applications, and the entire tuber can be utilized as the skin is edible. When fresh, the tubers can be sliced and tossed into green salads, used as a topping over pizza, or cut, coated in herbs and oils and served as a side dish. Oca can also be roasted, boiled, baked, steamed, and fried, and develops a soft consistency similar to potatoes when cooked. It is important to note that the bright red flesh does lose some color when heated, but it will still retain pigment after preparing. When boiled, the tubers are primarily mashed and served with roasted meats. Red Bolivian oca can also be sliced and fried into chips, simmered in soups and stews, steamed and mixed with milk to create a porridge, roasted and served with rice and beans, pickled in vinegar, or dried for extended use. In addition to the tubers, the leaves of the oca plant are edible and can be lightly steamed or stir-fried as a green. Red Bolivian oca pairs well with pesto, honey, balsamic vinegar, cheeses such as mozzarella, parmesan, and criollo, herbs such as coriander, parsley, thyme, cilantro, and tarragon, and roasted meats. Whole Red Bolivian oca can be stored for 4 to 6 weeks in a paper bag in a cool, dry, and dark place.
Ethnic/Cultural Info
In the Pacific Northwest of the United States, Dr. Alan Kapuler has spent over forty years collecting seeds of unusual plant varieties to preserve and protect diversity. Before he became a well-known breeder, Kapuler received a Ph.D. in Molecular Biology from Rockefeller University in New York City and decided to join a commune in the early 1970s in Southern Oregon. Kapuler learned how to garden while living in the commune and noticed a growing need for publicly collected seeds and plant breeding organizations. In 1975, Kapuler created Peace Seeds, which was a site where Kapuler could catalog and introduce rare varieties while also sharing the seeds with the public. Throughout his forty years of seed saving, Kapuler and his wife Linda have collected over 15,000 seeds, including many traditional Andean varieties such as the Red Bolivian oca. Kapuler also organically breeds and cultivates the seeds he collects in his garden, providing a larger number of seeds to share with other growers. Kapuler's work has encouraged many growers within the Pacific Northwest to try cultivating the unique varieties, including Red Bolivian oca, and has also promoted public domain breeding, which keeps all the seeds available for everyone to use.
Geography/History
Oca is native to the highlands of the Andes Mountains, with the main center of origin spanning between Central Peru and Northern Bolivia. The small tubers have been growing wild for thousands of years and were heavily cultivated by ancient civilizations, used as a source of food, and as an item for trade. In the 16th century, the arrival of the Spanish spread oca across South America and into Central America and Mexico. There are many different varieties of oca that have been bred over time, including Red Bolivian oca, making it almost impossible to distinguish the exact origins of specific varieties. Red Bolivian oca was primarily localized to its native region of the Andes highlands in Bolivia until the variety was collected by plant breeder Dr. Alan Kapuler in the late 20th century. Kapuler gathered heirloom seeds as a method of preservation and listed the seeds, including Bolivian Red oca, on Peace Seeds, which is his seed-saving website. After their introduction into American markets, some specialty farms have begun growing Red Bolivian oca on a local level, especially in the Pacific Northwest. Today Red Bolivian oca can be found in regions of South America and on rare occurrences at farmer's markets in the United States.
Recipe Ideas
Recipes that include Red Bolivian Oca. One

is easiest, three is harder.