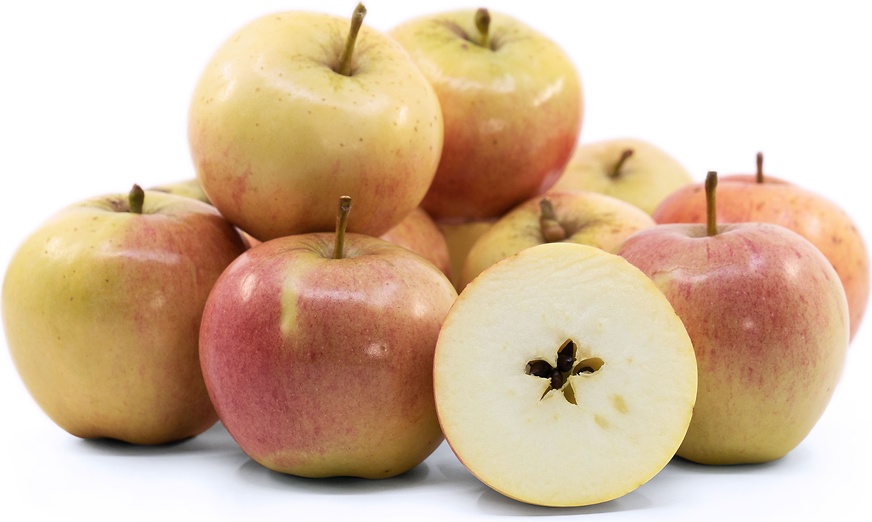 Allington Pippin Apple
Inventory, lb : 0
Description/Taste
Allington Pippin apples are a small to medium-sized varietal, averaging 5 to 6 centimeters in diameter, and have a round, ovate, to slightly conic shape. The apples sometimes have lopsided bases or shoulders, and the skin is semi-thin with a smooth, taut, and firm feel. Allington Pippin apples range in color from pale green to yellow-green and are covered in patches of dark red blush, broken striping, and faint streaking. There is also some light brown russet in the stem cavity and brown lenticels scattered across the surface. Underneath the skin, the ivory to off-white flesh is very hard and dense with a fine-grained, lightly aqueous, crunchy, and chewy consistency. The flesh also encases a small central core filled with tiny, brown-black tapered seeds. Allington Pippin apples have an initially sharp, acidic, and sweet flavor when consumed directly from the tree. If left in storage, the flesh will develop candy-like pineapple nuances mixed with high acidity, creating a sweet and tangy taste.
Seasons/Availability
Allington Pippin apples are harvested in the fall and can be stored through the winter.
Current Facts
Allington Pippin apples, botanically classified as Malus domestica, are a late-season variety belonging to the Rosaceae family. The apple was naturally bred in Lincolnshire, England, in the late 19th century and was selected for cultivation for its sweet and acidic, sharp taste. Allington Pippin apples were initially released for commercial production throughout England, valued for their heavy crops, extended storage capabilities, and unusual flavoring. The variety also later became a popular home garden variety, favored for its dual-purpose nature as a dessert and cooking apple. Allington Pippin apples were once a prominent commercial variety in England in the early 19th century. Throughout their history, they have acquired several names, including South Lincoln Beauty, South Lincoln Pippin, Brown's South Lincoln Beauty, and Allington Peppin. In the modern day, the heirloom or heritage variety has been overshadowed by modern cultivars, resulting in the variety being allotted to specialty orchards and home gardens.
Nutritional Value
Allington Pippin apples have not been studied for their nutritional properties. Like other apple varieties, the fruits are a source of potassium to balance fluid levels within the body, fiber to regulate the digestive tract, and vitamin C to strengthen the immune system while reducing inflammation. The apples also provide small amounts of copper to develop connective tissues, magnesium to control optimal nerve functioning, and other nutrients, including iron, vitamin K, vitamin E, calcium, and zinc.
Applications
Allington Pippin apples have a complex, sweet, and tart taste suited for fresh and cooked preparations. The variety's flavor changes throughout the season, and it is important to note that its use also varies, depending on how long it has been kept in storage. Freshly harvested Allington Pippin apples are primarily utilized as cooking apples. When picked, the apples have firm, dense flesh and an acidic, sharp, and subtly sweet flavor. Allington Pippin apples are known for holding their shape in cooked preparations and are a popular variety for wrapping in pastry dough and baking whole. The apples can also be incorporated into pies, tarts, cakes, crisps, and cobblers or hollowed, stuffed, and baked as a seasonal treat. Beyond desserts, Allington Pippin apples can be simmered into sauces, butter, and vinegar, and their acidity and sweetness provide depth of flavor. The apples are also pressed into juice and served as a refreshing beverage, or the juice is mixed into ciders with other apples to create a complex flavoring. After Allington Pippin apples have been stored for several weeks, their flavor will mellow and become suitable for fresh eating. The apples can be consumed straight out of hand and are favored for their layered, unusual taste. Allington Pippin apples can also be chopped fresh into salads, fruit bowls, and slaws displayed on cheese plates, used as a topping, or served with dips and nut butter as a crunchy snack. Whole, uncut Allington Pippin apples will keep for 1 to 3 months when stored in a cool and dark location.
Ethnic/Cultural Info
In the 19th century, estate growers and head gardeners were the most influential decision-makers within the apple-breeding industry. Apples were the top commercially produced fruit in England, and most varieties during this time were grown on private estates rather than market gardens. With the rise of massive private orchards featuring early, mid, to late-season apple varieties, estate growers had to constantly search, network, and breed new apples to keep their orchards in demand. Head estate growers became the driving force behind apple breeding in England, and the top growers separated themselves from the everyday gardeners through various awards and achievements. The Royal Horticultural Society's First Class Certificate was the most coveted award. This title was only given to select apple varieties considered outstanding in flavor, appearance, and cultivation. When a head estate grower received a First Class Certificate, it was considered a direct reflection on the hosting family, elevating the grower, estate garden, and family's reputation. This quest for recognition led estate growers to cultivate a breed a vast number of apple varieties for flavor. It marked one of the few eras in English history where flavor triumphed over cultivation characteristics. Allington Pippin apples received a First Class Certificate in 1894, and the apples are still recognized and marketed as a prestigious variety with this award in the present day.
Geography/History
Allington Pippin apples are native to England and were developed in the late 19th century. The variety was created using natural breeding techniques from a cross between Cox's Orange Pippin and King of the Pippins apples. Nurseryman and seed breeder Thomas Laxton procured the variety while residing in Stamford, a town in Lincolnshire, England. It is thought the variety was bred sometime in the 1870s. Laxton worked closely with seedsman Richard Brown and Brown's sons William and James for apple breeding. The Brown family had a nursery in Stamford where Laxton cultivated his new varieties. Allington Pippin apples were initially named Brown's South Lincoln Beauty apples, but the variety had several local names, including Stamford Pippin, South Lincolnshire Pippin, and South Lincoln Beauty. The variety was first promoted through W & J Brown Seed at the Great Fruit Exhibition in 1883, where it was given the title of the best apple of the exhibition. Allington Pippin apples were also awarded a First Class Certificate in 1894 in recognition of the variety's outstanding flavor. Later in 1894, nurseryman George Bunyard began growing the variety at his nursery in Maidstone, Kent and renamed the apples Allington Pippin, a moniker given in honor of Allington village, a suburb within Maidstone. Bunyard's nursery was also known as Allington, another reason behind the name. Bunyard released the variety for commercial cultivation in 1896. By the early 1900s, Allington Pippin apples were widely planted throughout England, especially in Kent, Lincolnshire, and Cambridgeshire. The variety's commercial success was short-lived due to flavor and storage problems in various climates, leading Allington Pippin apples to be removed from production in the 1930s. Today Allington Pippin apples are localized to home gardens and specialty orchards, mainly in England. The variety is considered rare and is scarcely grown, but there is a small following of apple enthusiasts that continue to produce the variety to prevent it from becoming extinct. The Allington Pippin apples featured in the photograph above were sourced from Brogdale Farm in Faversham, Kent.
Recipe Ideas
Recipes that include Allington Pippin Apple. One

is easiest, three is harder.