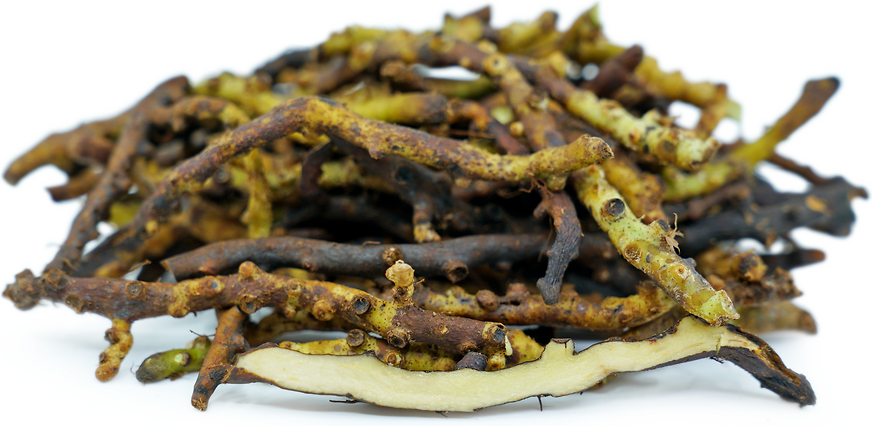 Licorice
Inventory, lb : 0
Description/Taste

Wild Licorice reaches approximately one meter tall with leaves that have a fern-like structure. The stems are covered with tiny, sticky hairs, and are crowned with clusters of small creamy white flowers that resemble those of clover. The roots are long and spindly with a woody texture. Licorice root has an obvious licorice flavor reminiscent of anise, fennel and molasses with a clean peppery finish. Complimentary flavors include cream, milk, maple, orange, brown sugar, ginger, cinnamon, pears, apple, quince, soy sauce, game birds, beef, pork and chicken.


Seasons/Availability

In the wild, Licorice root is available year-round. Leaves and shoots are best foraged in the spring.


Current Facts

Licorice root is botanically classified as Glycyrrhiza lepidota and also commonly referred to as American Licorice. The name, Glycyrrhiza, is derived from the Greek words glukos, meaning sweet, and rhiza, meaning root. The genus name, lepidota, means scaly, and refers to the tiny scales on the young leaves. Although the roots have an obvious sweet licorice flavor, commercial licorice as we know it is obtained from another plant of this genus that is not a North American native.


Nutritional Value

Licorice roots contain glycyrrhizin, which is 50 times sweeter than sugar and used as a natural sweetener and flavoring. They are high in anti-inflammatory flavonoids, antioxidants and isoflavones which balance estrogen levels. Due to its effect on female hormones, it is suggested that pregnant women avoid Wild Licorice. A tea made of the root is often used as a digestion aid.


Applications

Licorice root may be eaten raw or cooked and compliments both sweet and savory dishes. It is most often used as a flavoring for other foods. The sweet and aromatic roots may be steeped to make a tea, flavor a simple syrup, infuse cream for desserts or used in savory sauces. The roots may be used whole or ground to create flavored sugars and salt cures. Roast the larger Licorice roots whole to develop their inherent sweetness and soften their texture, and the result is said to resemble sweet potatoes. The young leaves and tender shoots are also edible and best when harvested in the spring. The roots should be thoroughly scrubbed and peeled before preparation.


Ethnic/Cultural Info

Great Plains Indians used Wild Licorice to treat fever, earaches, toothaches, and sore throats. The roots were often chewed straight from the earth or prepared as a tea or poultice.


Geography/History

Licorice was first examined and identified by the botanist Frederic Pursh in his publication about American flora and fauna in 1813. It is native to the western portion of North America, and may be found growing throughout Ontario, British Columbia, California, Arkansas, Maine, Rhode Island, New York, Massachusetts and temperate regions of Mexico. It thrives in moist soils with sufficient drainage and can survive in partial to full sun.