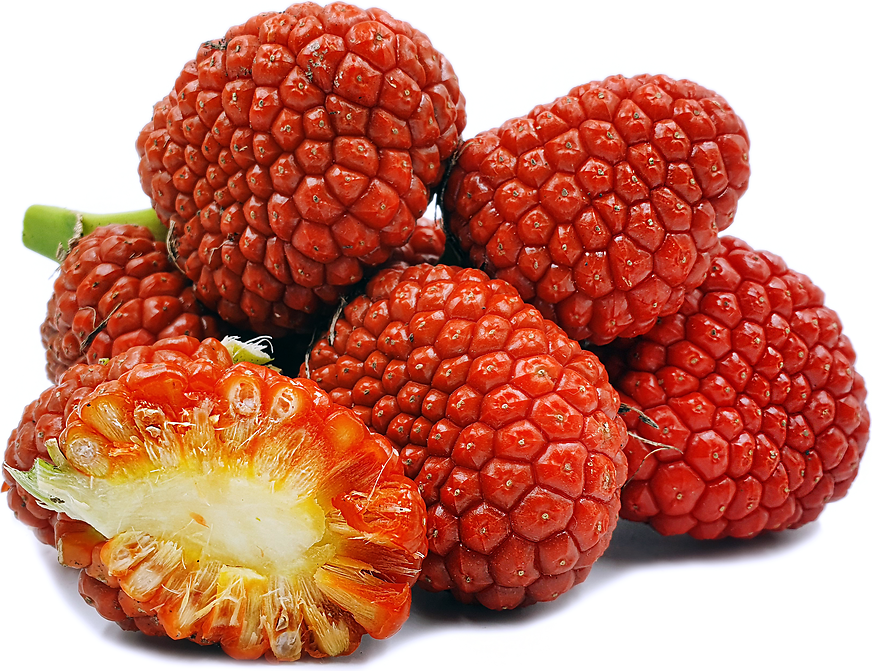 Red Fruit
Inventory, lb : 0
Description/Taste

Red fruits range from small to large, averaging 10 to 30 centimeters in diameter and 30 to 120 centimeters in length, and vary in appearance depending on the variety. The fruits can appear long and narrow with an elongated, cylindrical shape, or they can be short with rounded, curved ends. The surface of the fruit's skin is made up of tiny, tightly adhered sections that contain small seeds, giving the fruit a pebbled, firm, and bumpy appearance. The skin also matures from green to bright red, orange, or yellow, depending on the variety. Underneath the layer of individual sections, there is a spongy, semi-fibrous, white pulp. Red fruits have a rich, oily consistency, especially when cooked, and have a mild, sweet, and subtly medicinal flavor.


Seasons/Availability

Red fruits are available year-round in select regions of Indonesia and Papua New Guinea.


Current Facts

Red fruits, botanically classified as Pandanus conoideus, are unusually shaped, tropical fruits belonging to the Pandanaceae family. There are over thirty different varieties of Red fruit found growing wild, varying in size, appearance, and color, but only four of the varieties are traditionally used and sold in local markets. Red fruits are known by many different names, including Marita, Red Pandanus, Buah Merah, and Kuansu. The plants are also called the 'Tree of Life,' as the fruits provide nutritional properties and oils that can be used as a medicine, hair moisturizer, natural dye, and wood polisher. In addition to the fruits, the leaves of the plant are used for weaving and construction. Outside of its native region, Red fruits are rare to find and are not commercially cultivated.


Nutritional Value

Red fruits are an excellent source of beta-carotene, which is converted into vitamin A in the body to reduce inflammation and help protect the eyes from vision loss. The fruits are also a good source of vitamins C and E, fiber, and folate, and provide minerals such as potassium, copper, calcium, and iron. In traditional medicine practiced in Papua, Red fruits are cooked, juiced, and used as an oily liquid to support and strengthen the skin and eyes.


Applications

Red fruits are best suited for both raw and cooked applications such as boiling, grilling, roasting, and steaming. The flesh can be consumed fresh, out of hand, discarding the seeds, or it can be boiled, squeezed, and juiced to create an oily liquid. Once the liquid is extracted, it can be mixed with water to make a soup or sauce. The soup can be eaten by dipping leafy greens into the liquid, and the sauce is used as a natural food coloring. In Papua New Guinea, Red fruits are wrapped in leaves and cooked in an underground oven to make a bright red sauce. Marita sauce is traditionally used to flavor other fruits, having a ketchup-like consistency, and can be layered over potatoes, vegetables, and leafy greens. Red fruits pair well with meats such as pork, poultry, and fish, taro, sweet potato, fruits such as mangoes, bananas, and pineapples, and rice. The fresh fruits will keep up to one week when stored in a cool and dry place such as the refrigerator. Once cooked, the fruits should be immediately consumed for the best quality and flavor.


Ethnic/Cultural Info

In the province of West Papua, Indonesia, Red fruits are used in the traditional Bakar Batu ceremony, also known as the Burnt Stone ceremony. Villages across West Papua use Bakar Batu as a physical and spiritual celebration of gratitude. The ceremony is primarily conducted for weddings, deaths, holidays, and welcoming guests into villages, and it can be shared between multiple villages. During the celebration, carefully selected river stones are heated and placed into a pit with meats such as pork or chicken wrapped in banana leaves. Vegetables, including taro, sweet potatoes, and cassava are also cooked in the ground oven. Once the vegetables and meats are prepared, they are topped with Red fruit paste and are served to the village. In addition to consuming the fruits, Red fruit leaves are sometimes used in these villages to weave decorative baskets, ropes, or patch holes in roofs.


Geography/History

Red fruits are native to Papua New Guinea, Papua, and West Papua, Indonesia and have been growing wild since ancient times. The evergreen plant is found in a wide range of terrain, from highland regions to sea level, and is primarily sourced from the wild or grown on a small scale in home gardens. Today Red fruits can be spotted at local markets throughout its native region.