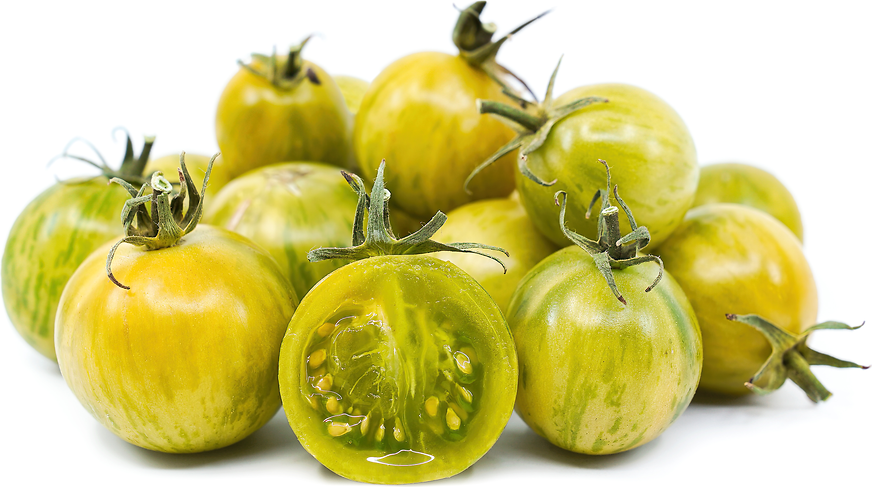 Abracazebra Cherry Tomatoes
Inventory, lb : 0
Description/Taste
Abracazebra cherry tomatoes are a cherry-sized version of the green zebra tomato. They have light green skin with dark green shoulders and stripes, and a green gel-like flesh that boasts a tasty, balanced sweet-tart flavor. The Abracazebra cherry tomato plants are an indeterminate variety, meaning they will continue to grow and set fruit throughout the season. They are reputed to be a cold hardy variety and an early producer.
Seasons/Availability
Abracazebra cherry tomatoes are available early summer.
Current Facts
Like all tomato varieties, the Abracazebra cherry tomato is botanically referred to as Solanum lycopersicum, formerly Lycopersicon esculentum, and is a member of the Solanaceae, or nightshade family. Apparently seeds were offered in the past from one grower under the name "abraca zebra" that produced a larger black striped tomato, which likely was caused by accidental cross-pollination, or is simply a different variety than the Abracazebra cherry tomato.
Nutritional Value
Tomatoes are a rich source of vitamin A, which supports healthy eyes, skin, bones, and teeth. The fiber, potassium, vitamin C, and choline content in tomatoes all support heart health. Tomatoes also contain a wide array of beneficial nutrients and antioxidants, including lycopene, which has been linked to prevention of certain types of cancer in several studies.
Applications
Abracazebra cherry tomatoes have an excellent sweet-tart flavor that makes them perfect for eating fresh as is, and they add a great pop of color to fresh salads. They can also be cooked in recipes that call for traditional cherry tomatoes. Tomatoes are delicious with just a touch of salt, but they also pair well with soft cheeses and can be enhanced by herbs and spices. Try pairing tomatoes with basil, cilantro, chives, dill, garlic, mint, paprika, pepper, rosemary, oregano, parsley, and thyme. Store tomatoes at room temperature away from direct sunlight until ripe, after which refrigeration can prevent further ripening and slow the process of decay.
Ethnic/Cultural Info
Abracazebra cherry tomatoes are an improved version of Tom Wagner's famous green zebra tomato, which was first bred in Everett, Washington in 1983 when Wagner set out to develop a striped green variety that, unlike most green tomatoes, would be resistant to cracking. To achieve this new tomato variety Wagner crossed 4 heirloom varieties, one of which was the Evergreen tomato. Green Zebra was featured in Wagner's Tater-Mater Seed Catalog in 1993 through 1996 during which time it achieved commercial success in both the gardening and culinary world. Wagner continued his breeding efforts with "revisions" of both green zebra and green grape, leading to the Abracazebra cherry tomato, among others, which he selected for its higher cold tolerance than its parent, green zebra.
Geography/History
Abracazebra cherry tomatoes were bred by Tom Wagner, an internationally recognized tomato expert from Everett, Washington in the United States and owner of Tater Mater Seeds and New World Seeds & Tubers. They are a good selection for growing in cooler climates, as they are a more cold-tolerant cultivar.
Podcast