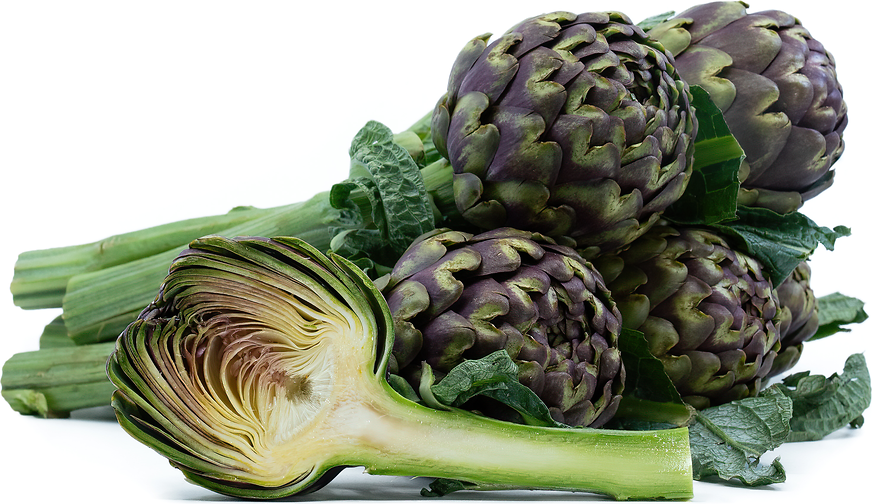 Artichokes Fiore Viola
Inventory, 24 ct : 0
Description/Taste
Fiore Viola artichokes are a medium to large varietal, averaging 7 to 15 centimeters in diameter, and generally have a round appearance, tapering slightly towards the non-stem end. The globe-like artichoke heads are comprised of tightly-packed, fleshy leaves that form in overlapping layers. The leaves are traditionally known as bracts and have a broad, faintly rounded, and smooth shape, gently hugging the curved shape of the head. The bracts also have a semi-thick feel and bear sharp spines at the top, while a pocket of meaty flesh is found at the base. Fiore Viola artichokes are known for their green base coloring, almost entirely enveloped in pigmented shades of dark purple. This coloring will vary depending on the growing environment and climate. As the outer bracts are removed, the coloring will also lighten, transitioning into pale green, yellow, to white hues. In the center of the head is a fleshy heart, also referenced as a core. This core is edible and is a prized delicacy within the vegetable. The hearts are also covered in an inedible fuzzy cap known as the choke and are attached to thick, fibrous, and fleshy green stems streaked with purple. Choose Fiore Viola artichokes that are dense, tightly layered, and feel heavy for their size. Loose and opened leaves are a sign of heads past their optimal maturity. Fiore Viola artichokes have a mild, sweet, and subtly earthy flavor and are sweeter than most commercial purple varieties.
Seasons/Availability
Fiore Viola artichokes are available in the spring.
Current Facts
Fiore Viola artichokes, botanically classified as Cynara scolymus, are a specialty variety belonging to the Asteraceae family. The large cultivar is a type of purple globe artichoke that was developed in Lompoc, California, and was released as a limited-edition variety in the early 21st century. Fiore Viola artichokes are exclusively distributed through Frieda's Specialty Produce based in Southern California and were launched as part of a line of purple and red artichoke varieties, including Fiore Viola, Sangria, and Fiesole artichokes. Fiore Viola translates from Italian to mean "purple flower," and the artichokes were aptly named for their pigmented coloring and identity as a young, unopened flower head of a plant in the thistle family. Fiore Viola artichokes were selected for their dense heads, purple coloring, large fleshy leaves, and nutty-sweet taste. The artichokes are harvested by hand in late March or April and are packaged in the field for immediate transport. The variety is sold through select partners of Frieda's Specialty Produce and is marketed as a versatile culinary ingredient for cooked preparations.
Nutritional Value
Fiore Viola artichokes have yet to be studied for their nutritional properties. Like other purple artichokes, the variety is a source of vitamin C to strengthen the immune system, potassium to balance fluid levels within the body, magnesium to control optimal nerve functioning, and fiber to regulate the digestive tract. The artichokes also provide folate to develop genetic material such as DNA and RNA, vitamin K to assist the body in faster wound healing, calcium to build strong bones and teeth, and phosphorus, iron, zinc, copper, and manganese. One of the more notable aspects of purple artichokes is their pigmented coloring, which is created by the presence of anthocyanins in the skin. Anthocyanins contain antioxidant-like properties to protect the cells in the body against the damage caused by oxidative stress and free radicals.
Applications
Fiore Viola artichokes have a sweet, earthy, and nutty flavor suited for cooked preparations. It is important to note that while artichokes can be eaten raw with specific preparations, the vegetables are preferably cooked to develop a softer, more tender consistency. Fiore Viola artichokes can be steamed and served as an interactive appetizer, complemented with various dipping sauces to enhance flavor. The artichokes should be trimmed, removing about 2 to 3 centimeters off the top, and some of the tough outer leaves should be discarded. It is also recommended to cut the spines off the bracts for ease of handling once prepared. Fiore Viola artichokes can also be braised or grilled for savory flavors, or the choke can be removed and the heads stuffed with cheeses, nuts, citrus juice, olives, and breadcrumbs. Try steaming Fiore Viola artichokes and using the heart as a topping over pizza, as an ingredient in salads, or as a flavor and texture addition to pasta. Artichoke hearts can also be blended into dips and spreads, mixed into vegetable medleys as a side dish, or finely chopped and layered into sandwiches and wraps. When the variety was released, Fiore Viola artichokes were placed on the menu of Maria's Italian Kitchen in Van Nuys of Southern California. The specialty artichoke was used in the restaurant's famous stuffed artichoke dish and was a seasonal dish prepared as a part of a promotional campaign run in partnership with Frieda's Specialty Produce. Fiore Viola artichokes can also be incorporated into soups. Fiore Viola artichokes pair well with citrus, cheeses such as feta, goat, and parmesan, nuts including walnuts, pine, and pistachios, and herbs such as parsley, mint, and dill. Whole, unwashed Fiore Viola artichokes will keep for 1 to 2 weeks when lightly wrapped in plastic or stored in a sealed container and placed in the refrigerator's crisper drawer.
Ethnic/Cultural Info
Steve Jordan of Baroda Farms is known in the industry as the "Artichoke Evangelist." Jordan came from a lineage of farmers and obtained degrees in economics and viticulture, settling along the central coast on a ranch in the Lompoc Valley in 1974. Around the same time, Jordan's brother Rusty obtained Italian-bred artichoke seeds from a friend at the USDA and developed the first commercial artichoke crop from seed in California. Jordan joined his brother in breeding artichokes and created several varieties, including a cultivar blushed with purple accents. Over time, Jordan decided to breed artichokes full-time and worked with seed breeders from France and Italy to produce new cultivars suited for American consumer markets. Jordan cultivated over 29 varieties and specialized in perennial artichokes, becoming the second-largest artichoke grower in California in the early 21st century. One of his notable achievements was establishing an innovative laboratory to study artichokes and culturing plant tissues. The 4,200-square-foot facility is home to a team of scientists focusing on propagating artichokes to create plants with improved growth characteristics. Technicians shave microscopic plant particles into sterilized growth mediums to grow plants in three different growth rooms that are studied in detail. These extensively researched plants are later used as a foundation for breeding. It can take anywhere from 3 to 6 years to develop a new artichoke variety, and the cultivar must pass strict qualifications in a series of field tests before it is commercially released.
Geography/History
Fiore Viola artichokes are native to California and were developed by Steve Jordan, breeder and owner of Baroda Farms in Lompoc, a city within Santa Barbara County on the Central Coast. Jordan created Fiore Viola artichokes from a series of natural crosses using various seeds he acquired from his brother Rusty, also an artichoke breeder, and from seed breeders in Italy and France. Jordan partnered with Frieda's Specialty Produce to release Fiore Viola artichokes in the spring of 2012, and the variety was released with two other red and purple artichokes created by Jordan: Sangria artichokes and Fiesole artichokes. Fiore Viola artichokes were initially sold exclusively through Ralphs Grocery, a chain of supermarkets in Southern California. The pigmented artichoke varieties were a star vegetable heavily marketed during Frieda's "Year of Purple" in 2013. Throughout its promotional year, the specialty produce company released several purple-hued vegetables, including purple cauliflower, asparagus, radicchio, purple kohlrabi, purple sweet potatoes, grapes, and purple Brussels sprouts, and shared the health benefits behind the naturally purple ingredients through retail displays, online marketing with personalized hashtags, and through the establishment of a Locally Grown Artichoke Festival in Southern California. The artichoke festival was promoted in the retail displays in Ralphs Grocery, and the purple artichokes were stacked in a display to contrast the solid green artichokes, capturing attention and enticing buyers to try the local ingredient. Fiore Viola artichokes were produced as a commercial variety primarily from 2012 to 2015, but after Jordan semi-retired from artichoke breeding and cultivation, Fiore Viola artichokes declined in production, becoming a rare variety.
Recipe Ideas
Recipes that include Artichokes Fiore Viola. One

is easiest, three is harder.