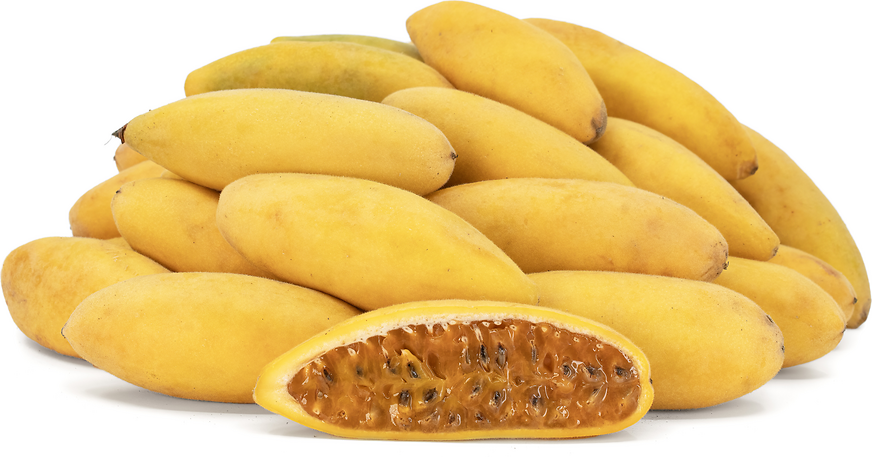 Banana Passionfruit
Inventory, lb : 0
Description/Taste
Banana passionfruit is a small to medium-sized varietal, averaging 5 to 12 centimeters in length and 3 to 4 centimeters in width, and has a straight, oblong to ovoid shape, tapering slightly at both ends. The skin is semi-thin, leathery, smooth, and ripens from green to pale yellow, covered in downy fuzz. Underneath the surface, the flesh is comprised of small arils with flat and black elliptic seeds enveloped in a fleshy, aqueous, glistening, and translucent orange pulp. The arils are slippery and fragrant with a fruity, tropical scent reminiscent of oranges. Banana passionfruit has a sweet, acidic to subacid, tropical taste with subtle peach and nectarine-like nuances. It is important to note that the seeds are edible but may carry a bitter flavor.
Seasons/Availability
Banana passionfruit is available year-round in the tropics, with a peak season in the spring through fall.
Current Facts
Banana passionfruit, botanically classified as Passiflora mollissima, is a South American species belonging to the Passifloraceae family. The oblong, yellow fruits were named for their similarity in color and shape to a small banana and grow on evergreen climbing vines that can reach 6 to 7 meters in length. Banana passionfruit is a vigorous plant, maturing and bearing fruit in just one year. In its native habitat in South America, the vines can live for 15 to 20 years, and one single vine can produce 150 to 300 fruits per year. Since its discovery, Banana passionfruit has been introduced to tropical regions worldwide, known by regional names including Banana Poka in Hawaii, Tumbo in Bolivia, Tasco, Tintin, and Trompos in Peru, Curuba in Colombia, Tauso in Ecuador, and Parcha in Venezuela. Some South American names are also used in more than one country, and the banana moniker was given when it was introduced to New Zealand. Banana passionfruit is cultivated for its edible, fragrant fruits, typically incorporated into beverages. The vines are also planted in home gardens to cover trellises, walls, and fences, producing large and vibrant, bright pink flowers that attract hummingbirds and other beneficial garden pollinators. The vines and blooms are viewed as highly ornamental and give home gardens a colorful, whimsical feel, as the flowers hang from the vines off of green tube-like stems.
Nutritional Value
Banana passionfruit is a source of fiber to regulate the digestive tract, vitamin A to maintain healthy organ functioning, and vitamin C to strengthen the immune system while reducing inflammation. The fruits also provide antioxidants to protect the cells against free radical damage, calcium and phosphorus to build strong bones and teeth, and iron to develop the protein hemoglobin for oxygen transport through the bloodstream.
Applications
Banana passionfruit has a sweet, tart, and tangy flavor suited for fresh preparations. The fruits can be sliced in half and consumed straight out of hand, and the juicy arils can be swallowed whole. It is important to note that the black seeds are edible, but some may find them to have a bitter flavor if chewed. The seeds can be eaten or discarded, depending on preference. Banana passionfruit pulp can be scooped from the skin and poured over yogurt, pudding, or ice cream, mixed into fruit salads, simmered into jams, jellies, and other preserves, or infused into salad dressings. The pulp can also be incorporated as flavoring into baked goods, cakes, and pies or cooked into sauces for seafood and meats. Banana passionfruit pairs well with other tropical fruit like pineapples, oranges, kiwis, papayas, strawberries, mangos, and guavas, almonds, chocolate, spices including ginger, cloves, cinnamon, and star anise, and herbs such as mint, tarragon, basil, and thyme. Whole, unopened Banana passionfruit will keep up to one week when ripe and stored in an open paper bag in the refrigerator.
Ethnic/Cultural Info
In South America, Banana passionfruit is most popularly used as a flavoring in beverages. The pulp is traditionally strained to remove the seeds and combined with other tropical juices for smoothies, cocktails, and cream-based drinks. In Colombia, Banana passionfruit is incorporated into a refreshing, thick drink known as sorbete de Curuba. The sweet and tangy beverage is made from a blend of Banana passionfruit, condensed milk, sugar, fresh cream, and ice. Sorbete de Curuba is often drunk at night in Colombia as it is believed to promote restful sleep. In Bolivia, Banana passionfruit is mixed with the liquor aguardiente and sugar and is served as an aperitif.
Geography/History
Banana passionfruit is native to the Andean valleys of South America, a region spanning Venezuela, Bolivia, Peru, Ecuador, and eastern Colombia. The evergreen vines thrive in tropical to subtropical climates and are found along forest edges, roadsides, and orchards in fertile soil or coastal lowlands. Banana passionfruit has been growing wild since ancient times but was domesticated just before the arrival of the Spanish in the 15th century. In the mid 19th century, Banana passionfruit was introduced into New Zealand, where it was given its fruity moniker, but the species quickly grew out of hand, becoming an invasive species. Banana passionfruit vines have an aggressive nature, growing and killing native plants by blocking their access to sunlight. The vines are considered a threatening plant to fragile ecosystems in Hawaii, New Zealand, and Australia. Despite its invasive tendencies, the plant was brought to the United States in the early 20th century through the United States Department of Agriculture. Banana passionfruit was planted in California, where it is primarily grown as an ornamental and can be found in Hawaii. Today Banana passionfruit is present in Australia, New Zealand, Africa, Asia, the Mediterranean, South America, and select regions of the United States.
Recipe Ideas
Recipes that include Banana Passionfruit. One

is easiest, three is harder.