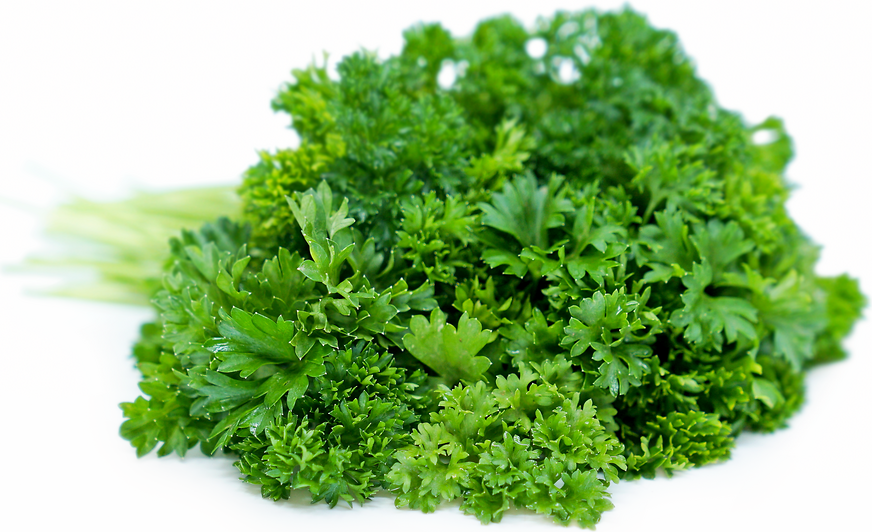 Parsley
Inventory, 60 ct : 18.52
This item was last sold on : 12/02/23
Description/Taste
Curly parsley is a leafy, shrublike herb that grows fairly slowly, reaching approximately 30 centimeters tall and wide, and as a biennial plant, it will produce umbels of tiny yellow flowers in its second year if allowed to mature. The plant has light green stems with thickly ruffled, dark-green triangular leaves of three leaflets that tightly curl at the divided tips. The leaves are tender and flavorful in the plant's first year but will become bitter and coarse when the plant begins to flower and seed, hence it is typically cultivated as an annual for culinary use. Curly parsley has a fresh, green, mildly grassy aroma and flavor with hints of citrus, clove, and nutmeg.
Seasons/Availability
Curly parsley is available year-round.
Current Facts
Curly parsley is botanically known as Petroselinum crispum and is in the Apiaceae or Umbelliferae family, commonly referred to as the carrot or celery family. Members of this family, which includes other herbs like dill and fennel, are often referred to as umbellifers. The common name, "parsley," comes from the Greek word "petroselinon," which translates as "rock celery" and alludes to the plant's growth habit as it thrives on rocks and walls. Curly parsley is one of the two main cultivars, the other being the flat-leafed Italian parsley. In addition to its distinct frilly edges, Curly parsley also has darker and thicker leaves than its cousin and offers a milder flavor. Curly parsley is more prevalent in some areas of Europe and the Mediterranean, perhaps due to a history of confusion between the flat-leafed variety and a poisonous lookalike weed called "fool's parsley."
Nutritional Value
Curly parsley is packed with vitamin C, iron, and the natural antiseptic, chlorophyll. It is also a good source of folate, potassium, copper, zinc, and vitamins A, B, and K. The herb offers essential oils that contain compounds like limonene, eugenol, and myristicin, which give the herb its unique aroma, as well as its antifungal, antioxidant, anti-inflammatory, and antiseptic properties. Parsley has a history of medicinal use, from herbal medicine in Ancient Greece to Ayurvedic medicine in India. It has traditionally been used as a treatment for urinary tract infections or kidney and bladder problems and has been touted for its ability to improve digestion, detoxify the body, or even cleanse the palate and freshen breath.
Applications
Curly parsley can be used fresh or dried, but its lacy leaves are most frequently used fresh as a garnish for a pop of green color and flavor. While the more pungent flat-leaf parsley is often preferred for cooking, the two types can be used interchangeably and are best added at the end of the cooking process. Both the stems and leaves of Curly parsley can be washed, then finely chopped and added to hearty soups and stews like chowder, or more coarsely chopped for salads or coleslaws. Curly parsley is a particularly popular herb in Middle Eastern cuisine. It is the main herb for stuffing grape leaves and is a key ingredient in the classic Lebanese salad, tabbouleh, which is made of bulgur, mint, parsley, and vegetables. Parsley stems are also used in a classic bundle of herbs alongside thyme and bay leaf, called a 'bouquet garni,' traditionally used to infuse flavor into brines, sauces, and stocks. Curly parsley can liven up rice or grilled vegetables, impart a fresh taste in butter for potatoes, corn, and garlic bread, be added to pesto or tomato sauce, or be used in marinades for meat, fish, and poultry. Curly parsley also pairs especially well with shellfish, potatoes, leeks, cucumber, tomatoes, mushrooms, peppers, squash, garlic, chili flakes, lemon, and cream. Store fresh Curly parsley in a glass of fresh water in the refrigerator, loosely covered with a plastic bag for a week or two. Dried parsley can be stored in an airtight container for up to a year. Fresh Curly parsley can also be frozen, either chopped and stored in freezer bags or chopped and mixed with water and frozen in ice cube trays for about six months.
Ethnic/Cultural Info
Curly parsley has a rich cultural history dating back to ancient Greece. According to Greek mythology, parsley first grew from the blood of Archemorus, the forerunner of death, hence the herb's long association with death. Ancient Greeks used parsley in funeral rites and placed wreaths of the herb on the tombs of the dead. The Ancient Greeks even had a saying, De'eis thai selinon, "to need only parsley," which was a euphemistic expression comparable to saying "one foot in the grave." The Ancient Romans dedicated the herb to Persephone, queen of the underworld, and likewise used it in funeral ceremonies. Parsley's close ties with death followed it through history, and during the Medieval period, many superstitions surrounded the herb, including a legend that the plant grew so slowly because its seed had to travel to hell and back before it could grow. However, not all of the herb's allegories are so grim. In the Hebrew celebration of Passover, parsley is used as a rejuvenating symbol of spring and rebirth.
Geography/History
Curly parsley is native to the Mediterranean region of Southern Europe, though Carl Linnaeus believed it to be native to Southern France and the large island of Sardinia, specifically. It grows best in cooler climates where the summers don't get too hot or humid, and thrives in rich, moist soil. Parsley has been cultivated since ancient times and was used medicinally long before it was used as a seasoning. Historians believe it was during the Middle Ages that the herb began appearing in kitchens, and many credit Charlemagne, who was known to grow the herb in his gardens. By the 15th century, the use of Curly parsley had spread throughout Europe, and in the 17th century, it was brought by colonists to the United States, where it has since become naturalized. Curly parsley is one of the world's most popular herbs and can easily be found at grocery stores or farmer's markets.
Featured Restaurants
Restaurants currently purchasing this product as an ingredient for their menu.
| | | |
| --- | --- | --- |
| Oceanic Clairemont Mesa | San Diego CA | 619-780-0974 |
| The Butchery | San Diego CA | 858-345-1524 |
| Peace Pies | San Diego CA | 619-618-6960 |
| Crudo Cevicheria & Oyster Bar | San Diego CA | 619-313-9127 |
| Continental Catering Inc | La Mesa CA | 907-738-9264 |
| Q&A Oyster Bar & Restaurant | Oceanside CA | 858-245-3780 |
| Surf Side Cuisine | San Diego CA | 619-507-0891 |
| The Plot | Oceanside CA | 422-266-8200 |
| Village Pizzaria | Coronado CA | 619-522-6890 |
| Bekker's Catering | San Diego CA | 619-287-9027 |
| Reata Glen | Ladera Ranch CA | 949-545-2250 |
| The Wise Ox | San Diego CA | 619-851-0672 |
| Portside Pier (Brigantine) | San Diego CA | 858-268-1030 |
| Bellamy's Restaurant | Escondido CA | 760-747-5000 |
| The Loma Club | San Diego CA | 619-222-4653 |
| C 2 C | San Diego CA | 619-972-9345 |
| Pacific Regent La Jolla | San Diego CA | 858-597-8008 |
| Saiko Sushi-Coronado | Coronado CA | 619-435-0868 |
| Ridgeview Health Center | San Diego CA | 858-293-3950 |
| Bread & Cie Café | San Diego CA | 619-683-9322 |
the other 92...
Recipe Ideas
Recipes that include Parsley. One

is easiest, three is harder.
the other 4...