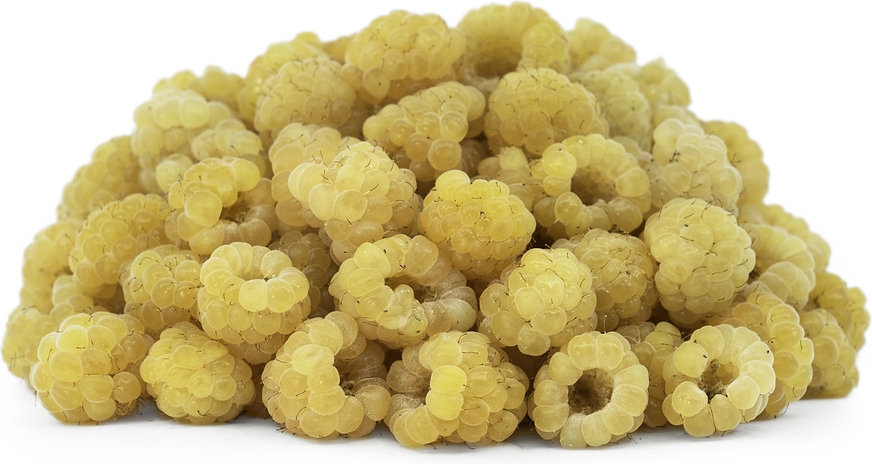 Gold Raspberries
Inventory, 12 ct : 0
Description/Taste
Gold raspberries are small, plump fruits that generally average 1 to 3 centimeters in diameter and have a round, oval, to conical shape. The aggregate fruits are developed from tiny round drupelets that fuse together to create a solid, bumpy, and bubbled, textured appearance. Each clustered section, or drupelet, contains fine hairs, seeds, and juice, growing over a spongy core that remains with the plant once the fruit is picked, giving the fruits a hollowed center. The raspberry's surface also appears in shades of pale yellow, gold, dark yellow-orange, and orange blushed with pink, depending on the variety. Underneath the surface, the flesh is soft, tender, juicy, and mildly crunchy, as each fruit can encase over 100 to 120 seeds. Gold raspberries contain low acidity, contributing to a mild, sweet, and honeyed flavor with floral, fruity nuances and a subtle hint of tartness.
Seasons/Availability
Gold raspberries are generally available in the late spring to early summer. Some varieties also have a second season in the fall through early winter.
Current Facts
Gold raspberry, botanically classified as Rubus idaeus, is a general descriptor used to encompass several varieties of light-colored fruits belonging to the Rosaceae family. The rare raspberries grow on shrubs that can reach up to one meter in height and were discovered as a natural mutation on a red raspberry plant. Gold raspberries contain a recessive gene that inhibits the production of anthocyanins, compounds within the flesh that give red raspberries their pigmented, bright red coloring. Each Gold raspberry may vary in color, depending on the variety, anthocyanin content, and growing conditions, and some cultivars have been specifically bred for their variegated coloring, giving the fruits a golden hue flushed with pink. Gold raspberries are challenging to find compared to red raspberries and are reserved as a specialty fruit, generally labeled as Yellow raspberries or Gold raspberries in commercial markets. Despite their broad commercial descriptor, there are many distinct varieties of Gold raspberries with varied appearances and flavors, including Fall Gold, Goldie, Kiwi Gold, Golden Harvest, Honey Queen, Heritage, Anne, Golden Queen, Cascade Gold, Cox's Honey, Double Gold, Fertodi Aranyfurt, and Goldenwest.
Nutritional Value
Gold raspberries are a good source of antioxidants, including vitamin C, to strengthen the immune system, reduce inflammation, and protect the cells against free radical damage. The raspberries are also a source of calcium to strengthen bones and teeth, fiber to regulate the digestive tract, iron to develop the protein hemoglobin for oxygen transport through the bloodstream, and other amounts of B vitamins, manganese, magnesium, copper, iron, and calcium.
Applications
Gold raspberries have a mild and sweet flavor with low acidity, well suited for sweet, fresh and cooked preparations. The fruits can be consumed straight, out of hand, or they can be tossed into green salads or used as a garnish over pancakes, toast, cereal, and yogurt. Gold raspberries can also be blended into smoothies, juiced for fruit punches, sparkling beverages, and cocktails, stirred into puddings and parfaits, or combined into sorbet. The fruit's delicate nature and flavor will not overpower a dish and provides a unique visual with its unexpected golden hues. In addition to fresh preparations, Gold raspberries can be incorporated into any recipe calling for red raspberries, but it is important to note that the Gold raspberry's flavor will be milder and less tangy than red raspberries. Gold raspberries can be simmered into jellies, jams, sauces, and fillings for baked goods, or they can be baked into crisps, cookies, pies, and tarts. The fruits can also be made into a compote and drizzled over waffles, toast, muffins, scones, ice cream, and cheesecake. Gold raspberries pair well with vanilla, dark chocolate, honey, spices such as cinnamon, cardamom, basil, and thyme, lavender, fruits including coconut, blackberries, blueberries, and peaches, ricotta, and nuts such as hazelnuts, almonds, and walnuts. Whole, unwashed Gold raspberries are highly perishable and should be consumed immediately for the best quality and flavor. The fruits will only keep for a couple of days when stored in a well-ventilated container in the coldest part of the refrigerator. The fruits can also be frozen for up to one year.
Ethnic/Cultural Info
Gold raspberries are a popular home garden cultivar favored for their pleasant, mildly sweet flavor. Some varieties of Gold raspberries have been selectively bred over time to produce two crops each year, known as an "everbearing" variety. Home gardeners favor everbearing cultivars for their high fruit production, hardiness, and ornamental nature, as the fruits provide a colorful golden contrast against the plant's green leaves. Fall Gold is one of the most popular home garden everbearing varieties in the United States. It is also a primocane cultivar, meaning the plant bears fruit within the first year. Beyond home cultivation, Gold raspberries are featured at the annual Hopkins Raspberry Festival in Hopkins, Minnesota, located west of Minneapolis. The July festival was established during the Great Depression to increase morale, boost business, and bring the community together. The first festival featured a small parade, and visitors were treated to free samples of raspberries and cream while they toured vendor booths. In the present day, the Hopkins Raspberry Festival attracts visitors from all over Minnesota, and the event has expanded to include a royal court, live entertainment, and increased food and fresh fruit vendors who sometimes sell Gold raspberries. There is also a Golden raspberry hunt. Each year, a gold medallion with a raspberry engraved on its surface is hid somewhere in the city of Hopkins. Clues are given each day to help reveal its location, and the participant who finds the medallion earns a $300 cash prize.
Geography/History
Raspberries are native to several temperate regions worldwide and are an ancient crop, growing wild for thousands of years. There are many different varieties native to Europe and Asia within the Rubus genus, and Gold raspberries have been present for as long as red raspberry varieties. Gold raspberries are a natural mutation of the red raspberry. The pale-hued fruits first appeared on red raspberry plants and were selected over time by breeders to create purely yellow-gold raspberries. Gold raspberries have remained a relatively unknown type of raspberry throughout history, often falling in the shadow of the commercially widespread red raspberry cultivars. Despite their rarity, Gold raspberries have become a newer, specialty fruit commercially grown since the late 20th century, marketed for their sweet flavor and unusual coloring. Today Gold raspberries are grown through select farms worldwide and are also cultivated by raspberry enthusiasts in home gardens. When in season, Gold raspberries can be found through farmer's markets, distributors, and specialty grocers. Seeds for various Gold raspberry varieties can also be found through online retailers for home garden use.
Recipe Ideas
Recipes that include Gold Raspberries. One

is easiest, three is harder.