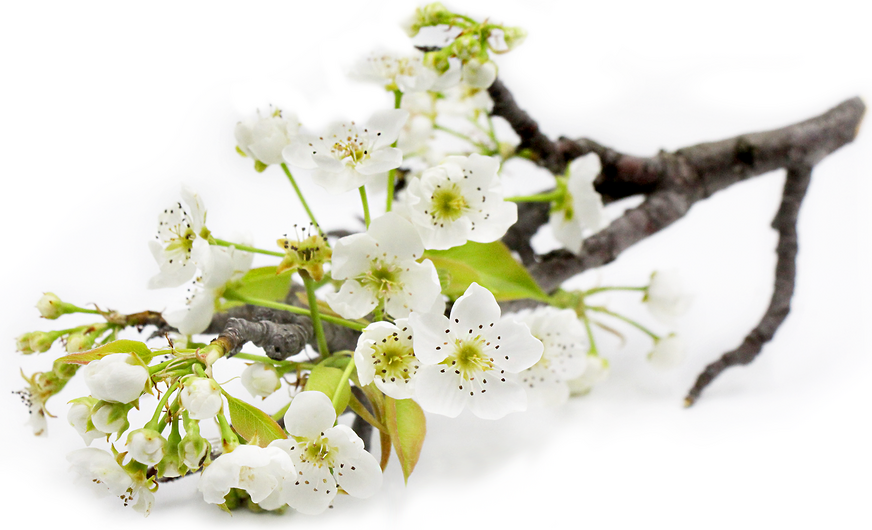 Pear Blossoms
Inventory, 50 ct : 0
Description/Taste

Pear blossoms first appear on the dark brown branches of the pear tree as small, oval to oblong, tightly closed green buds. As the weather becomes warmer in the spring, the buds open, uncurling broad and flat, white petals. Each petal has a delicate, slightly wavy appearance with a soft, smooth, and velvety texture. Pear blossoms typically grow in clusters of 5 to 7 blooms and average 2 to 3 centimeters in diameter, comprised of five petals with several filaments, anthers, and a stigma found in the center of the bloom. The flowers bear a subtly sweet aroma and offer a mild, fresh, and slightly vegetal flavor. While fruiting pear tree blossoms are favored for their neutral flavor, some ornamental pear tree blossoms will carry an unpleasant fragrance, described as a musky, fish-like odor, and are not commonly used in culinary preparations.


Seasons/Availability

Pear blossoms are available in the spring.


Current Facts

Pear blossoms are the seasonal blooms of pear trees belonging to the Pyrus genus, members of the Rosaceae family. There are many different varieties of pear trees, generally categorized either as an Asian or European pear. Both types of pears produce blossoms in the spring, and the white flowers are favored for their romantic and delicate appearance. Pear blossoms have been recognized for centuries as a symbol of spring, and the flowers are primarily used for ornamental purposes. While not commonly used for culinary purposes, Pear blossoms are sometimes incorporated as garnishes for main dishes, desserts, and mixology. It is important to note that there are also ornamental pear trees that do not bear notable fruit and instead produce blooms with an offensive aroma. These blossoms are not typically used in culinary preparations. Care should also be taken to ensure the blossoms have not been sprayed with pesticides if using in edible dishes and beverages.


Nutritional Value

Pear blossoms have not been studied for their nutritional properties, but the thin, crepe-like petals are traditionally used in natural medicines. Pear blossoms were a favorite flower to combine with honey, a mixture used as a potion to promote energy flow within the body. Similar to other flowers, Pear blossoms may also contain low amounts of antioxidants to promote immunity and protect against free radical damage to cells.


Applications

Pear blossoms are not a common culinary element and are rarely eaten as a stand-alone ingredient. The blooms are primarily utilized whole as an elegant garnish to decorate cakes, tarts, poached fruits, and other desserts. Pear blossoms are also sometimes used as individual focal points on appetizers and savory-sweet main dishes. When used whole as a garnish, the flowers are not eaten in their entirety as the stamens, stigma, and anthers can impart a bitter flavor. The petals are the only part of the flower consumed. Pear blossom petals are harvested from fruit-producing varieties and can be sprinkled over salads, harvest bowls, ice cream, sauces, and pudding, or they can be incorporated into salts, vinaigrettes, and syrups. The petals can also be steeped into teas or used as a cocktail garnish. In some orchards with many blooming pear trees, beekeepers can extract Pear blossom honey from local hives that visit the pear trees. Pear blossom honey is generally mild with a subtly floral, citrus-like taste. Pear blossoms pair well with young cheeses, fruits such as apples, raspberries, and peaches, sweet flavors including caramel, vanilla, and chocolate. The flowers should be used immediately for the best quality and flavor.


Ethnic/Cultural Info

Pear blossoms traditionally represent purity, love, and longevity in Chinese culture and are used as ornamental additions to centerpieces, bouquets, and flower arrangements. The delicate white flowers are often seen at weddings as a promise for a lasting, loving marriage and the hope of a new life. When used in decorations, Pear blossoms are frequently still attached to their branches, giving the flowers a whimsical, earthy appearance. In Chinese folklore, Pear blossoms are also considered one of the most beautiful flowers when they are kissed with raindrops, sometimes used to describe attractive women, further promoting the flower's feminine nature. Beyond beauty, pear trees are historically viewed as a tree that can survive for many years, leading the fruits and flowers to be associated with the notion of immortality and long life.


Geography/History

Pears are one of the oldest domesticated fruits that have been cultivated since ancient times. The trees thrive in temperate climates and are believed by experts to be native to Asia, specifically China. Some scientists also list the Middle East and Asia Minor as a secondary site of origin for different pear varieties. Over time, pears were spread across Asia and Europe and became a staple fruit tree grown in home gardens. Pears were also referenced throughout ancient literary works, including Homer's The Odyssey, and Chinese cultivation documents discussed the art of pear grafting dating back to around 5000 BCE. Pear trees were introduced into North America with early European colonists and were brought to the Pacific Northwest sometime in the 1800s. In the modern-day, pear trees are cultivated worldwide, especially in Europe, Asia, North America, and Australia, and Pear blossoms can be harvested when in season from multiple varieties of pear trees. Pear blossoms have a short shelf life and are typically foraged by hand from trees or sold in decorative bunches at local markets.