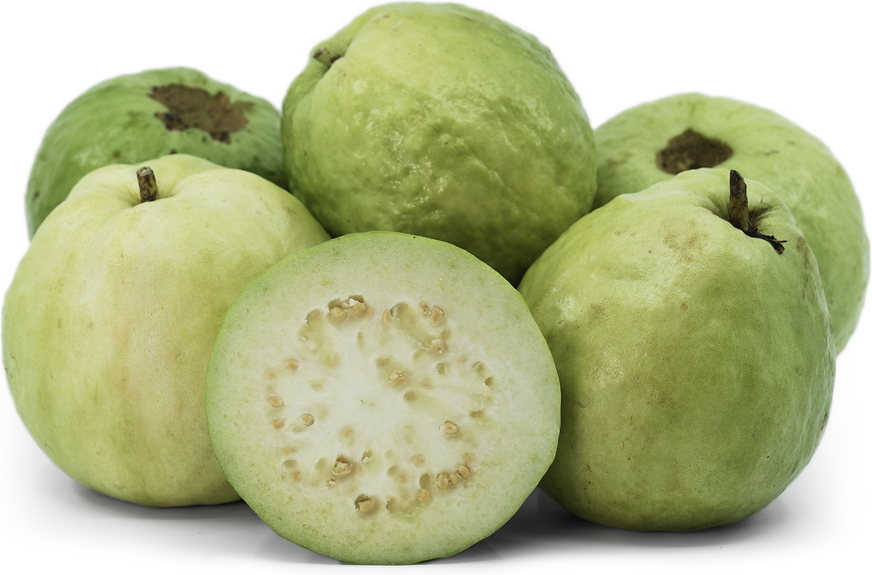 White Guavas
Inventory, lb : 0
Description/Taste

White guavas are a medium to large varietal, averaging 7 to 12 centimeters in diameter, and have a round to oval shape, tapering slightly at the ends. The fruit's skin is thin, bumpy, and semi-smooth, appearing dark green when unripe and transforming into a yellow-green hue when mature. Underneath the surface, the white flesh is firmer than other guava varieties but still has a soft, tender, and crisp consistency. The flesh is also aqueous, encasing many white to yellow edible seeds. It is important to note that the flesh's texture will be grainier just below the skin, similar to the mouthfeel of a pear, and in between the seeds, the flesh becomes smoother as it reaches the center. White guavas should feel heavy for their size and have a slight give to the flesh when gently squeezed. When ripe, the fruits will also emit an aromatic, tropical, heady fragrance. White guavas have a higher sugar content than pink and red-fleshed fruits, but the fruits also contain a sour acidity, creating a sweet, tart, and tangy flavor with fruity, bright, and musky, melon-like undertones.


Seasons/Availability

White guavas are available year-round, with a peak season in the late winter through early spring.


Current Facts

White guavas, botanically classified as Psidium guajava, are tropical fruits belonging to the Myrtaceae family. There are many different varieties of White guavas cultivated worldwide, and some of the cultivars include Supreme, Nagpur, Lucknow 49, Miami White, Mexican White guavas, Giant Bangkok, Thai guavas, Chittidar, Webber, Karela, and Behat Coconut. White guavas thrive in tropical to subtropical climates and are harvested from wild and domesticated trees, primarily consumed fresh for their sweet-tart, subtly sour flavor. The fruits have been utilized in medicinal and culinary preparations for thousands of years and are a versatile ingredient in sweet and savory dishes.


Nutritional Value

White guavas are a good source of fiber to regulate the digestive tract, potassium to balance fluid levels within the body, and vitamin C to strengthen the immune system while reducing inflammation. The fruits also provide some calcium and phosphorus to protect bones and teeth, magnesium to ensure optimum nerve control, vitamin A to maintain healthy organ functioning, and contain other nutrients, including folate, copper, vitamin E, manganese, and iron.


Applications

White guavas have a sweet-tart, subtly sour, and tropical flavor well suited for fresh and cooked preparations. The fruits are traditionally eaten raw, and the skin, flesh, and seeds are all edible. White guavas can be consumed on their own, or they can be sprinkled with salt, chile powder, or sugar for added flavor. The fruits can also be chopped and tossed into salads, mixed into fruit bowls, sliced and layered onto cheese boards, or incorporated into breakfast dishes. In addition to using raw guavas whole or in pieces, the fruits can be blended and pureed into dips or chutney, spread onto sandwiches, mixed into Indian dishes such as uttapan, or integrated into grain bowls. The fruits are also high in pectin, acting as a natural thickening agent for sauces, jellies, jams, marmalades, syrup, and candies. Beyond fresh preparations, White guavas can be used as a flavoring in cheesecakes, cupcakes, shortbread cookies, bars, dessert empanadas, sweetbreads, and cakes, or they can be blended and frozen into granitas and sorbets. They can also add a sweet and sour flavor to savory dishes such as curries, soups, and stews, be cooked into grilled cheese sandwiches, or chopped, skewered, and grilled with chicken as a tropical main dish. Try adding White guavas to smoothies, fruit punches, juices, tea, or cocktails. White guavas pair well with fruits such as apples, pears, strawberries, pineapples, coconut, mangoes, oranges, and limes, spices including cloves, cinnamon, ginger, and cumin, honey, brown sugar, meats such as poultry, beef, and pork, and seafood including shrimp, white fish, and crab. Whole, unwashed White guavas should be used immediately for the best quality and flavor. The fruits have a short shelf life and can be kept at room temperature for 1 to 3 days to ripen. Once mature, the ripe fruits should be stored in the refrigerator for 1 to 4 days. White guavas can also be frozen for extended use.


Ethnic/Cultural Info

In South America, guavas are customarily used in a sweet known as goiabada, or guava cheese. The sugary dessert dates back to the arrival of Portuguese colonialists, especially in the Brazilian state of Minas Gerais. The colonialists wanted to make a traditional European dish known as quince cheese, but since quince was unavailable, the settlers used guavas as a substitute. Goiabada is comprised of guavas and sugar cooked and beaten into a jelly-like conserve. This spread can be thick or thin, depending on the desired consistency, and is often slathered on toast, used as a filling for pastries, or cut into substantial blocks and served in pieces. While the dish is traditionally made with red or pink-fleshed guavas, modern day chefs are adapting the recipe to use White guavas as a variation. In Brazil, goiabada is commonly consumed with minas cheese, a dish colloquially named "Romeo and Juliet." This descriptor was given for the pairing's rich, salty, and sweet flavors, and is symbolic that the cheese and preserve should always be kept together. Goiabada and minas cheese are favored flavors during the holiday season and can be found stuffed in empanadas, served as bite sized appetizers, or folded into puff pastry.


Geography/History

White guavas are native to South America and have been growing wild since ancient times. Archaeological evidence suggests that guavas were first discovered in Peru, and experts believe that the fruits were domesticated in the country as early as 800 BCE. Guavas were also spread across South America through migrating peoples and animals into Central America, arriving in Mexico around 200 BCE. Guavas were later taken from Mexico into the Caribbean, where Spanish and Portuguese explorers encountered the fruit, saving the seeds and transporting them worldwide. Today White guavas are cultivated in tropical to subtropical regions worldwide and are found in South America, Central America, Mexico, the United States, the Caribbean, Southeast Asia, India, Oceania, and parts of Africa. Fresh White guavas are offered through local markets, farm stands, grocers, online retailers, and distributors.