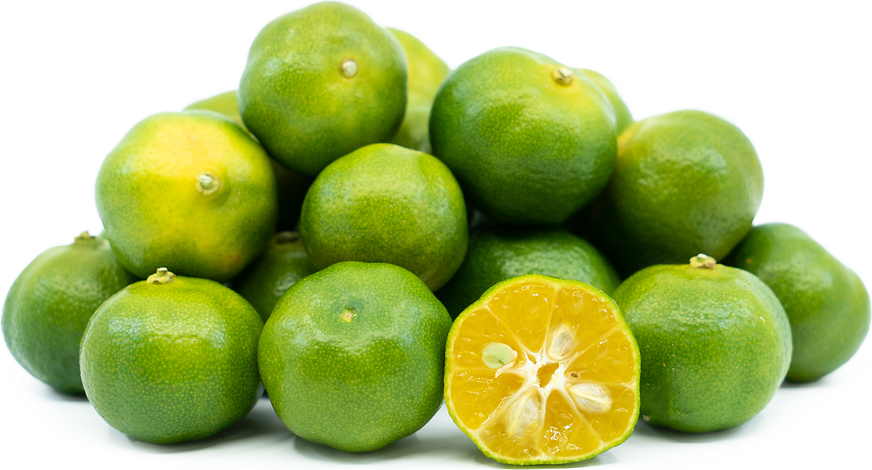 Shikwasa Limes
Inventory, lb : 0
Description/Taste
Shikwasa limes are a small citrus, averaging 3 to 4 centimeters in diameter and 25 to 60 grams in weight, and are round, oblate, to slightly squat in shape. The rind is thin, glossy, firm, and taut, showcasing dark green shades when young, transitioning into yellow-orange hues with maturity. The rind is also covered in tiny oil glands giving the surface a speckled appearance, and the citrus, as a whole, may sometimes have a lumpy appearance. Underneath the rind, the bright orange flesh is divided into 10 to 12 segments by thin membranes. The flesh is also aqueous, dense, tender, and succulent, being found seedless or containing many large cream-colored seeds. Select Shikwasa limes that feel heavy for their size and have a plump nature. The rind is edible and has a bitter but aromatic taste, commonly used as a finishing element or garnish. The flesh and juice vary in flavor, depending on the fruit's maturity. Unripe, dark green Shikwasa limes will have a bright, acidic, astringent, sour, and tart taste. As the fruits mature, they develop a higher sugar concentration, creating a subtly sweet, sour, and tangy flavor.
Seasons/Availability
Shikwasa limes are available in the late summer through winter.
Current Facts
Shikwasa limes, botanically classified as Citrus depressa, are a rare citrus variety belonging to the Rutaceae family. The small fruits grow on trees reaching up to five meters in height and are native to Japan, where the species has been cultivated for centuries as a culinary flavoring and enhancement. Shikwasa limes are one of the few Japanese citruses still found in the wild and commercially produced. It is estimated that there may be as many as 100 varieties of Shikwasa limes, and there are 13 to 14 main commercial species, with some of the most popular including Kaachi, Ogimi Kugani, Izumi Kugani, Katsuyama Kugani, and Nakamoto Seedless. Shikwasa limes are also known as Okinawa limes, Thin-skinned Flat lemons, Shiquasa, and Shikuwasa. In the modern day, Shikwasa limes are utilized in their unripe and ripe stages for fresh and cooked culinary preparations, and the entire fruit is edible, including the aromatic rind. Green Shikwasa limes, the most common form in commercial markets, are unripe fruits with an acidic, sour, and tangy taste. This stage is often labeled as Hirami lemons and is typically used to brighten dishes with acidity. When the citrus darkens from green to an orange-yellow hue, the mature fruits are called Kugani, meaning "golden." Ripe Shikwasa limes are edible raw and develop a sweet and sour, refreshing taste.
Nutritional Value
Shikwasa limes are a source of vitamin C to strengthen the immune system and vitamin E to assist in reducing inflammation within the body. The fruits also provide B vitamins and are known for containing a compound called nobiletin; a flavonoid said to have antioxidative properties, the ability to reduce blood pressure, and to offer protection against age-related issues. Nobiletin is typically found in the rind of the citrus and can be incorporated by infusing pieces of the rind into tea.
Applications
Shikwasa limes have a bright, refreshing, sweet, and sour taste suited for raw and cooked preparations. The citrus is used for distinct purposes, depending on its maturity, and is one of the few citrus varieties in Japan that are affordable, functional, and highly nutritious. Shikwasa limes are most commonly seen in their dark green, unripe state. This stage of maturity is favored for commercial transport as the fruits can be shipped long distances without spoiling. Dark green Skiwasa limes are used for their sour, acidic juice and are commonly squeezed to flavor sauces, meats, and vinaigrettes. In the middle of their season, the citrus transitions into a yellow-green hue and is used for refreshing juices. Ripe Shikwasa limes will develop a yellow to orange coloring and can be eaten raw like a mandarin orange. This late-season stage is rarely found in commercial markets due to its short shelf life. In general, Shikwasa limes can be incorporated into sweet and savory dishes and used for noodle dishes, marinades, fried foods, or seafood. The juice and zest can also be incorporated into cakes, muffins, scones, and other baked goods, simmered into jellies, or blended and frozen into sorbet. Try grating the rind to add flavor to salads and rice bowls or drying it and adding it to spice mixes. In addition to culinary preparations, Shikwasa limes are traditionally used in juices, alcohol, and other beverages. In Okinawa, Shikwasa juice is combined with awamori, a local alcohol, to create a pungent, sweet, and sour drink. The limes can also be squeezed into sparkling beverages, hot tea, smoothies, or fruit juices. Shikwasa limes pair well with herbs such as mint, cilantro, coriander, and parsley, ginger, maple syrup, honey, coconut milk, apple cider vinegar, fish such as salmon, yellowtail, and red snapper, and meats including poultry, duck, pork, and beef. Whole, unwashed Shikwasa limes will keep for 2 to 3 weeks when stored in a plastic bag in the refrigerator. The fruits can also be frozen for approximately six months. It is recommended to extract the juice and freeze it in an ice tray in a storage bag to retain a brighter flavor.
Ethnic/Cultural Info
In Uchinaaguchi, the ancient language spoken throughout the Ryuku Archipelago, Shikwasa roughly translates to means "sour food" or "something that eats acid." "Shi" means "sour," and "kwasa" means "food" or "something to feed." Shikwasa limes are a staple within the diets of Okinawan residents and are one of the rumored ingredients to contribute to Okinawa's reputation as the "land of immortals." Okinawa Island is located in southern Japan and is known for its concentration of centenarians, or individuals who live to be over 100 years old. The village of Ogimi on Okinawa Island has received worldwide fame for its centenarians, and extensive studies have been conducted to understand the community's life-giving practices. Ogimi residents live by three principles: moai, ikigai, and nuchi gusui. Moai is a term used to describe community. Ogimi residents are often involved in a tight-knit network of friends who support each other physically, monetarily, and emotionally, preventing loneliness, which many consider more deadly than disease. Ogimi residents also live by ikigai, or a sense of purpose, leading them to work in creative outlets to generate income and reside in a like-minded community. Nuchi gusui is a locally-used phrase meaning "let food be your medicine" and is the practice of only eating until you are partially full. The Ogimi diet includes fresh fruits and vegetables grown in home gardens, including Skiwasa limes. Gardens provide an activity for residents to get exercise and stay active, and the entire Shikwasa fruit, including the rind, pulp, and seeds, is used in a variety of products in the village, from food and cosmetics to aromatherapy oils.
Geography/History
Shikwasa limes are native to the Ryukyu Islands, a chain of islands in southern Japan, and have been growing wild since ancient times. Much of the species' origins are unknown, but one of the first references to the citrus was written in the Omoro-zoushi, an Okinawan text dating back to the 16th and 17th centuries. Over time, Shikwasa limes were selected in their native regions for commercial production, and growers began cultivating the fruits for improved flavor, appearance, and growth qualities. Many new varieties of Shikwasa limes have been created for commercial purposes, and despite their increase in cultivation, Shikwasa limes primarily remained localized to their native region. In the 1980s, Shikwasa limes expanded in popularity with the introduction of the juice industry, and in the early 2000s, a famous Japanese television program highlighted the fruit's nutritional value, further increasing its reputation throughout Japan and worldwide. Today Shikwasa limes are mostly produced in the Okinawa Prefecture, specifically Nago city, Ogimi village, and Motobu town. The limes are also cultivated on a small scale in Wakayama and Kagoshima Prefectures and are sold through local markets and grocers or are exported to neighboring countries. Outside of Japan, a few specialty growers around the world cultivate Shikwasa limes, including farms in California.
Recipe Ideas
Recipes that include Shikwasa Limes. One

is easiest, three is harder.