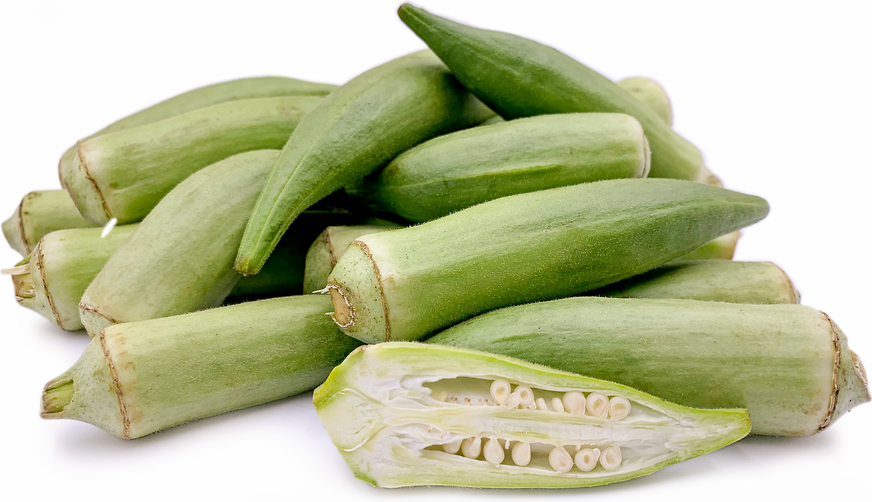 West African Okra
Inventory, lb : 0
Description/Taste
West African okra is small to medium in size, averaging 1-5 centimeters in diameter and 5-15 centimeters in length, and is elongated and pointed in shape with slight tapering to the non-stem end. The smooth, firm skin is pale green around the stem, transitioning into a darker green hue towards the tip, and is covered in tiny, fuzzy hair-like protrusions. Underneath the skin, the crisp flesh is pale green to white and encases many flat, round, cream-colored seeds in a central cavity. West African okra is crunchy with a mild, fresh herbaceous flavor similar to the taste of asparagus and artichoke.
Seasons/Availability
West African okra is available year-round in tropical, humid regions in Africa.
Current Facts
West African okra, botanically classified as Abelmoschus caillei, are the edible pods growing upright on a large bush or shrub that can reach up to four meters in height and belongs to the Malvaceae family. Harvested for its immature pods, West African okra is a rare variety localized to Africa and is often overshadowed by the common okra variety, Abelmoschus esculentus, which has been found in the tropical climates in Asia, Africa, and Central America. West African okra is favored for its high productivity, providing multiple harvests for villagers to sell at fresh markets, and is a staple ingredient in home cooking. Popularly prepared as a vegetable in cooked applications, West African okra has mucilaginous properties that are used to thicken stews, sauces, and gravies.
Nutritional Value
West African okra is a good source of vitamins A, C, and K, manganese, folate, calcium, magnesium, and fiber, and also contains potassium, phosphorus, and copper.
Applications
West African okra is best suited for both raw and cooked applications such as boiling, stewing, frying, grilling, steaming, and sautéing. The pods can be thinly sliced and added raw to green salads or sliced lengthwise and sprinkled with salt, pepper, chile powder, or lemon juice as a crunchy snack. When cooked, West African okra complements spicy foods and can be sautéed with other vegetables and flavored with chile oil as a side dish, or it can be breaded and fried. West African okra is also very similar in flavor to common okra and can be used interchangeably in recipes. The pods are most popularly consumed in stews and soups and are used as a thickener to create a thick, gummy texture. They are also dried and ground into a flour for extended use, so even when fresh okra is not available, the powder can be used to thicken soups, sauces, and gravies. West African okra pairs well with citrus, honey, onions, garlic, ginger, anchovies, plantains, starchy vegetables, rice, yucca, peppers, plum tomatoes, celery, and spinach. The pods should be harvested and used immediately for best flavor, but they will also keep 2-3 days when stored in a paper bag in the refrigerator.
Ethnic/Cultural Info
West African okra is utilized throughout West Africa as a thickening agent in traditional one-pot soups and stews. Cultivated in village gardens, West African okra is widely available in local markets and is also known as okro. The green pods emit a slippery liquid when boiled to create a thick consistency, and the ingredients in the stews vary greatly depending on the region it is prepared in. West African okra soups commonly use onion, peppers, garlic, ginger, okra, and palm oil as the base and combine different seafood such as crabs, prawns, or fish and meats such as beef or poultry. The leaves of the West African okra plant are also consumed, stirred into soups and cooked similarly to spinach, and the pod seeds can be dried, ground, and used as a flour.
Geography/History
The exact origins of West African okra are unknown, but some of the original okra varieties were believed to be native to the region surrounding Ethiopia, Sudan, and Eritrea. The seeds of the original varieties were then spread across Africa in 2,000 BCE and up into Arabia where new varieties were created as cultivation increased within the villages. Today West African okra is cultivated on a small scale and is found at fresh markets along the Western Coast of Africa including Guinea, Ghana, Togo, Benin, and Nigeria, and has also been found in the Democratic Republic of Congo, Gabon, and Cameroon.
Recipe Ideas
Recipes that include West African Okra. One

is easiest, three is harder.