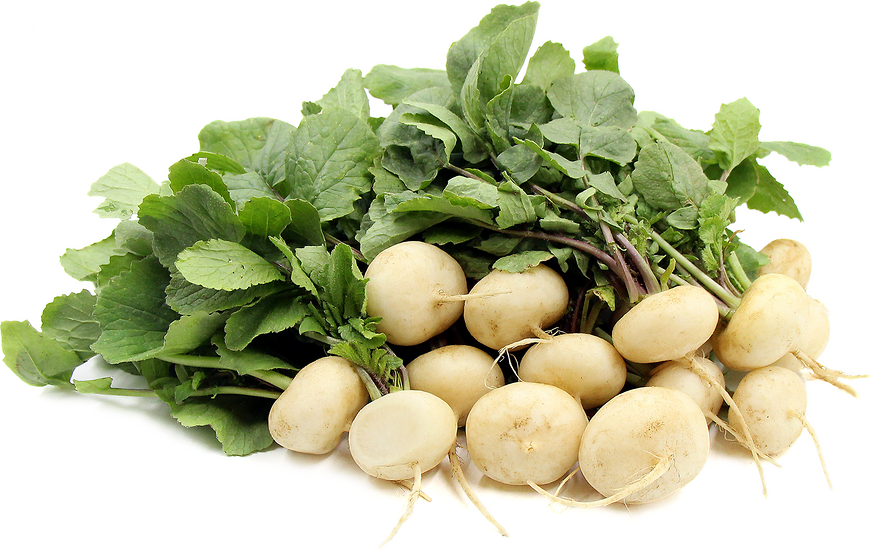 Snowball Radish
Inventory, 24 ct : 0
Description/Taste

Snowball radishes are a small varietal, averaging 2 to 4 centimeters in diameter, and have a round to oval, slightly flattened appearance with a single taproot. The radish's skin is semi-thin, smooth, and taut, showcasing ivory to white hues. Underneath the surface, the white, cream-colored, to ivory flesh is dense, firm, and exceptionally crisp. Snowball radishes are known for their crisp, snap-like consistency, and the flesh is also succulent, crunchy, and moist. Snowball radishes have a sharp, peppery, and piquant flavor with subtle earthy and sweet undertones. The radishes also produce green leafy tops that are broad, flat, and serrated, covered in folds, creases, and wrinkles. The edible leaves contribute a vegetal, green taste with a spicy kick.


Seasons/Availability

Snowball radishes are available year-round, with a peak season in the spring.


Current Facts

Snowball radishes, botanically classified as Raphanus sativus, are a type of white globe radish belonging to the Brassicaceae family. The small, round roots are an early to mid-season variety, maturing in approximately 30 to 35 days after sowing. Snowball radishes are also known as Snow Belle radishes and are a favored home garden radish grown for their high-yields, fast-maturing nature, and ability to be grown in containers. The radishes can also be commercially produced in greenhouses or open fields. Snowball radishes have a sharp, peppery flavor utilized in various culinary preparations.


Nutritional Value

Snowball radishes are a source of vitamin C to strengthen the immune system while reducing inflammation, potassium to balance fluid levels, and calcium and phosphorus to build strong bones and teeth. The roots also provide magnesium to regulate optimal nerve functioning, iron to develop the protein hemoglobin for oxygen transport through the bloodstream, and other nutrients, including folate and copper. Beyond vitamins and minerals, radishes contain glucosinolates, phytochemicals found in the roots that give the flesh its spicy taste.


Applications

Snowball radishes have a peppery, sometimes pungent flavor suited for raw and cooked preparations. The radishes can be sliced, sprinkled with salt, and eaten as a snack, layered on top of buttered bread, stuffed into sandwiches, or chopped and added to salads. Snowball radishes can also be sliced and incorporated into fresh spring rolls, served with sushi and sashimi, or finely chopped and added to side dishes and dips. In addition to raw preparations, Snowball radishes can be heated in grilled cheese and ham sandwiches, simmered in soups and stews, or stir-fried into vegetable dishes. The radishes can also be roasted and served as a savory side, chopped into casseroles, or thinly sliced and baked. Beyond cooked recipes, Snowball radishes can be pickled for extended use. The leaves are also edible and can be incorporated into pesto, salads, dips, dressings, and soups. Snowball radishes pair well with herbs such as sage, thyme, chives, dill, and tarragon, leeks, apples, pine nuts, garlic, cheeses, including gorgonzola, havarti, and goat, and meats such as pork, poultry, lamb, and beef. Whole, unwashed Snowball radishes should be separated from their tops and stored in a sealed container in the refrigerator's crisper drawer for around one week.


Ethnic/Cultural Info

Snowball radishes are popularly incorporated into Bavarian brotzeit, a German snack board. The term brotzeit is derived from "brot," meaning "bread," and "zeit," meaning "time," and this bread time moniker was created from farmers, shepherds, and field workers breaking to have a mid-morning snack. Bavarian farmers considered this snack a second breakfast, and hearty ingredients, including bread, meats, cheeses, and vegetables, would be served on wooden platters for the workers to pick and choose what they were going to eat. Brotzeit has modernized into a snack enjoyed throughout Germany, and the mid-morning platter has also transformed into a mid-afternoon snack consumed at beer gardens. Radishes are a popular element of brotzeits as they provide added crunch and sharp, peppery flavors to complement other ingredients such as onions, pickles, pretzels, cured meats, and assorted cheeses. Snowball radishes are also enjoyed for their white coloring, creating visual contrast to enhance the overall eating experience.


Geography/History

Radishes are native to Asia and are believed by experts to have been growing wild in regions of China and Central Asia. The ancient roots are distinct from the radishes we see in commercial markets in the modern-day and were cultivated in the early ages for the root's strong flavoring and crisp nature. Much of the history of radishes is unknown, but the roots were spread along trade routes and through migrating peoples across Asia into the Middle East, Northern Africa, and Europe. Before the 16th century, most radish varieties were large, tough, and elongated. As demand for smaller radishes increased in Europe, breeders developed compact, circular radish varieties for everyday use, including white globe-type radishes. Globe radishes became widespread throughout Europe by 1586 and were eventually introduced into the New World. Over time, several varieties of white radishes were created, such as Snowball radishes. Today Snowball radishes are typically a home garden variety offered through online seed catalogs. Select growers also cultivate the variety in North America, Australia, and Europe, especially among eastern European countries, and sell through select grocers and farmers markets.