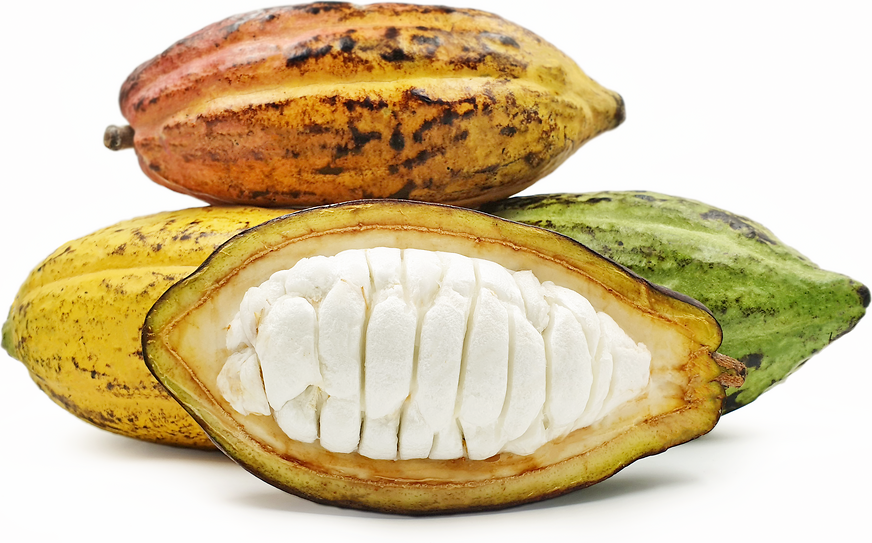 Bali Cacao
Inventory, lb : 0
Description/Taste

Bali Cacao are yellow pods which grow singly on Cacao trees. The outer shell is bumpy, ridged and elongated, growing to 15 to 30 centimeters in length, and containing from 25 to 75 inner beans, called cocoa beans. The beans are each 1 to 3 centimeters in length, and are encased in a soft, slimy and sweet white pulp. When the pulp is removed and the bean cut open, you find that the color of each is a deep, brownish purple. The beans are harder than a nut, and have a bitter taste with notes of vanilla.


Seasons/Availability

Bali Cacao is avalable year-round.


Current Facts

All Cacao is botanically classified generally as Theobroma cacao, and is used to make products like chocolate and cacao butter. There are many different varieties of cacao, which most accurately are grouped according to region. Bali Cacao is likely a hybrid, and traditionally is grown wild or in small plots alongside other crops such as coffee and tropical fruit. Bali Cacao is increasingly becoming popular on the world stage, with more farms and producers found on the Indonesian island. Chocolate originating from Bali Cacao can be found from specialty producers worldwide.


Nutritional Value

Cacao is known to be rich in antioxidants, easily surpassing foods like blueberries and green tea. Cacao also contains polyphenols and magnesium, which are good for heart health. Eating Cacao helps the body produce small doses of dopamine, serotonin, and tryptophan, and so are considered to be a mood-lifting food that is a natural anti-depressant.


Applications

Bali Cacao beans can be eaten raw. However, most find the beans unpalatable, as they are relatively tasteless at this stage. Instead, they are most often turned into other products like cacao nibs, cacao powder, cacao powder, and chocolate. The pods are first left to ferment for several days before the beans are removed and dried and roasted. If you find or forage whole Bali Cacao pods, you can cut them open, the way you would open a squash. Scoop out the inner fruit and beans. The skin of the pods is edible, and can be thinly sliced and fried into chips. To store Bali Cacao, leave them whole at room temperature.


Ethnic/Cultural Info

The Aztecs regarded Soconusco Cacao, from which Bali Cacao originates, to be some of the best. It is said to be a substrain of Criollo Cacao, and wars are said to have been fought over orchards containing this variety of Cacao. In Bali itself, Cacao can be found growing wild, or in in back gardens, where the pods generally go unpicked.


Geography/History

Bali Cacao is mostly grown in the lush, jungle-filled western part of the island. The strain found in Bali originally came from the Philippines, where it was introduced by the Spanish in the 1600s. This cacao came the Soconusco region of Mexico. From the Philippines, cacao was brought, and subsequently planted, in Java. From there, it spread to Bali and the rest of the Indonesian Archipelago. The genetics of Cacao on Bali remain largely unchanged from this time, and it is said that it is likely to be closest to the original beans which came from Soconusco. It is therefore considered to be a rare, heritage variety.