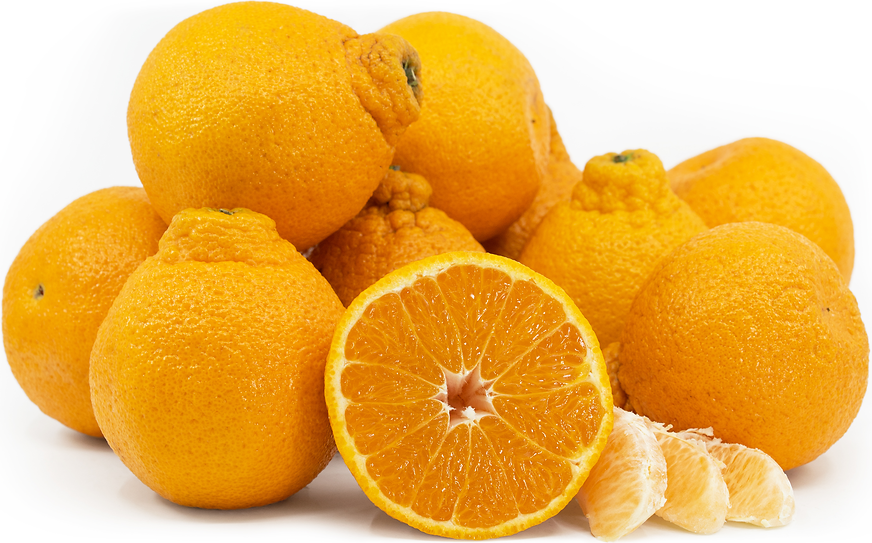 Sumo Citrus®
Inventory, 14 bs : 0
Description/Taste
Sumo Citrus® is a medium to large varietal, averaging 8 to 10 centimeters in diameter, and has a round, oval, to oblate shape with a characteristic protruding furrowed neck, also referred to as a top knot. The rind is easy-to-peel, showcasing shades of light orange to yellow-orange, and has a smooth to coarse texture depending on cultivation. The rind is also covered in prominent but tiny oil glands, giving the surface a pebbled, bumpy appearance. It is worth noting that while the rind looks tough and durable, it is actually quite delicate and can be easily scarred or damaged. Most scars are superficial and do not compromise the fruit's quality. Underneath the surface, there is a thin to almost nonexistent layer of white spongy pith, and the orange flesh is divided into 10 to 11 segments by edible tender membranes. The flesh has a firm but soft, aqueous, and succulent pulpy consistency, either being found seedless or containing a few ivory seeds, determined by natural bee pollination. Sumo Citrus® is aromatic, releasing a bright and lingering mandarin orange-like scent, and the fruits are known for having high sugar content, ranging from 13 to 18 degrees Brix. This high sugar is mixed with acidity, containing less than 1 percent citric acid, to create a rich, refreshing, fruity, and balanced sweet and tangy flavor.
Seasons/Availability
Sumo Citrus® is available for a limited season in the winter through spring, lasting from January through April.
Current Facts
Sumo Citrus®, botanically classified as Citrus reticulata, is the brand name of a Japanese hybrid citrus belonging to the Rutaceae family. The specialty fruits were released in American commercial markets in 2011 and are favored by consumers for their bright, sweet taste, seedless flesh, and easy-to-peel nature. Sumo Citrus® is a type of Dekopon, a citrus also known as Shiranui or Shiranuhi in Japan. It is important to note that not all Dekopons can be labeled as Sumo Citrus®, as the branded moniker is only given to select fruits that pass rigorous quality assessments and are grown through exclusive partners of AC Family Foods in California. Sumo Citrus® is regarded as one of the most challenging and labor-intensive varieties to grow, as it takes four years for the trees to begin bearing fruit, and the trees must be pruned by hand to allow more sunlight to reach the citrus. During cultivation, the fruits are sometimes covered in natural clay to protect the peel from sunburns, and each fruit is hand-harvested into small totes to protect the peel's delicate nature. The fruits are also cured for 20 to 40 days once picked to allow for the acidity to reduce, creating a sweeter taste. Sumo Citrus® is not a GMO variety, and the fruits sold under the brand name must meet specific requirements, including Brix and citric acid levels, which are measurements for sugar and acidity within the flesh. Despite these rigorous requirements, Sumo Citrus® has become a beloved seasonal fruit in the United States, and the citrus is only available for four months of the year, primarily consumed as a fresh-eating variety.
Nutritional Value
Sumo Citrus® is a source of vitamin C to strengthen the immune system, fiber to regulate the digestive tract, folate to develop genetic material including DNA and RNA, and vitamin A to maintain healthy organ functioning. The fruits also provide calcium to build strong bones and teeth, potassium to balance fluid levels within the body, iron to develop the protein hemoglobin for oxygen transport through the bloodstream, and other nutrients, including vitamin E, magnesium, flavonoids, and copper.
Applications
Sumo Citrus® has a bright, sweet, and tangy taste suited for fresh and cooked preparations. The citrus is traditionally consumed straight out of hand and is savored for its easy-to-peel nature and juicy, tender flesh. Sumo Citrus® can also be segmented and tossed into salads, supremed and consumed in fruit medleys, chopped as a fresh garnish over yogurt, roasted meats, toast, and salsas, or dipped whole in chocolate and sprinkled with crushed nuts. Try incorporating sliced Sumo Citrus® into ceviche or using the juice in glazes, marinades, sauces, and dressings. Beyond raw dishes, Sumo Citrus® can be utilized as a flavoring in desserts. The juice and zest are commonly added to scones, muffins, tarts, cookies, cakes, and cheesecakes. The juice and zest can also be infused into crème brulee, jams and jellies, or simmered into candies for a refreshing, sweet, and bright flavor. Sumo Citrus® pairs well with fruits such as coconuts, apples, pineapples, bananas, cantaloupes, and mangos, meats including poultry, beef, and pork, seafood, nuts such as pine, pistachios, and cashews, and herbs including basil, tarragon, cilantro, and parsley. Whole, unpeeled Sumo Citrus® will keep up to four days at room temperature and for 2 to 4 weeks when stored in the refrigerator.
Ethnic/Cultural Info
Sumo Citrus® was given its brand name for its size, protruding bump, and Japanese heritage. In Japan, the variety is known under the brand name Dekopon, a moniker created by growers. The name comes from the Japanese word "deko," meaning "bump," a descriptor for the fruit's signature protruding end, and "pon," referring to its Ponkan mandarin parent variety. When promotional campaigns for the variety in the United States were being created, marketing experts through AC Brands felt that Dekopon would not connect with American consumers. Several names were developed and evaluated in focus groups for the citrus, including options such as Tangimodo and Tanzilla, but the branding team eventually settled on Sumo Citrus® to peak consumer interest and share a distinct brand story. Sumo pays homage to one of Japan's most beloved sports and highlight's the variety's Japanese heritage. The fruit's signature protruding stem end is also called a top knot, a term used for the hairstyle worn by sumo wrestlers. Top knots, known as mage and chonmage in Japan, are one of the most recognizable traits of a sumo wrestler, and the hairstyle evolved from a style once worn by samurais. In addition to the fruit's top knot, Sumo Citrus® was meant to convey the enormous size of the citrus, comparing it to the size of a sumo wrestler. Sumo Citrus® was an approachable, easy-to-pronounce moniker, and consumers were intrigued by its memorable name, promoting the spread of the specialty citrus throughout American markets.
Geography/History
Sumo Citrus® is a brand name for a specialty citrus variety native to Japan. In 1972, scientists at the Ministry of Agriculture, Forestry, and Fisheries Fruit Tree Experiment Station in the Nagasaki Prefecture in Japan crossed a Kiyomi tangor, an orange and a satsuma mandarin hybrid, with a Ponkan, a popular citrus throughout Asia. The resulting citrus from this cross had an unusual bump at one end, was irregular in shape, and had textured skin. The scientists deemed the citrus unfit for commercial production and abandoned the project. Several years later, the variety was revisited at the Shiranuhi Agricultural Cooperative, now known as the JA Kumamoto Shiranuhi Branch in the Kumamoto Prefecture. Chairman of the Citrus Club, Ryuzo Ishihara, planted over 170 species of citrus to discover a new variety that could reinvigorate the citrus market in Japan. The Kiyomi-Ponkan hybrid was planted in the test plot, but when the fruits were picked off the trees, they were extremely sour and acidic. It wasn't until Shingo Nagame, an employee of the agricultural cooperative, discovered that the variety lessens in acidity with time, developing a mild and sweet flavor. In 1985, Nagame presented the citrus after it had been stored for an extended period to other employees, spurring breeders to reexamine the citrus for commercial production. The variety was named Shiranuhi after the site of the test plot and was released to markets in the 1990s. Shiranuhi quickly became a premium cultivar that was sold at high prices. The variety expanded across Japan, and with its increased popularity, it was renamed Dekopon as a branded moniker, encouraging unification between Japanese growers. Dekopon oranges were introduced to the United States in 1998 through Brad Stark Jr. acquiring budwood from Japan. Stark sent the budwood to the Citrus Clonal Protection Program in Riverside, California, to clean the variety of possible diseases, and it took several years before the budwood was released. During this time, Stark's business in Strathmore, California, closed, causing him to sell the sterilized budwood to the Griffith family in 2005. The Griffith family was known for their ownership of the nursery TreeSource and Suntreat Packing and Shipping, and after buying the rights to the Dekopon budwood, they partnered with thirteen different growers to cultivate the variety in local groves throughout the San Joaquin Valley. The orchards were planted in 2008, and growers had to refer to the variety as XP1, as they signed a confidentiality agreement and were sworn to secrecy in fear of other growers catching wind of the project. In 2011, the first crop of American-grown Dekopons was released to commercial markets under the brand name Sumo Citrus®. After the branded release, Suntreat was acquired by Agriculture Capital in 2015 and was placed under the AC Foods Family branch. Today Sumo Citrus® is exclusively grown in the San Joaquin Valley in California, and it is said most of the orchards are within a 60-mile area, found in the cities of Porterville, Lindsay, Strathmore, and Exeter. The Sumo Citrus® website also mentions that the variety is grown through partners in Australia. When in season, Sumo Citrus® is sold through select grocers, distributors, and retailers throughout the United States and Canada.
Recipe Ideas
Recipes that include Sumo Citrus®. One

is easiest, three is harder.
the other 7...