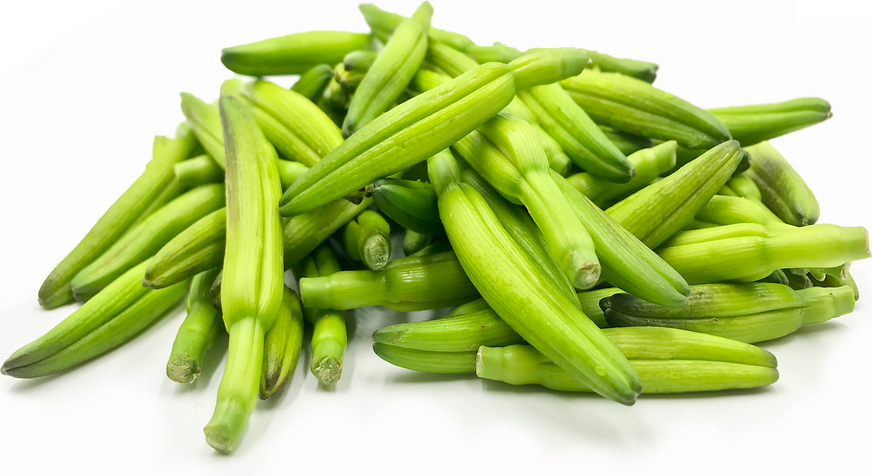 Kinshinsai
Inventory, lb : 0
Description/Taste

Kinshinsai is an unopened flower bud of an edible daylily species. The buds generally range from 7 to 12 centimeters in length and have a slender and straight appearance, tapering slightly towards the tip. The surface of the closed bud is smooth, lightly textured, and firm, varying in color depending on the time of harvest. If the buds are harvested early, they will be more rigid and appear bright green. If the buds are harvested more mature, just before blooming, they will transition from green into shades of yellow and become softer. Kinshinsai has a crunchy and somewhat mucilaginous texture, and the unopened buds must be cooked before consumption as they are considered poisonous when raw. The buds are said to have a mild, sweet, and vegetal taste reminiscent of the fresh flavors found in green peas, asparagus, and leeks. The leaves and tubers are also edible and are consumed as a secondary crop to the buds.


Seasons/Availability

Kinshinsai is available in the summer through late fall.


Current Facts

Kinshinsai, botanically classified as Hemerocallis fulva, is the unopened flower bud of a perennial species of daylily belonging to the Asphodelaceae family. These flowers are native to Asia and have been cultivated as an ornamental landscape plant in temperate regions for thousands of years. Daylilies are easy-to-grow, produce colorful blooms, and are hardy, adapting to various soil and climate types. Kinshinsai is the Japanese name for the edible daylily buds. While these plants do not produce true lilies, daylilies received their name from their similarity in appearance to lilies and for their short blooming period, lasting only one day. In addition to its ornamental use, Kinshinsai has also been utilized in culinary preparations since ancient times. The unopened flower buds, leaves, and tubers are all edible, but the term Kinshinsai primarily applies to the flower buds. The green buds have a mild and fresh green flavor and are incorporated into everyday recipes at restaurants and home kitchens throughout Asia. In Japan, Kinshinsai is often served at yakitori restaurants and is an easily prepared, shared dish. It is important to note that Kinshinsai must be cooked as it is toxic when raw, and there are many species of daylilies not considered edible, causing gastric distress. Research and caution should be had when foraging for Kinshinsai, and it is recommended to consult with an expert before consuming foraged foods.


Nutritional Value

Kinshinsai contains pollen and succulent petals that provide vitamins A, B, and C to strengthen the immune system and maintain overall health. The flower buds also have calcium to protect bones and teeth, iron to develop the protein hemoglobin for oxygen transport through the bloodstream, and fiber to regulate the digestive tract. In Traditional Chinese Medicine, Kinshinsai is used as a natural ingredient to improve liver function and gastrointestinal activity. Kinshinsai is also known as a cooling vegetable, believed to remove body heat by increasing metabolism.


Applications

Kinshinsai must be cooked as raw flower buds may cause gastric distress, including diarrhea, vomiting, nausea, and dizziness. Cooked buds have a mild, vegetal flavor reminiscent or peas or asparagus, and it is recommended to soak the buds in water before cooking, a practice taken from Traditional Chinese Medicine. Kinshinsai can be steamed, boiled, grilled, fried, or sauteed and is popularly incorporated into soups, especially in egg drop soup or hot and sour soup, stir-fries, and salads. The buds can also be skewered and grilled to develop a smoky flavor, fried into tempura, cooked into moo shu pork, or simply prepared by sauteing in butter and garlic. Beyond the flower buds, the leaves and young shoots are edible and can be cooked as a fresh side dish. Kinshinsai pairs well with aromatics such as garlic, ginger, shallots, and chives, seafood including scallops, white fish, shrimp, and crab, mushrooms, mung beans, and other leafy greens. Whole, unwashed Kinshinsai should be immediately consumed for the best quality and flavor. When the flower buds are dried, they will keep 1 to 2 years when stored in a container at room temperature away from direct sunlight.


Ethnic/Cultural Info

In China, dried daylily flowers buds are a culinary delicacy referred to as Gum Jum Choi, roughly translating to "Golden Needles." The unopened daylily buds have been a part of culinary preparations and Traditional Chinese Medicine remedies for thousands of years and contribute a subtle blend of musky, earthy, sweet, and tangy flavors. Dried daylily buds are mostly favored for their distinct aroma comprised of floral and fruity nuances and are a customary ingredient in soups, stir-fries, noodles, and dumplings during the Lunar New Year. The dried buds symbolize wealth with their gold coloring and slender, noodle-like nature, and the buds can be left whole or shredded. It is also common to see the buds tied into knots to retain flavor and prevent breaking apart. Outside of China, it is important to note that dried daylily buds are also known as Golden Needles throughout East Asia, and the buds must be reconstituted before use. It can take anywhere from thirty minutes to two hours to rehydrate the buds, depending on how they were dried, and the buds develop a slightly crunchy and chewy consistency. The reconstituted liquid is also used in recipes as it contains extracted vitamins and minerals.


Geography/History

Kinshinsai is native to Asia and has been growing wild since ancient times. The plants grow in temperate woodlands and open areas from the Caucasus region to China and Japan, and the most common type of daylily is known as the orange daylily. It is unknown when the daylilies were selected for commercial cultivation, but the unopened flower buds have been widely used in Traditional Chinese Medicine for many years. Kinshinsai was established as a culinary vegetable and ornamental plant, cultivated and foraged across Asia, and the plants were later introduced to Europe sometime before the 16th century. Over time, daylilies were brought to the New World, where they became naturalized in parts of the United States and Canada, sometimes even becoming an aggressive invasive weed. Today Kinshinsai can be found in Asia, especially in Japan, Malaysia, China, Taiwan, India, and New Zealand, Europe, the United States, and Canada. When the flowers are in bloom, the unopened flower buds are sold through fresh markets as a local delicacy.