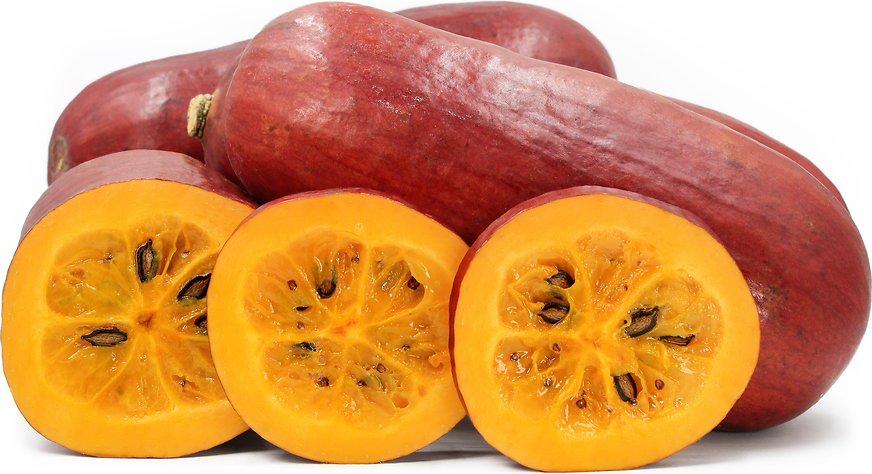 Cassabanana
Inventory, lb : 0
This item was last sold on : 03/21/23
Description/Taste
Cassabananas are large fruits, averaging 30 to 60 centimeters in length and 7 to 12 centimeters in diameter, and have a straight, uniform, and cylindrical shape with curved, blunt edges. The fruits resemble an oversized cucumber or gourd and have hard, smooth, and glossy rinds with a tough, waxy nature. The rind may exhibit light ridging and ripens from green to shades of dark red, maroon, burgundy, dark purple, or black. Underneath the shell-like exterior, the flesh ranges in color from orange to yellow-orange and encases a central seed cavity. The flesh is dense, firm, lightly aqueous, crisp, and chewy when raw. Once cooked, the flesh typically softens and can sometimes become mealy if overcooked. The seed cavity extends the length of the fruit and is filled with juicy, stringy pulp and many large, black-brown, ovate seeds 13 to 15 millimeters in length. Ripe Cassabananas release an aromatic, sweet scent with notes reminiscent of melon and pumpkin. The flesh can be consumed unripe or ripe, depending on the preparation, but the seeds are not edible and should be discarded. Cassabananas are mild, sweet, and musky and are said to have a flavor similar to a blend of cantaloupe, cucumber, banana, and pumpkin.
Seasons/Availability
Cassabananas are traditionally available in the late summer through fall. In some tropical regions, the fruits can be harvested multiple times throughout the year.
Current Facts
Cassabananas, botanically classified as Sicana odorifera, are unusual South American fruits belonging to the Cucurbitaceae family. Despite their name, Cassabananas are not a banana and are a type of gourd native to Brazil that thrives in tropical to subtropical climates. The fruits develop on fast-growing herbaceous vines extending over 15 meters in length, and the vines often climb over trees and other plants using adhesive tendrils. Cassabananas have naturalized across Central America, South America, and the Caribbean and are planted as an ornamental vine and food source. Growers favor the plants for their productivity, producing many fruits per vine, and the fruits can be stored for extended periods. Cassabananas are known as Sikana, Musk cucumber, Fragrant melon, Casbanan, and Puttigel. They are also known by regional names, including Cura, Melão Caboclo, and Coróa in Brazil, Olerero and Padea in Peru, Calabaza de Chila in Costa Rica, Melocotón and Melón de Olor in Guatemala and El Salvador, Cojombro in Nicaragua, Pavi in Bolivia, Curuba or Pepino Melocotón in Colombia, and Calabaza de Guinea in Venezuela. Cassabananas are traditionally eaten fresh or cooked and are utilized in a wide array of culinary preparations. The fruits are also valued for their aromatic, sweet, and melon-like scent, acting as a natural household air freshener. It is common to see Cassabananas in closets and linen cupboards, as the fruits release a pleasant, lingering aroma into the air, which also deters moths and insects.
Nutritional Value
Cassabananas are a source of vitamin C to strengthen the immune system while reducing inflammation, fiber to regulate the digestive tract, and potassium to balance fluid levels within the body. The fruits also provide calcium to build strong bones and teeth, iron to develop the protein hemoglobin for oxygen transport through the bloodstream, and other nutrients, including B-complex vitamins and phosphorus. The yellow-orange hues in the flesh and skin indicate the presence of beta-carotene, a pigment converted into vitamin A in the body. Beta-carotene also has antioxidant properties to protect the cells against the damage caused by free radicals. In Brazil, pieces of Cassabanana flesh are steeped in sugared water overnight as a natural remedy. Once the flesh has slightly fermented, it is drunk to relieve sore throats and fevers.
Applications
Cassabananas have a mild, subtly sweet, and musky flavor suited for fresh and cooked preparations. It is important to note that the seeds should not be consumed, and the stringy pulp in the center of the fruits can be strained for juice and then discarded. The dense, solid flesh underneath the skin is the primary portion of the fruit consumed, and the flesh can be sliced and eaten raw, sometimes sprinkled with sugar for enhanced flavoring. The flesh can also be chopped and added to salads, mixed into fruit bowls, stirred into yogurt, or blended into fruit drinks. The juicy pulp can be strained and incorporated into fruity and fermented beverages. Cassabananas can also be harvested young when the skin is green. Immature fruits are prepared like a vegetable and are added to soups, stews, and curries, stir-fried as a side dish, mashed and fried into fritters, or cooked and served with seafood. In addition to unripe fruits, mature Cassabanana fruits can be cooked and incorporated into various sweets and desserts. The fruits are popularly simmered into jams, jellies, and preserves, sauteed in sugar to create a candied treat, or caramelized and used as a decadent topping. Cassabananas pair well with brown sugar, vanilla, maple syrup, milk, cream, and herbs such as parsley and mint. Whole, unopened Cassabananas will keep for several weeks to months when stored in a cool, dry, and dark place. Once sliced, the cut portions can be refrigerated for a few days.
Ethnic/Cultural Info
Cassabananas are used in a practice to remove jealousy from the body in Northern Peru. According to the research paper titled Healing the Body and Soul: Traditional Remedies For "Magical" Ailments, Nervous System and Psychosomatic Disorders in Northern Peru, written by Rainer W. Bussman et al., Cassabananas are used as a charm. It is said the fruit must be kept whole and placed in the bed during sleep for seven days and nights. Each morning, the Cassabanana must be washed, and by the seventh day, the fruit will be wrinkled as jealously has left the body and entered the fruit. At the end of the treatment, it is imperative that the fruit is discarded in a place far away from the home, and after it is disposed of, the body has been cured of the wrath of jealousy. Beyond magical remedies for the body, Cassabananas are also used as spiritual offerings for the soul. The fruits are often placed on church altars during Holy Week throughout South America as a symbol of faith, and it is hoped that the offerings will be blessed.
Geography/History
Cassabananas are native to Brazil, specifically the Atlantic Forest, and have been growing wild since ancient times. The vining plants thrive in warm, tropical climates, especially in lowland regions, and were spread throughout South America in the Early Ages. Much of the history of the species is unknown, and experts believe the plants were present in Ecuador before the arrival of the Spanish conquistadors. The first written account of Cassabananas later occurred in 1658 in Peru and was recorded by European explorers. Over time, Cassabananas were spread through migrating peoples, trade, and natural expansion into Central America and the Caribbean, and plants were quickly established in regions with long growing seasons. Seeds from the fruit were also given to the United States Department of Agriculture in 1913 from C.A. Miller with the American Consul in Tampico, Mexico. Several years later, other botanists acquired seeds from other contacts in South America to introduce the species into the United States. Today Cassabananas are grown as an ornamental vine and as a fruit crop in home gardens and small farms throughout Southern Mexico, the Caribbean, Central America, and South America. They are also cultivated as a specialty vine in the southern United States and California.
Recipe Ideas
Recipes that include Cassabanana. One

is easiest, three is harder.