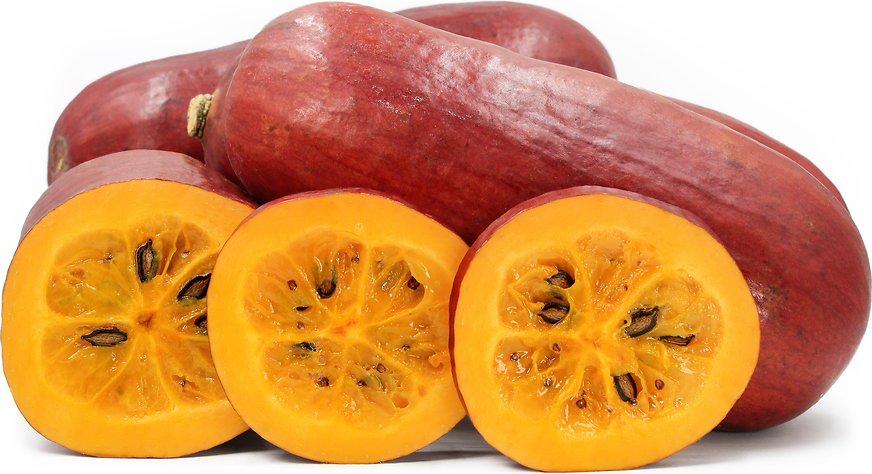 Cassabanana
Inventory, lb : 0
Description/Taste
The nearly cylindrical Cassabanana grows on long, quick-growing vines, that typically require a strong trellis or support for the leafy, trailing vines that can grow up to 15-meters in length. The Cassabananas smooth skin matures from green to a deep red or burgundy color with a waxy appearance. The aroma of the fruit increases as it ripens; it has a strong, sweet, melon-like smell. The fruit takes a long time to mature, and requires high temperatures to ripen. Cassabananas will grow anywhere from 30 to 60 centimeters in length and up to 12 centimeters thick. The rind is tough, like that of a watermelon, and inedible. Inside, the fruit's firm flesh is yellow-orange and there is a large seed cavity that runs along the length of the fruit. The big, black seeds look like those of a pumpkin and are inedible. Cassabananas taste like cantaloupe with a hint of banana (which some say is how it earned its common name). Young fruit is harvested as a vegetable and tastes like a cucumber.
Seasons/Availability
Cassabananas are available in the summer and fall months, and sometimes year-round in tropical regions.
Current Facts
Despite the common name Cassabanana (pronounced casa-ba-na-na) is not a banana at all, but a member of the Cucurbitaceae (squash) family. The fruit has the appearance of a giant, red cucumber. Scientifically, it is known as Sicana odorifera, the epithet being a nod to its long-lasting, pleasant aroma. It is also known as Sikana and Melocoton, as well as Musk cucumber or Fragrant melon. Cassabananas are subtropical plants, though they will adapt to a variety of environments and can be grown in temperate climates.
Nutritional Value
Cassabananas are a good source of Vitamin C, B-complex vitamins, and the minerals calcium, phosphorus and iron. Cassabananas also contain carotene, which give the fruit its orange-hued flesh, and supplies important antioxidant benefits.
Applications
Cassabananas are most often sliced and eaten raw, with or without sugar. Immature fruits are used like a vegetable, added to soups and stews or paired with fish. The fruit is cut in half and either a portion or all of the fruit is used. Slice Cassabananas lengthwise and scoop out the seeds and any stringy flesh. Use a melon baller or spoon to remove the flesh which can be juiced or pureed and used in beverages. The flesh can also be used in desserts and confections. It is also used to make jellies and preserves. Cassabananas will keep for a several months if kept dry and out of the sun. Cut portions can be refrigerated for several days.
Ethnic/Cultural Info
In Brazil and parts of South America, Cassabananas are called Melao croa or Maracujina. Seeds of the fruit are used in traditional medicine in Brazil and Puerto Rico to treat sore throats and fevers. The pulp is steeped in water overnight and the resulting liquid is drunk. The pleasant, lingering aroma of the fruits has led to the practice of placing them in linen closets and around the house as a natural way of scenting the air.
Geography/History
Cassabananas are native to the Atlantic Forest of Brazil, located in the southeastern portion of the country. They spread north and west into Peru and Ecuador, and can be found growing as far north as Central America. Cassabananas can be found growing along roadsides in Guatemala. They are cultivated throughout their native region and have been studied for their nutritive value. The fruit's appearance in Ecuador dates back to before the Spanish conquistadors arrived. The first recorded account of a Cassabanana was in Peru in 1658, where it was encountered by European explorers. Two other, nearly identical Sicana species can be found growing in the Caribbean islands. Sicana sphaerica, a slightly smaller, more rounded species in Jamaica, and Sicana trinitensis found in Trinidad. In Puerto Rico, the much sought-after Cassabananas are sold by the piece and priced by the pound. In the United States, they are often grown by people familiar with the fruit or by tropical fruit aficionados. The fruit won't tolerate temperatures under 40 degrees Fahrenheit, but it has been known to grow in the southeastern American states of Texas, Louisiana, and Florida. In these areas, the aromatic fruits may be spotted at farmers markets or in specialty stores that feature Central and South American foods.
Recipe Ideas
Recipes that include Cassabanana. One

is easiest, three is harder.