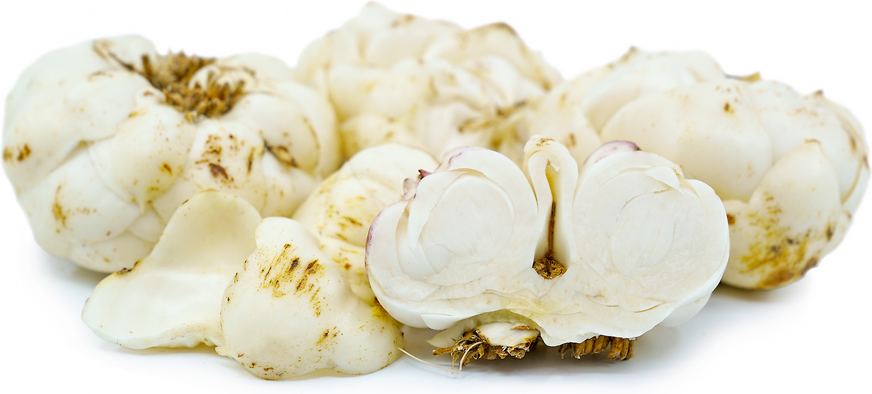 Yurine
Inventory, ea : 0
Description/Taste
Yurine is a small, underground bulb, averaging 4 to 8 centimeters in diameter, and has a flattened, bulbous shape with curved edges. Each bulb is comprised of overlapping, tightly layered scales that are connected to a central stem base. The bulb's surface is smooth, delicate, and easily damaged, showcasing ivory, white, to cream-colored hues. The exterior is also often covered in rust spots and brown scratches, and these markings are superficial and can be easily scraped off. Underneath the surface, the bulb's flesh is off-white, crisp, succulent, and starchy, with a crunchy, watery consistency. When selecting Yurine, choose bulbs that feel heavy for their size and are plump, mature, and firm with large scales. Yurine can be raw or cooked and has a refreshingly mild, sweet, and earthy with a subtly bitter aftertaste.
Seasons/Availability
Yurine is available in the late summer through winter.
Current Facts
Yurine, botanically a part of the Lilium genus, are the bulbs of several species of Lilies belonging to the Liliaceae family. Yurine is the Japanese term for edible bulbs and is native to Asia, where it has been cultivated for centuries in China and Japan as a culinary and medicinal ingredient. The bulbs are also known as Bai-He in China, and it takes over six years for the plants to mature and produce harvestable bulbs. This slow growth, combined with farmers meticulously transplanting the bulbs annually, has caused Yurine to become a rare delicacy. The bulbs must also be stored for 2 to 3 months before they are sold to allow time for the starches to be converted into sugars for a sweeter taste. Many growers throughout Japan and China have abandoned Yurine production for other crops, but despite the bulb's decrease in availability, Yurine is a seasonally treasured ingredient utilized in home kitchens and restaurants in fresh and cooked preparations.
Nutritional Value
Yurine is a source of potassium to balance fluid levels within the body, fiber to regulate the digestive tract, and calcium to build strong bones and teeth. The bulbs also provide iron to develop the protein hemoglobin for oxygen transport through the bloodstream, vitamin C to strengthen the immune system and reduce inflammation, and other nutrients, including phosphorus and folate. In Traditional Chinese Medicine, Yurine was once used to soothe coughs and was infused into tonics to cleanse and calm the body.
Applications
Yurine has a mild, aqueous, sweet, and subtly bitter taste suited for fresh and cooked preparations. The bulbs should be firm and tightly closed, and any dark scratches, rust spots, or blemishes should be removed prior to consumption. Once peeled and cleaned, the scales can be separated and washed. Prepared Yurine can be eaten raw and tossed in vinegar, sauces, and dressings as a light side salad. Yurine can also be cooked, and the length of cooking time changes the bulb's texture from crunchy to soft and fluffy. In Japan, Yurine is popularly cooked into chawanmushi or a steamed egg custard, simmered into ramen and miso soup, or boiled with other vegetables and served as a side dish. The bulbs are also cooked in egg-based dishes such as tamagotoji, stirred into rice, cooked into souffle, or stir-fried with meat and vegetables. Try frying the bulb's scales to develop a tender and crisp consistency. The bulbs can also be used in sweeter dishes, including cream puffs and mochi. In addition to traditional preparations, Yurine can be incorporated into Western-style recipes such as pasta, fried into croquettes, boiled and mashed with roasted meats, or cooked into gratins. Yurine pairs well with flavorings such as soy, miso, and sesame, aromatics including garlic, ginger, scallions, and onions, snow peas, carrots, bell peppers, ginkgo nuts, eggs, tofu, and meats such as beef, pork, and poultry. Whole, unwashed Yurine should be stored in sawdust, where it will keep for up to one month. The bulbs can also be wrapped in newspaper and stored in the refrigerator for a few weeks. Once washed, the bulbs should be eaten within one week. Separated pieces of Yurine can be blanched and frozen for extended use.
Ethnic/Cultural Info
Yurine is an auspicious food consumed during New Year celebrations in Japan. The bulb's tightly layered, overlapping nature resembles a flower and is used to symbolize longevity and growing older. The many scales that make up the bulb represent wishes of prosperity for descendants, and the bulb's somewhat curved, even shape symbolizes harmony. Yurine was once thought to contain healing powers, and the bulbs were consumed in ancient times in Japan as a form of prayer to ask for longevity, health, and prosperity. In the modern day, Yurine is still viewed as a lucky culinary ingredient during the New Year celebration, and the bulbs are frequently a part of Osechi Ryori, or traditional New Year foods. Osechi Ryori meals are considered the most important dishes of the year in Japan, and each ingredient has a meaning, blessing the person eating the dish with good luck in the coming year. During an Osechi Ryori-filled meal, lacquered boxes are stacked into tiers and filled with ingredients representing wealth, happiness, hope, and the desire for spiritual health. Yurine is popularly incorporated into kinton, a candied chestnut, lily bulb, and sweet potato dish, and fukumeni, a dish of simmered bulbs in a light broth.
Geography/History
Yurine is the Japanese name for bulbs of various Lily species native to China and Japan. Lilles have been growing wild in China since ancient times and were first cultivated during the Ming Dynasty from 1368 to 1644 CE. Yurine has been cultivated in Japan since the Edo period from 1603 to 1867 CE, and full-scale cultivation began during the Meiji era from 1868 to 1912 CE. In the Taisho era, from 1912 to 1926 CE, Yurine production became concentrated in Hokkaido, Japan, and cultivation was led by the efforts of grower Isaburo Wada, who selected wild Lily varieties from Honshu and planted them in Hokkaido for cultivation. Over time, other growers and visionaries, including Yukio Saito, propagated native Lily species and developed new varieties in the 1960s, such as the well-known Saito Lily. Today Yurine is commercially produced in Hokkaido, specifically in the Makkari Village, and this region accounts for 99% of the bulbs sold for culinary purposes in Japan. Yurine is also found in smaller quantities in Yamaguchi and Hiroshima prefectures. In China, Yurine is grown in the Gansu Province, Jiangxi Province, and Jiangsu Province. When in season, Yurine is sold through specialty grocers, distributors, and direct from growers in Japan and China.
Recipe Ideas
Recipes that include Yurine. One

is easiest, three is harder.