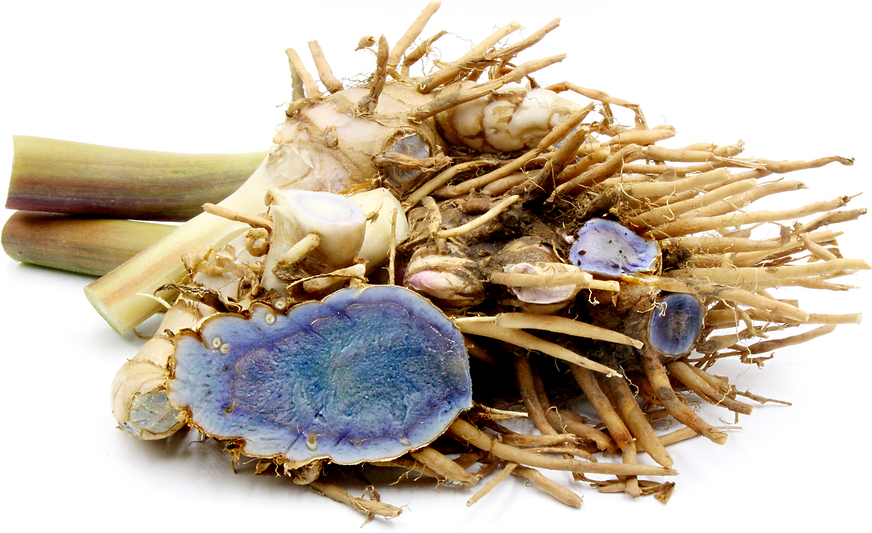 Black Turmeric
Inventory, lb : 0
Description/Taste

Black Turmeric widely varies in size, shape, and coloring, depending on cultivation conditions. The plant is typically comprised of a main underground rhizome, also known as the mother, and smaller rhizomes that branch off from the mother, averaging 2 to 5 centimeters in length. Black Turmeric rhizomes have an ovoid, knobby appearance with tapered to blunt ends, and the surface is often covered in scars, root hairs, rings, and nodes. The rhizome's skin is also dark brown, tan, to light beige with a tough, rough, and corky feel. Underneath the surface, the rhizome's flesh is dense, fibrous, and moist, with a chewy nature. The flesh is most notable for its coloring, appearing in shades of dark blue, light blue, cobalt blue, to blue-green. The flesh may also showcase concentric circles and be lighter in some parts while darker and more saturated in other spots. Black Turmeric releases a pungent, camphor-like aroma with mildly spicy and bitter undertones. The rhizomes are not commonly consumed on their own due to their hot, sharp, sour, and earthy taste, and they sometimes carry a subtle turpentine-like flavor mixed with bitterness. In addition to the rhizomes, upright stems and lanceolate to oblong-shaped leaves extend almost one meter in height above ground. The bright green leaves bear a characteristic red-black stripe down the center.


Seasons/Availability

Black Turmeric is available in the winter through spring.


Current Facts

Black Turmeric, botanically classified as Cucurma caesia, is a rare turmeric species belonging to the Zingiberaceae family. The perennial herb is native to Asia, where it has been growing wild for thousands of years and is valued as an ornamental and medicinal plant. Black Turmeric was once prevalent in the wild, but it is now an endangered species due to overharvesting. The rhizomes are prized for medicinal and religious uses in Asia, and the demand is higher than the plants can grow naturally, leading to unsustainable harvests. Black Turmeric rhizomes are slow growing, taking around nine months to mature. Despite its endangered status, home gardeners are planting Black Turmeric for future sustainable harvests, and organizations are working throughout Asia to promote against over-foraging to increase the species' population. Black Turmeric is known by many regional names, including Narkachur, Black Zedoary, Siyah Haldi, and Kali Haldi. The rhizomes are challenging to find fresh in local markets but are widely sold in powdered forms and nutritional supplements through online health retailers.


Nutritional Value

Black Turmeric has not been extensively studied for its nutritional properties, but the rhizome has been used throughout India and Southeast Asia in natural medicines for centuries. The variety is known for containing the highest concentration of curcumin of any turmeric species. Curcumin is a biologically active polyphenolic compound that has antioxidant and anti-inflammatory properties to reduce inflammation, strengthen the immune system, and protect the cells against damage caused by free radicals. Black Turmeric is traditionally made into a paste and applied topically to heal wounds, skin irritations, and snake and insect bites. The paste is believed to have antibacterial and antifungal properties and is also ingested to soothe an upset stomach and relieve digestive issues. Beyond wound healing, Black Turmeric paste is rubbed on sprains and bruises to temporarily relieve pain or placed on the forehead to reduce the severity of migraines.


Applications

Black Turmeric is a rare type of turmeric not commonly used in culinary preparations. The rhizomes are primarily reserved for medicinal uses, incorporated into tinctures, teas, and pastes. Black Turmeric can be placed in a food processor to finely chop and then added to honey, sugarcane, or other ingredients to create an infusion. After a few weeks, a few drops of the mixture can be ingested as an immune booster. Black Turmeric can also act as a nutritional supplement, added in small quantities to not overpower the dish. The rhizomes can be used fresh or powdered, and they are favored among health-conscious individuals for smoothies and juices. When combining the rhizomes into beverages, Black Turmeric should be mixed with stronger flavored ingredients such as lemon and ginger to balance its bitter nature. Cucumber, kale, and tropical fruits can also be added for a sweeter taste. Black Turmeric will keep for 4 to 6 months when stored in a sealed container in a cool, dry, and dark place such as the refrigerator.


Ethnic/Cultural Info

Black Turmeric is interwoven into the mystical, medicinal, and spiritual practices of Madhya Pradesh, a state in Central India. The rhizomes are known as Kali Haldi in Hindi and are closely associated with Kali, the Hindu goddess of life and death, power, and a symbol of mother nature. The name Kali is the feminine form of "Kala," meaning "black," and this is the rumored explanation behind how the turmeric received its name. Black Turmeric flesh has a blue coloring reminiscent of the blue color of the goddess's skin, and the rhizome is frequently used in the Kali Puja for the goddess. A puja is a sacred ceremony or ritual using herbs, songs, and chants to show reverence to a god or divine figure. Kali Puja is traditionally celebrated on the new moon day in the month of Aswayuja in the Hindu calendar, often coinciding with Diwali. During the festival, Kali shrines are worshipped with mantras and chants, offerings are given, and it is thought that these religious practices will eradicate negativity in life and bring blessings of health, protection, and prosperity. Black Turmeric is often given as an offering on alters and shrines for the goddess. In some communities of Madhya Pradesh, Black Turmeric is also viewed as a form of the goddess Kali and rhizomes are carried in pockets as protection against evil spirits.


Geography/History

Black Turmeric is native to Northeastern and Central India and has been growing wild since ancient times. The species thrives in subtropical, tropical, to temperate regions and is mainly found as ground cover in forests. Black Turmeric was foraged from wild plants in the early ages, and over time, the plants were propagated in home gardens throughout India as a medicinal plant. In the modern day, Black Turmeric is challenging to find in the wild and has been officially listed by the Indian Agricultural Department as an endangered species since 2016. Black Turmeric is produced in small quantities in the North Hill forest of Sikkim, the Khammam Districts of Andra Pradesh, the Pappi Hills of East and West Godavari, the Bay of Bengal, Odisha, and in the foothills of the Himalayas. Once harvested, Black Turmeric can be found in fresh, dried, or powdered form in local markets throughout India. It is also occasionally found through select markets and online retailers in Southeast Asia.