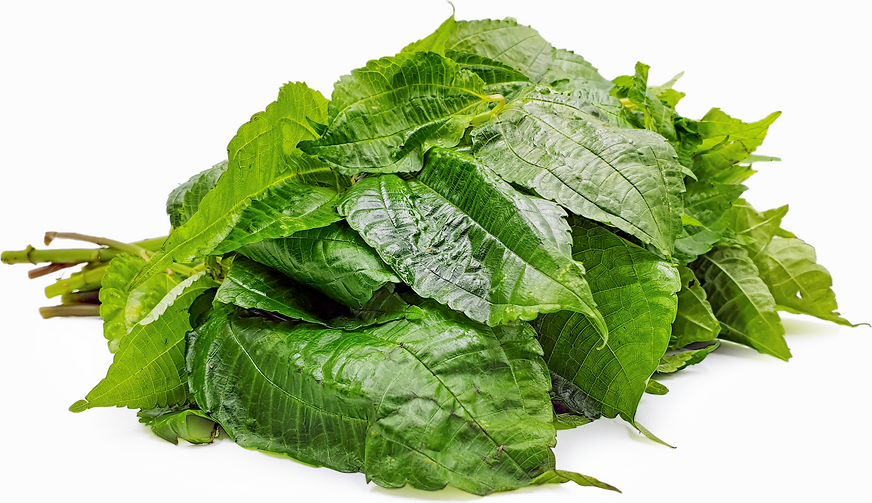 Poh Pohan Leaves
Inventory, lb : 0
Description/Taste

Poh Pohan leaves can be harvested at multiple stages of maturity when small or large and have a broad, flat, and ovate to elliptic shape. The surface of the leaf is dark green, slightly crinkled with folds and creases, and bears 1-3 prominent veins. The edges of the leaves are also serrated, and the leaves emit a light, pleasant aroma. Poh Pohan leaves are delicate and crisp with a vegetal, green flavor mixed with subtle tart and astringent notes.


Seasons/Availability

Poh Pohan leaves are available year-round in Southeast Asia.


Current Facts

Poh Pohan leaves, botanically classified as Pilea melastomoides, grow on an herbaceous plant that belongs to the Urticaceae family. Native to Southeast Asia, Poh Pohan leaves are especially popular on the island of Java, where they are cultivated in cooler growing regions and are imported to markets in larger cities such as Jakarta. The crisp, young leaves are a popular fresh ingredient to balance heavier dishes consisting of rice, meats, and sauces. Poh Pohan is also sometimes written as Pohpohan and is favored for its fresh, green taste, commonly used raw in salads and on vegetable platters.


Nutritional Value

Poh Pohan leaves are an excellent source of calcium and contain vitamin B1 and vitamin C. The antioxidant content of the leaves can also help boost the immune system and protect the body against external environmental aggressors known as free radicals.


Applications

Poh Pohan leaves are best suited for raw applications as their delicate flavor and crisp nature are showcased when consumed fresh out-of-hand. The leaves are commonly harvested when young and are incorporated into fresh green salads or lalapan, which is a plate of vegetables served as an accompaniment to sauces and fried dishes. Poh Pohan leaves are also used as a fresh wrap for fillings with minced shrimp or tempeh. Once wrapped, the green rolls are coated in flour and traditionally fried to create a crunchy, savory exterior. These fried rolls are popularly served as an appetizer or as a crisp side dish. Poh Pohan leaves pair well with lettuce, cabbage, cucumber, basil, tomatoes, beans, meats such as chicken, pork, beef, and fish, shrimp, and rice. The leaves should be used immediately for best quality and will keep 2-7 days when stored in a loosely sealed plastic bag in the refrigerator.


Ethnic/Cultural Info

In Indonesia, Poh Pohan leaves are primarily used in lalapan, also known as lalap, which is a plate of fresh vegetables that is served with fried food and rice dishes. The vegetables are often consumed with sambal, which is a paste-like, spicy condiment that creates depth of flavor combined with the crisp, textural component of the vegetables. Lalapan is traditionally served with fried chicken or fish through local street vendors, and vegetables such as cucumbers, lettuce, basil, eggplant, cabbage, and other leaves are neatly displayed on the plates with Poh Pohan to consume as a reprieve to the more substantial dishes. Poh Pohan leaves are also used medicinally in Indonesia and are believed to help increase digestion and calm an upset stomach.


Geography/History

Poh Pohan leaves are native to Southeast Asia and have been growing wild since ancient times. Today the herbaceous plants have remained localized to tropical and subtropical climates and are grown on a small scale through small farms and in home gardens. Poh Pohan leaves can be found at local markets in select regions of India, Thailand, Vietnam, Cambodia, Malaysia, Indonesia, Sri Lanka, the Philippines, Taiwan, and Japan. The leaves in the photograph above were spotted in South Tangerang near Jakarta on the island of Java.