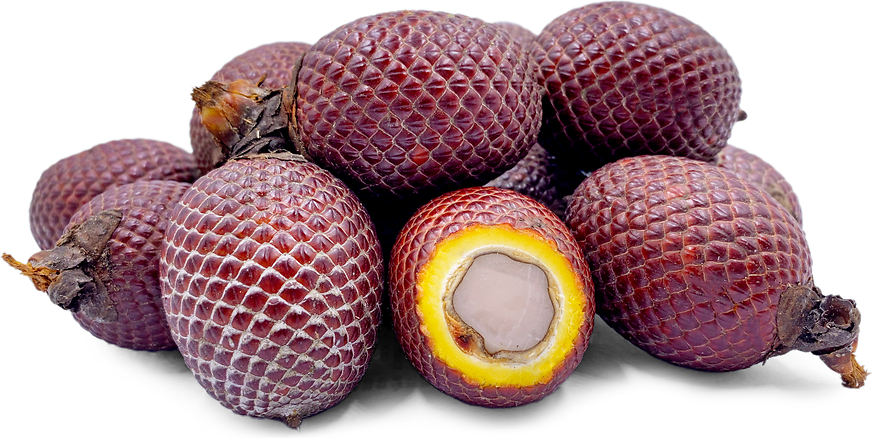 Aguaje Fruit
Inventory, lb : 0
Description/Taste
Aguaje is an oval-shaped fruit with curved edges, similar in shape to an egg, and averages six centimeters in length and four centimeters in diameter. The skin is firm, glossy, and textured, covered in small maroon-brown segments giving it a snake-like, scaled appearance. Underneath the surface, the flesh is generally bright yellow, thin, creamy, and semi-oily, encasing a large, thick, and oval, brown seed. Aguaje has a complex sweet, salty, and sharp flavor combined with mild acidity. In the Amazon, there are multiple varieties of Aguaje that are often categorized by their skin and flesh coloring, and each variety may bear a slightly different texture and flavor.
Seasons/Availability
Aguaje is available year-round in South America, with a peak harvest during the rainy season.
Current Facts
Aguaje, botanically classified as Mauritia flexuosa, are small, scaly fruits that grow on the moriche palm belonging to the Arecaceae family. The moriche palm grows in flooded, tropical rainforests, using aerial roots to survive and expand over forty meters in any direction, and are found in thick groupings throughout the Amazon. The palms also produce small fruits, dangling in cascading bunches, and each tree can hold over five thousand fruits at one time. Aguaje fruits are considered a significant food source among Amazonian communities and have been harvested for thousands of years. The ancient fruit is known by many local names, including Moriche, Canangucho, and Buriti, and is one of the most popular fruits sold in jungle markets, with some cities harvesting and selling over twenty tons of fruit per day. Despite its local popularity, Aguaje is not well-known outside of South America, and deforestation has significantly decreased wild trees. Moriche palms are traditionally cut down to harvest the fruits, which has created an unsustainable supply for future demand. Modern improvements have been made through the efforts of conservation groups to provide climbing harnesses for harvesters to scale the palms and access the fruits. It has been discovered that climbing the palm takes approximately the same amount of time as it does to cut down the tree, creating a sustainable alternative.
Nutritional Value
Aguaje is a significant source of vitamin A, which is an antioxidant that has anti-inflammatory properties and helps to maintain healthy skin while protecting against vision loss. The fruits are also an excellent source of vitamin C, another antioxidant that can strengthen the immune system and provide lower amounts of vitamin E to protect against free radicals. In addition to antioxidants, Aguaje contains phytoestrogens, which are natural compounds that can help balance hormones and reduce symptoms associated with menopause.
Applications
Aguaje is widely versatile and can be consumed fresh, out-of-hand, or processed into beverages, supplements, snacks, and desserts. When raw, the skin and seed are discarded, and the flesh is eaten. The fruits are also sometimes soaked to soften the flaky skin for easy removal. In addition to fresh eating, the flesh can be blended into smoothies, fruit juices, and cocktails, and is also popularly mixed into a local Peruvian drink known as aguajina, made from Aguaje, sugar, ice, and water. Beyond beverages, Aguaje can be cooked into jams and jellies, used to flavor sauces for sweet and savory dishes, baked into cakes, cookies, and bread, or blended to make popsicles, yogurt, and ice cream. The fruits can also be dried, ground into a powder, and used as a supplement in protein shakes. Aguaje pairs well with nuts such as pistachios, walnuts, cashews, and almonds, vanilla, maple syrup, fruits such as figs, camu camu, strawberries, banana, and coconut, and meats such as chorizo, fish, pork, and poultry. Whole Aguaje should be immediately consumed for the best quality and flavor.
Ethnic/Cultural Info
Moriche palms were the first palm variety to be documented for research purposes in South America in 1781 and were considered the lifeblood of Amazonian communities. All parts of the tree are still used today, including the leaves, fruits, roots, and wood, and the fruits are the most heavily marketed portion of the tree, often seen in large baskets at local markets sold by aguajeras, or women retailers. In the Loreto region of Peru, Aguaje is so abundant that in 2019, two tons of fruit was used to make the largest fruit mazamorra, obtaining the world record for the massive corn-based dessert. Aguaje fruits can also be pressed to produce oil that is sold as a topical ointment, and the hard seeds are hand-carved to make intricate designs and figurines. In addition to human consumption, Aguaje is a primary food source for animals in the rainforest, including fish, monkeys, birds, and tapirs.
Geography/History
Aguaje is native to tropical regions throughout South America and grows in swamps and flooded forests known as aguajales. The palm variety has been growing wild since ancient times and can be found in extensive groupings, spanning across millions of acres in the Amazon. Aguaje fruits contain hard seeds that are buoyant and can float across the water, which is the leading hypothesis as to how the trees are propagated naturally. In the modern-day, small planted forests of the palms are being cultivated through research institutes to study the potential for large-scale commercialization, but the primary source of Aguaje is still gathered from wild palms. Aguaje can be found fresh at local markets in Peru, Bolivia, Colombia, Ecuador, Brazil, Guyana, and Venezuela.
Recipe Ideas
Recipes that include Aguaje Fruit. One

is easiest, three is harder.