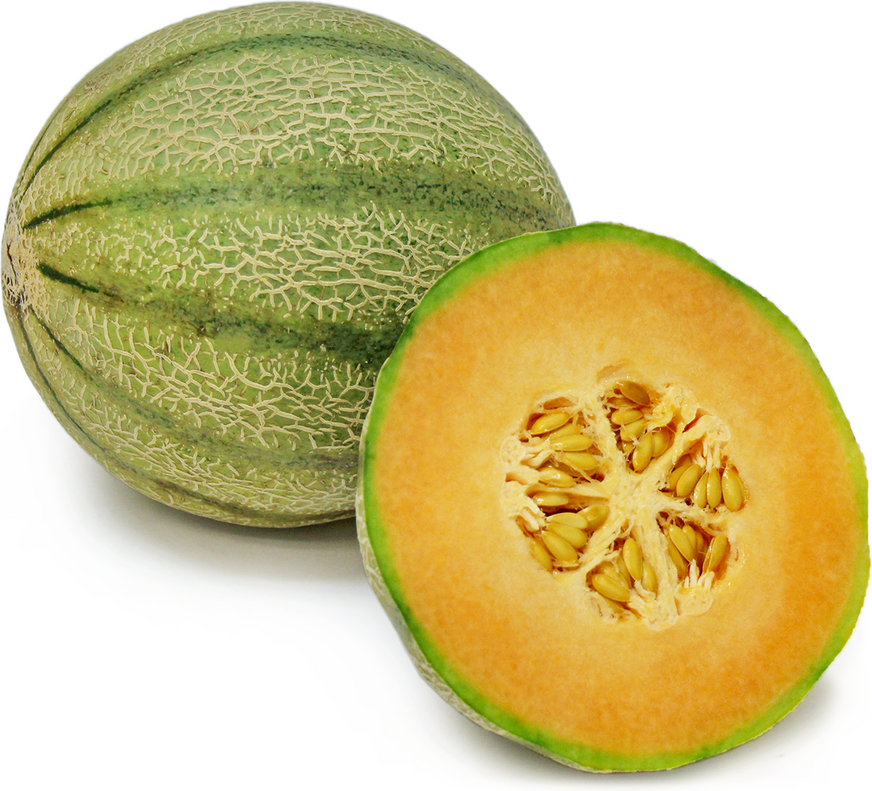 Melorange Melon
Inventory, lb : 0
Description/Taste
Melorange melons are a small varietal, averaging 8 to 12 centimeters in diameter and .9 to 1 kilogram in weight, and have a round to oval shape with lightly tapered, curved ends. The rind is firm, hard, and semi-thick, showcasing a light green base hue with dark green longitudinal striping. Melorange melons will remain green when ripe and are covered in raised, textured, and rough tan netting. Underneath the surface, the bright orange flesh is thick, dense, semi-aqueous, and firm with a crisp, succulent consistency. The flesh also encases a small central cavity filled with tear-drop-shaped ivory seeds enveloped in a gelatinous coating, suspended between pale orange fibers. Melorange melons have a high sugar content, ranging from 14 to 15 Brix, creating a richly sweet, floral, and subtly fruity taste.
Seasons/Availability
Melorange melons are available in the late fall through spring, with a peak season from December to April. The variety is also sometimes available in the summer, depending on cultivation.
Current Facts
Melorange melons, botanically classified as Cucumis melo, are a specialty hybrid belonging to the Cucurbitaceae family. The petite, personal-sized melons were developed from a cross between French and American cantaloupe varieties in the late 20th century. They were selected for their sweet taste, firm flesh, and aromatic nature. Melorange melons earned their moniker in honor of their orange flesh and are a variety valued for their extended storage capabilities and strong flavor. This combination allows Melorange melons to be shipped long distances worldwide without compromising texture or flavor. Melorange melons generally appear in American markets during winter and are imported from South America. The variety is said to be sweeter than other cantaloupes offered in the winter and is primarily consumed fresh as a sweet snack or ingredient in various appetizers, main dishes, and desserts.
Nutritional Value
Melorange melons are a source of fiber to regulate the digestive tract and beta-carotene, a natural compound that gives the flesh its signature orange hue. Beta-carotene is converted into vitamin A in the body, helping to maintain healthy organ functioning. The melons also provide vitamin C to strengthen the immune system and reduce inflammation, iron to develop the protein hemoglobin for oxygen transport through the bloodstream, potassium to balance fluid levels within the body, and other nutrients, including calcium, copper, magnesium, and zinc.
Applications
Melorange melons have a sweet, fruity, and floral flavor suited for fresh preparations. The melons retain a firm nature, even when ripe, and are typically consumed straight out of hand. Melorange melons can also be sliced into wedges and served on appetizer platters, halved and filled with cottage cheese as a breakfast dish, chopped into fruit bowls, or used as a fresh topping over yogurt and granola. Try cutting the flesh into smaller pieces and tossing it into a salad with soft cheeses, nuts, and greens or pureeing the flesh into sauces and chilled soups. Melorange melons can also be blended into smoothies, shakes, and fruit purees, frozen into treats including popsicles, sorbet, and granitas, or halved and filled with berries and whipped cream as an individually sized dessert. Like other cantaloupes, Melorange melons can flavor pies, crisps, cobblers, cakes, and pudding, and the melons are versatile, used in savory and sweet preparations. Melorange melons pair well with fruits such as blackberries, blueberries, strawberries, grapes, oranges, and limes, goji berries, honey, vanilla, spices including cinnamon, ginger, and cloves, herbs such as mint, cilantro, and basil, and cheeses including feta, goat, mozzarella, and cottage. Whole, unopened Melorange melons will stay at room temperature for a few days. Once ripe, the melons should be stored in the refrigerator. Sliced flesh will keep 1 to 3 days when stored in a sealed container in the fridge.
Ethnic/Cultural Info
Melorange melons were created using advanced crossbreeding techniques known as genetic marking. This process was developed in 2006 through the Monsanto company when the machine called the seed chipper was invented to map genomes. The seed chipper shaves off a tiny piece of seed, and this sample is scanned for genetic data. The data is sent to a computer, where a program reads the genetic information, maps out genetic traits, and predicts what characteristics that individual seed will produce. The seed chipper can read more than 200,000 samples per week and allows scientists the ability to sort through seeds without having to test and grow the plants. Using this new technology, researchers could naturally crossbreed plants and select the seeds from those crosses that showed the most genetic promise. Monsanto also purchased Seminis in 2005, one of the world's largest seed companies, providing them with an expansive genetic database to create improved varieties. Melorange melons were produced from the desire to create a variety with enhanced flavor, aroma, and storage life. Monsanto selected a French melon with extended storage capabilities as their preferred trait. They identified the seeds that carried this trait and crossbred it with other melon seeds that contained the gene for citron, a feature that gives the melons their strong floral aromas. This innovative process provides scientists with an accelerated breeding program to create varieties that are not genetically modified or GMO, a method designed to remove the stigma surrounding select modern produce varieties.
Geography/History
Melorange melons are believed to be a cross between an heirloom French cantaloupe and an American cantaloupe, developed in the 1990s through seed breeder Dominique Chambeyron at De Ruiter Seeds. Chambeyron was successful in crossbreeding, taking a little over a decade to perfect the variety, and developed several other small, striped cantaloupes that exhibited improved qualities such as flavor, aroma, and perishability. Melorange melons were announced at Fruit Logistica in Berlin in 2006, registered in 2007, and in 2008, De Ruiter Seeds was acquired by Monsanto, bringing the melon variety under the Monsanto name. Since their release, Melorange melons have been favored for their extended shipping abilities and are grown in South America, specifically Brazil, Guatemala, and Honduras. South American production allows the melons to be shipped to winter markets in North America and Europe, providing a source of fresh melons during the off-peak season. Melorange melons were also planted in the United States, mainly in Arizona and California, for summertime availability. Today Melorange melons are a specialty variety sold through select grocers, distributors, and large retailers.
Recipe Ideas
Recipes that include Melorange Melon. One

is easiest, three is harder.