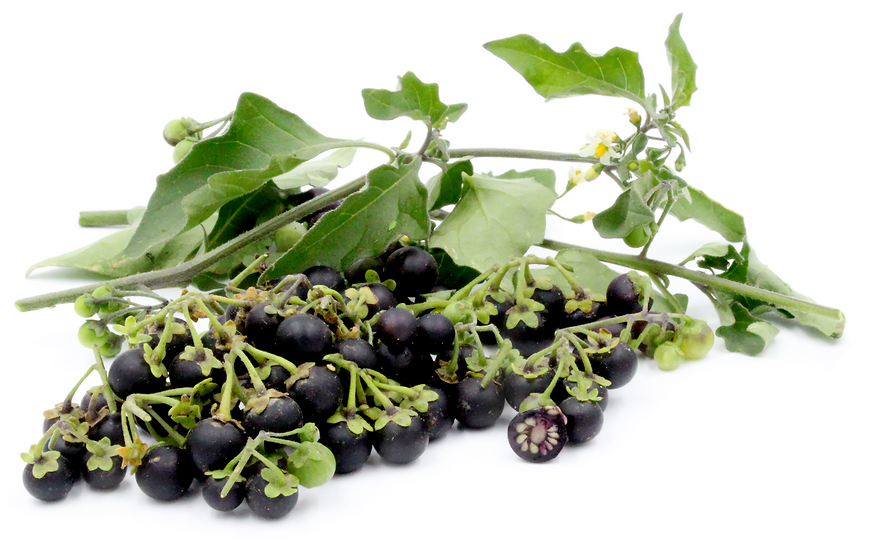 Black Nightshade Berries
Inventory, lb : 0
Description/Taste
Black Nightshade berries form on a low-growing, wide-spreading shrub that extends slender, vine-like branches across the ground. The plant bears small to medium-sized leaves with an ovate, oval, to lanceolate shape, and each leaf generally has wavy or serrated edges with prominent veining across the surface. The dark green leaves are pliable and thin, sometimes smooth or hairy depending on the variety, and are often covered in holes left by bugs. In the early summer, small five-petaled flowers bloom, showcasing white hues with tinges of pink or purple and a yellow center. The flowers transform into clusters of tiny berries in the late summer, and the berries average 5 to 10 millimeters in diameter. The round berries are initially green, transitioning into a dark purple, almost black hue. It is important to note that only ripe, solid-colored dark purple-black berries are edible. Any berry with a hint of green on the purple surface may be considered unripe. Black Nightshade berries have a smooth, taut, and somewhat tough skin with a dull, matte appearance. Underneath the surface, the purple flesh is aqueous, soft, and succulent, riddled with tiny tear-drop-shaped ivory seeds. Black Nightshade berries have a sweet and savory flavor with musky, subtly sweet, herbal undertones reminiscent of a combination of blueberries, tomatoes, and peppers. In addition to the berries, the young leaves are edible when cooked and have an herbal, grassy flavor.
Seasons/Availability
Black Nightshade berries are available in the late summer through fall.
Current Facts
Black Nightshade berries, botanically a part of the Solanum genus, is a broad category of berry subspecies belonging to the Solanaceae or nightshade family. Historically, the subspecies were collectively grouped under the name Solanum nigrum. Over time, some researchers have divided the group into separate species, including species found in North America, such as Solanum Americanum, ptychanthum, interius, and douglasii, while other researchers have kept all the plants under the general Solanum nigrum name. Black Nightshade berries grow on herbaceous plants that are wider than they are tall and have a sprawling nature, extending up to 1.2 meters in length. Since ancient times, Black Nightshade berries have become infamous due to misinformation and misidentification with other toxic species. Many types of Black Nightshade berries are edible and have been consumed as a food source for thousands of years worldwide as a standard, everyday ingredient. The berries are valued for their complex, sweet and savory flavoring and are used medicinally and in culinary preparations. If foraging for Black Nightshade berries, research and caution should be taken to identify the edible plants. It is vital to work with an expert when picking the berries, and a consultation with a medical professional is recommended before consuming Black Nightshade berries.
Nutritional Value
Black Nightshade berries are a source of calcium to build strong bones and teeth, vitamin C to strengthen the immune system while reducing inflammation, vitamin A to maintain healthy organ functioning, and iron to develop the protein hemoglobin for oxygen transport through the bloodstream. The berries also provide anthocyanins, natural compounds in the pigmented flesh that have antioxidant-like properties to protect the cells against the damage caused by free radicals, and other nutrients, including phosphorus, riboflavin, and niacin. In unripe green berries, a chemical known as solanine is found in high concentrations and is considered poisonous to humans. Unripe berries should not be consumed. It is also worth noting that every individual is different, and it is important to discuss consuming Black Nightshade berries with a medical professional before consuming the berries.
Applications
Black Nightshade berries have a sweet and savory, musky flavor suited for fresh and cooked preparations. Only ripe berries are consumed, and the berries can be eaten straight out of hand. Black Nightshade berries can be tossed into salads, mixed into grain bowls, mashed and added with sweetener into cocktails, or stirred into savory dips. The berries can also be cooked into sweet or savory dishes, best known for their use in jams, preserves, and syrups. The jams and preserves can be spread over toast, served with cheeses, used as a glaze over roasted meats, or spooned over ice cream. The berries can also be cooked with other nightshade items such as chiles, peppers, and tomatoes, chopped and simmered into chutney, or used as a cooked topping over enchiladas, vegetables, meats, or rice. Beyond savory dishes, Black Nightshade berries are popularly baked into pies or used as a filling for other baked goods and desserts. When making desserts, some consumers find the berry's skin and seeds to impart an unpleasant texture and a hot flavor. The seeds and skins can be removed with a sieve or cheesecloth. The young leaves of the plant are also edible and can be cooked into soups and stews or prepared similarly to other dark leafy greens. Black Nightshade berries pair well with spices such as cumin, cardamom, and ginger, fruits including citrus, apricots, blackberries, strawberries, and raspberries, dark chocolate, barbeque sauce, and coconut milk. The berries are highly perishable and should be immediately consumed for the best quality and flavor. Cooked berry preparations will keep for a few days when stored in a sealed container in the refrigerator.
Ethnic/Cultural Info
Black Nightshade berries are often mistaken for Deadly Nightshade, also known as Atropa belladonna. Deadly Nightshade is a toxic plant infamous for its use in witchcraft, poisons, and dark folklore. Legends date back to ancient Greece and Rome, where the berries were used to entrance people, make potions, or poison powerful leaders, including Emperor Augustus. Over time, Deadly nightshade also became commonly associated with evil, and parents would scare their children from the plants by telling them eating the berries would conjure the devil himself. In Europe, households began warding off plants with purple berries entirely, and unfortunately, edible Black Nightshade species were lumped together with Deadly Nightshade. Some people also referred to Deadly Nightshade berries as black nightshade due to their purple coloring, further confusing the situation. Despite its tumultuous reputation in Europe, Black Nightshade berries are a valued, edible food source and medicinal aid in other civilizations worldwide. In North America, Native American tribes, including the Iroquois, Cherokee, and Costanoan, used crushed berries and leaves as a topical cream to relieve skin irritations or incorporated the berries into applications to help with toothaches and fevers. An infusion of the leaves was also ingested for depression and to aid in situations of trauma such as a death in the family.
Geography/History
Black Nightshade berries are found worldwide. Much of the plant's origins are unknown as many species are found on various continents, and researchers are unsure if there was a single site of origin or if the plant was naturally found worldwide since ancient times. The plants are found growing in the wild and disturbed areas, including fields, pastures, vineyards, orchards, gardens, sidewalks, and along roadways. Today Black Nightshade berries are mainly foraged and are consumed as a culinary ingredient on every inhabitable continent, especially in countries such as South Africa, India, China, the Philippines, Java, Nepal, Turkey, and Ethiopia. Besides picking from the wild, Black Nightshade berries are sometimes grown on a small scale and sold through local markets and specialty distributors.
Recipe Ideas
Recipes that include Black Nightshade Berries. One

is easiest, three is harder.