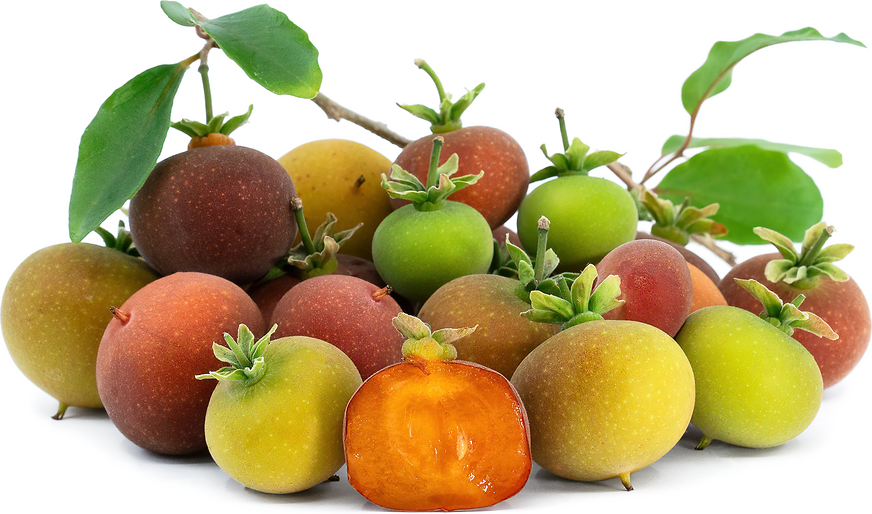 Ceylon Gooseberries
Inventory, lb : 0
Description/Taste

The Ceylon gooseberry is a small tree fruit typically used in jam and jelly production. It is one half to an inch in diameter with tight skin that is chartreuse or orange when unripe and a deep speckled purple when mature. Its skin is very bitter and covered with short green hairs that make for an unpleasant mouthfeel. Regardless of whether the fruit is consumed in a cooked or raw form the skin is rarely eaten. Its flesh, which is the lush purplish red of a blueberry's, is puckeringly sour, with a flavor akin to a cranberry or acidic apricot. Because of its astringent nature the Ceylon gooseberry is rarely served plain and is typically sweetened with sugar. The fruit is most palatable when slightly overripe, as it is then that the sugars are at their highest concentration. However, berries bound for jelly and jam production are typically used when just underripe, as this is when pectin levels are highest. Each fruit contains up to twelve long seeds that are about a quarter of an inch long and harmless for consumption.


Seasons/Availability

Ceylon gooseberries are available in the fall and spring.


Current Facts

The Ceylon gooseberry is also known as ketembilla and, with a nod to its flavor, tropical apricot. In Cuba and throughout Central America it is referred to as "aberia." Scientifically the Ceylon gooseberry is "Dovyalis hebecarpa" and belongs to the Salicaceae, or willow, family, along with the weeping willow and pussy willow. The berries grow on trees which reach up to twenty feet tall with a thirty-foot spread. One tree produces a tremendous amount of fruit, with a fifteen-foot tree capable of a nearly 90-pound annual harvest.


Nutritional Value

Like other dark-skinned fruits, the Ceylon gooseberry boasts high amounts of antioxidants, polyphenols, and anthocyanins. Anthocyanins are known for their anti-inflammatory properties and can also reduce the risk of heart attacks.


Applications

Best known for their starring roles in jellies and jams, the Ceylon gooseberry is also used by chefs and home cooks in a variety of other applications. Hawaiians have developed the most imaginative uses for this berry, employing it in the creation of salad dressings, dipping sauces, purees, pickles, barbeque sauce, chutneys, wines, and brandy. In dressing and sauce recipes the berry is typically reduced into a syrup and used as a base to work from. The berry is also commonly pressed into juice which is simply done by scooping flesh from skin and blending with sugar and water (roughly one cup of sugar and two of water per pound of fruit). The mixture is then strained through a fine sieve to promote an even texture and seed removal. Ceylon gooseberries are also popularly mixed with other fruits such as papaya, guava, and apple to create blended fruit butters and jams, as well as single fruit jams that are spiced. Additionally, they can provide a unique twist on traditional cranberry dishes by serving as a substitute for the oft-used berry. Warming spices such as cinnamon, anise, and nutmeg marry deliciously with the Ceylon gooseberry and can be used to tone down its sour flavor profile. As described above, fruit that is cooked into jams and jellies is best utilized when moderately underripe, while fruit in dishes that do not require a high pectin content are best when a touch wrinkled. Berries should be ripened at room temperature and placed into refrigeration when fully purple, as they can quickly ferment.


Ethnic/Cultural Info

In folk medicine inky fruits such as the Ceylon gooseberry are often used to treat infections, diarrhea, and eye issues.


Geography/History

The Ceylon gooseberry is native to Sri Lanka, formerly known as Ceylon. Doctor David Fairchild brought it to the United States around the turn of the 20th century, despite the fact that he didn't care for the fruit's flavor. From there it traveled to Hawaii where it was intended for use as a shrub in hedgerows, and wound up becoming an important part of the island chain's economy and cuisine. The Ceylon gooseberry is also grown in Puerto Rico, where it has become naturalized in the country's landscape, as well as various parts of South America, South Africa, and India. It is also found in Israeli orchards.