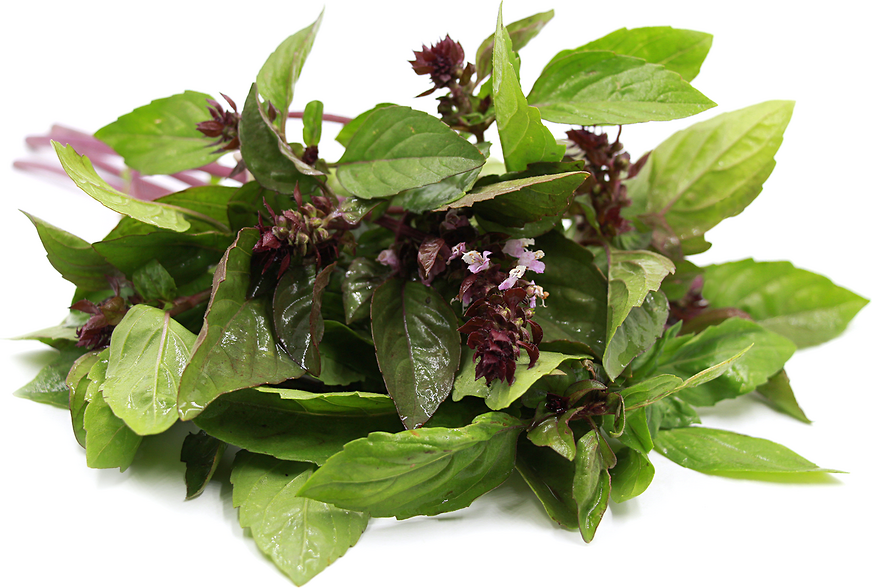 Cinnamon Basil
Inventory, lb : 0
Description/Taste
Cinnamon basil is a multi-branched plant with slender stems and small, narrow leaves that grow in an opposite formation along the stems. The leaves average 5 to 7 centimeters in length and are glossy and elongated, bearing a lanceolate, slightly tapered shape. The leaves are also covered in prominent veins, giving the surface a textured appearance, and the edges are lightly serrated. Cinnamon basil showcases a unique variegated coloring as the crunchy, fibrous stems are dark purple while the leaves are dark to light green with purple-red veining. When in bloom, the flower stalks are also purple, bearing pale pink, lavender, to white flowers. Cinnamon basil is aromatic, emitting a sweet, spice-filled scent, and the leaves have a pleasant green, herbal, and warm flavor with cinnamon and mint nuances.
Seasons/Availability
Cinnamon basil is available in the late spring through summer.
Current Facts
Cinnamon basil, botanically classified as Ocimum basilicum, is a uniquely flavored sweet basil variety belonging to the Lamiaceae family. The aromatic herb can reach up to one meter in height and is favored by home gardeners for its easy-to-grow nature, spice-forward flavor, and ability to repel pests such as mites and aphids from other plants. Cinnamon basil is also known as Mexican basil as the cultivar is a prevalent home garden herb in the North American country, incorporated into beverages, culinary dishes, and medicinal applications. Chefs worldwide use Cinnamon basil for its warm flavor and aroma, and the leaves are primarily torn fresh as a flavor accent in both sweet and savory dishes. Beyond culinary and medicinal use, Cinnamon basil has traditionally been incorporated into dried floral arrangements and potpourri.
Nutritional Value
Cinnamon basil is a source of vitamin C to strengthen the immune system and reduce inflammation, vitamin K to assist in faster wound healing, and vitamin A to maintain healthy organ functioning. The basil also provides small amounts of iron to develop the protein hemoglobin to transport oxygen through the bloodstream, calcium to protect bones and teeth, potassium to balance fluid levels within the body, folate, and magnesium. In addition to vitamins and minerals, Cinnamon basil contains cinnamite, a compound that gives the herb its cinnamon flavor.
Applications
Cinnamon basil has an herbal, warm flavoring well suited for fresh preparations and as a garnish for cooked recipes. The textured leaves can be torn and tossed into green salads, blended into pesto and marinades, infused into oils, syrups, vinegar, and honey, or chopped and sprinkled over soups. Cinnamon basil can also be cooked into apple sauce, jams, and sauces for meat, steeped into teas, used to flavor baked goods such as pies and cookies, or combined into pasta. Add chopped Cinnamon basil to pumpkin pie filling as an alternative to ground, dried cinnamon, or blend Cinnamon basil leaves with heavy cream and beat until desired whipped cream consistency, then top brownies or pie. Cinnamon basil is also used as a flavorful garnish on hot drinks. In Mexico, the herb is frequently mixed into canelazo, a spiced rum drink, mezcal-based cocktails, or infused into mojitos. Cinnamon basil complements flavors commonly found in Indian and Asian cuisine and pairs well with fruits such as oranges, melons, apples, kiwis, limes, and strawberries, vanilla, pecans, and meats such as poultry, pork, ham, and beef. Whole, unwashed Cinnamon basil should be used immediately for the best quality and flavor. The herb can also be stored in a sealed container for 2 to 5 days in the refrigerator, dried and crushed, or frozen for extended use. Beyond the leaves, Cinnamon basil flowers can be incorporated as a garnish over soups, pasta, salads, roasted meats, ice cream, and cocktails.
Ethnic/Cultural Info
In the early 21st century, Cinnamon basil seeds were taken into space as a part of a research experiment known as "Seeds in Space." "Seeds" stands for "Space Exposed Experiment Developed for Students," and the program was first developed in 1983 in partnership with the Park Seed Company. The first seed experiments in the 1980s consisted of around forty different varieties of fruits and vegetables that were exposed to elements in space by scientists on the space station. The seeds were later returned to Earth and mailed to students across the United States to perform a series of experiments growing the space-exposed seeds and comparing them to a seed control group. The program was so successful that NASA continued to partner with the Park Seed Company to provide students and teachers a unique educational experience. One million Cinnamon basil seeds were sent to space on July 4th, 2006, and were stored in Passive Experiment Containers, or PECs, that were attached to the outside of the International Space Station for a little over five hours. Later in 2007, ten million Cinnamon basil seeds were exposed to space conditions for over twenty days and sent back to students to cultivate in test growth chambers.
Geography/History
Cinnamon basil is a type of sweet basil. Sweet basil varieties are native to regions of Africa and Asia and have been growing wild for over 4,000 years. Sweet Basil was introduced to the Mediterranean in the Early Ages through trade routes and was used for religious, medicinal, and folkloric purposes in Egyptian, Greek, and Roman civilizations. Over time, many different varieties of sweet basil have been cultivated worldwide, and the herb was eventually spread to the United States and Mexico, where it is commonly grown for medicinal and culinary use. Today Cinnamon basil thrives in tropical to subtropical climates and is found in home gardens, farmer's markets, and through specialty distributors.
Recipe Ideas
Recipes that include Cinnamon Basil. One

is easiest, three is harder.