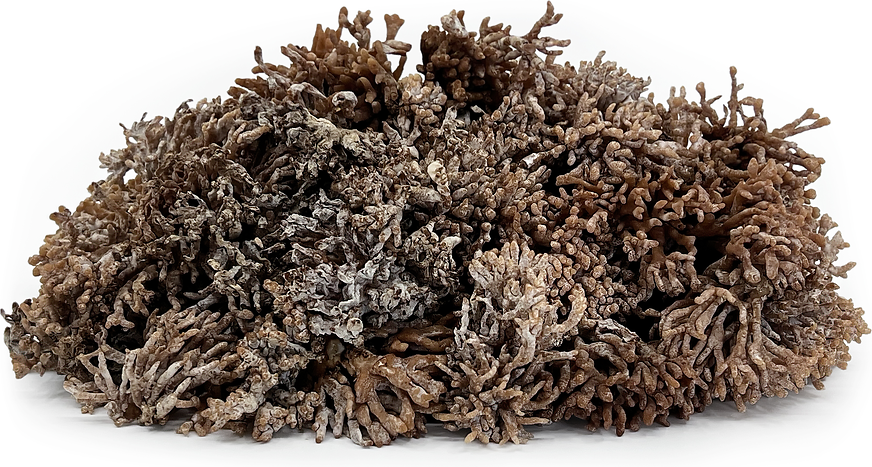 Dragon Claw Mushrooms
Inventory, lb : 0
Description/Taste

Dragon Claw mushrooms are variable in size and shape, depending on how they are harvested and separated for commercial sale. The mushrooms grow in tightly clustered clumps from a central base, and many hyphae or branching filaments arise from the base, growing upright in different directions. Consumers often comment that the mushrooms look similar to coral, and each branching filament has a unique shape, growing straight, bent, or slightly curved with blunt to pointed ends. Dragon Claw mushrooms can be found in variegated golden brown, dark brown, and tan hues mixed with grey and white accents. The mushrooms have a firm, tender, and elastic consistency with a crisp and crunchy mouthfeel. Dragon Claw mushrooms should be cooked before consumption, releasing a pleasant, earthy aroma. The mushrooms are said to have a mild, subtly sweet, earthy, and slightly astringent taste.


Seasons/Availability

Dragon Claw mushrooms are available year-round in cultivated facilities in China. In the wild, the mushrooms are generally harvested in the rainy season in Southern China throughout the summer and fall.


Current Facts

Dragon Claw mushrooms are a rare wild species native to China. The mushrooms have historically been foraged from wild populations in the Wuyi Mountains in the northern Fujian Province and used in traditional medicines and culinary preparations. Dragon Claw mushrooms are also labeled as Dragon Claw fungus or Coral fungus in some markets, and the mushrooms are appreciated for their springy, crunchy texture and unusual appearance. As the mushroom's popularity increased around its native growing region, mycologists spent several decades attempting to artificially cultivate the species, as the mushrooms are challenging to produce and are particular about their growing environment. Dragon Claw mushrooms were successfully cultivated in specific artificial growing sites in China in the late 20th and early 21st centuries, and a few companies are growing and commercially selling Dragon Claw mushrooms. The mushrooms are still relatively rare in markets but are starting to be sold as a specialty culinary item worldwide.


Nutritional Value

Dragon Claw mushrooms are used in natural medicines throughout China as an immunity booster. The mushrooms have not been examined in scientific studies, but in generational medicines passed down among people groups in southern China, the mushrooms are believed to help absorb impurities, reduce cholesterol, and moisten the lungs and digestive tract. Dragon Claw mushrooms are also consumed as a diuretic and anti-inflammatory and are used in various medicines with other ingredients to promote hair growth and heart health.


Applications

Dragon Claw mushrooms have an earthy, subtly sweet, and astringent taste suited for cooked preparations. The mushroom's base should be trimmed, and the entire fruiting body should be cleaned to remove dirt and debris before consumption. Once prepped, Dragon Claw mushrooms are typically blanched to remove astringency. After blanching, the mushrooms can be stir-fried with meat and vegetables as a savory main dish, fried as a crunchy side, or sauteed to create a tender, crispy texture. Dragon Claw mushrooms can also be simmered in soups, hot pots, and stews, or they can be used in any preparation where the chef desires a fungus with a firmer, springy texture. Dragon Claw mushrooms pair well with parsley, leeks, bell peppers, garlic, ginger, star anise, cinnamon, and meats such as pork, poultry, and beef. Whole Dragon Claw mushrooms should be stored unwashed in the refrigerator, where they will keep for 3 to 5 days. The species can also be frozen for 1 to 2 months.


Ethnic/Cultural Info

Dragon Claw mushrooms are named for their elongated, finger-like hyphae. Each mushroom cluster is comprised of branching filaments, and these filaments have a curved, straight, or bent nature, giving them an appearance resembling a claw. Dragons are mythological creatures revered in China, and according to Feng Shui, dragons symbolize power, prosperity, and protection. The oldest imagery of dragons can be traced to the Hongshan Era, 4700 to 2920 BCE, and the dragon was carved out of jade on a burial chest. Dragons are also part of a well-known folk tale about the formation of the four main rivers in China. Legend has it that four dragons asked the Jade Emperor to send rain to the world as drought was plaguing the land. The Jade Emperor never sent the rain, so the dragons scooped water from lakes and sprayed it over the world. The Jade Emperor was angered by their actions and placed four mountains on top of the dragons. The dragons turned themselves into rivers to flow around the mountains and became the Yellow, Yangtze, Zhejiang, and Heilongjiang Rivers. Beyond their Dragon moniker, the mushrooms are also known under other animal-centric names, including Mouse claw, Cat claw, Rat claw, and Chicken claw mushrooms.


Geography/History

Dragon Claw mushrooms are native to China and were first discovered growing wild in the Wuyi Mountains in the Nanping Prefecture of the northern Fujian Province. The Wuyi, also known as the Wuyishan Mountains, is a Unesco World Heritage Site and is famous for its biodiversity in its tropical to subtropical rainforests. Dragon Claw mushrooms thrive in these humid, warm, and rainy climates and are a type of wood rot fungi, naturally growing on decayed wood. In the late 20th and early 21st centuries, mycologists attempted to artificially cultivate Dragon Claw mushrooms for year-round production. It is unknown when the first successful artificial cultivation occurred, but two growers in Fujian, Mr. Zhu Desheng and Mr. Huang, notably domesticated the species in 2015. Mr. Desheng and Mr. Huang spent three years trialing the mushrooms in small-scale plantings, and now he produces over 80,000 cultivation bags for full-scale production, marketing the mushrooms as a delicacy from the Wuyi Mountains. The Xiangtai Edible Mushroom Cooperative in Youxi County of Fujian Province also began cultivating Dragon Claw mushrooms in 2019, and later, the Fujian Branch of the National Edible Fungi Variety Improvement Center became invested in production. Today Dragon Claw mushrooms are harvested from the wild and commercially grown in the Fujian province in Southern China. The species is also artificially produced in the Yunnan Province in China. Outside of China, Dragon Claw mushrooms are rare and are only found in small quantities. Mitrofresh and Fresh Mushroom Europe sell packaged Dragon Claw mushrooms in Europe, and the species occasionally appears at the Berkley Bowl in San Fransisco, California.