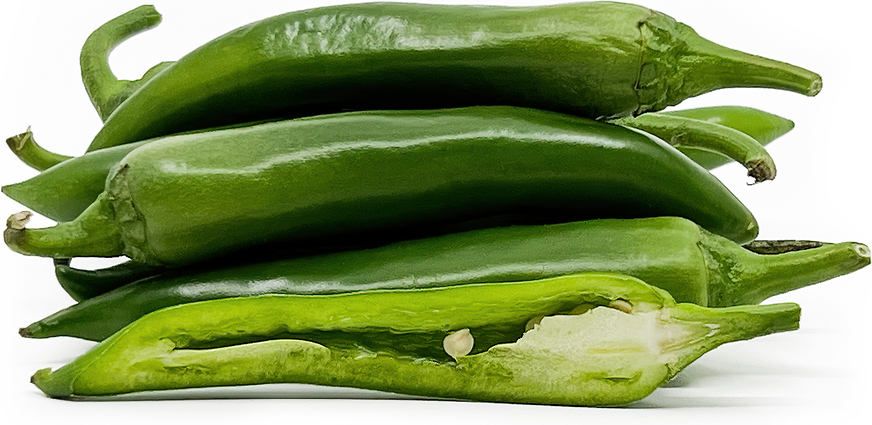 Dungan Chile Peppers
Inventory, lb : 0
Description/Taste

Dungan peppers are a small to medium-sized varietal, averaging 10 to 17 centimeters in length, and range in appearance from elongated, straight, tapered, and slightly curved to short and squished with a corrugated nature. The pods vary in size and shape, depending on their growing environment, and are typically pointed with semi-smooth, glossy, and taut, thin skin. Dungan peppers mature from green to red when ripe, and both stages of the peppers are used in culinary preparations. Underneath the skin, the pods bear thick striated walls surrounding a hollow center, giving the peppers a dense, succulent, and fleshy nature with a crisp, snap-like consistency. The center cavity contains a small cluster of round, flat ivory seeds connected to the pepper's stem. Dungan peppers release a fragrant, bright, and peppery aroma and are known for their stronger fragrance than other hot pepper varieties. The peppers have a moderate spice, ranging from 2,500 to 5,000 SHU on the Scoville scale, giving the variety a sweet, earthy, grassy, and non-bitter taste with a warm pungency.


Seasons/Availability

Dungan peppers are available in the summer through early fall, harvested from mid-July through mid-October.


Current Facts

Dungan peppers, botanically classified as Capsicum annuum, are a rare variety belonging to the Solanaceae or nightshade family. The mid-season cultivar is native to Asia, and the pods develop on upright, leafy plants reaching 60 centimeters in height. Dungan peppers mature in 105 to 115 days and are traditionally grown in home gardens throughout Central Asia. The variety is also sold on a small scale through fresh markets for culinary use. Dungan peppers are a type of medium to hot pepper favored for their spicy but not overly pungent taste, aromatic nature, and fleshy consistency. The variety is also valued for its low cost in markets, making it an affordable but complex pepper utilized in fresh and cooked preparations.


Nutritional Value

Dungan peppers are a source of vitamin C to strengthen the immune system while reducing inflammation, fiber to regulate the digestive tract, and vitamin A to maintain healthy organ functioning. The peppers also provide potassium to balance fluid levels within the body, magnesium to regulate muscle and nerve function, iron to develop the protein hemoglobin for oxygen transport through the bloodstream, and B vitamins to send nutrients through the body. In traditional medicines of Central Asia, peppers are dried, ground into a powder, and mixed with topical creams as a soothing chest rub to open the sinuses. The powder is also incorporated into tonics to reduce cold and flu symptoms.


Applications

Dungan peppers have a mild, sweet, vegetal, and subtly earthy taste suited for fresh and cooked preparations. The variety has a fleshy, crisp nature showcased when mixed into raw dishes and is popularly chopped and added to green salads. Dungan peppers can also be minced and added to sauces, dressing, oils, and marinades or chopped and mixed into relishes, dips, and chunky garnishes. In addition to fresh preparations, Dungan peppers are famously stuffed with minced meat, battered, and fried. The elongated peppers are also selected for appetizers, where the peppers are stuffed, wrapped in flaky dough, and baked. Dungan peppers can be simmered into soups, curries, and stews for added flavor and heat, cooked into meat main dishes, or mixed into the rice. In Uzbekistan, Dungan peppers are often incorporated into laghman, a recipe of noodles, vegetables, and meat in a flavorful broth. Beyond using the fresh peppers, Dungan peppers can be partially dried and ground into a paste for bread, soups, and as a topping over meat. The peppers can also be thoroughly dried and ground into a powder to add to spice blends, or they can be pickled for extended use as a tangy condiment or ingredient for sauces and salads. Dungan peppers pair well with herbs such as coriander, cilantro, parsley, bay leaves, and dill, aromatics including garlic, ginger, and onions, tomatoes, carrots, radishes, green beans, and meats such as beef, mutton, goat, and horse, a traditional meat of Central Asia. Whole, unwashed Dungan peppers should be immediately consumed for the best quality and flavor. The peppers will keep for 2 to 3 weeks when placed in a plastic bag and stored in the refrigerator's crisper drawer. Dungan peppers can also be frozen or dried for extended use.


Ethnic/Cultural Info

Dungan peppers are named after the Dungan people, an ethnic group native to China. The Dungans are a community of Muslims of Arab-Chinese descent, also known as the Hui people that once resided in the Xinjiang province of Western China. Throughout the 19th century, the Dungans attempted to rebel against the Qing Dynasty in China to establish themselves as an independent Muslim country, but after the Ihetuan uprising, they eventually fled China and settled in Central Asia, mainly in Kazakhstan, Uzbekistan, and Kyrgyzstan. The Dungans are an agricultural community and take pride in their diverse cuisine, emphasizing fresh vegetables. Typical Dungan dishes are a unique blend of Arab, Central Asian, Chinese, and Persian influences, and during special occasions, it is common for households to make over forty dishes and serve the meal on colorful cloths on the floor. Dungan peppers are a variety created by the Dungan people, and the peppers acquired their Dungan moniker after being sold in Central Asian markets by Dungan growers.


Geography/History

Dungan peppers are descendants of hot peppers native to China. Much of the variety's history is unknown, but the peppers were created by the Dungan, an ethnic group of Arab-Chinese descendants. The Dungan are known for being avid farmers, and when they left China in the late 19th century and settled in Central Asia, they carried seeds of vegetables they grew in China and planted them in their newly established home. Dungan peppers are an everyday staple crop among the Dungan. The peppers are also produced and sold through fresh markets in regions where the Dungan have settled. Today Dungan peppers are found in fresh markets and private gardens in Uzbekistan, Kazakhstan, and Kyrgyzstan. In Uzbekistan, Dungan peppers frequent the bazaars and fresh markets in Tashkent, the country's capital and most populus city in Central Asia.