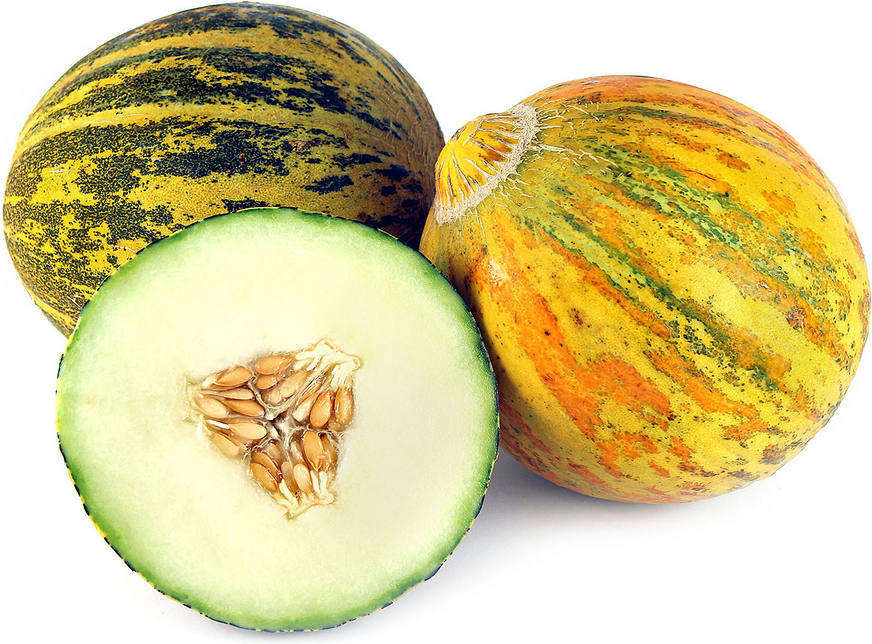 Obinovot Melons
Inventory, lb : 0
Description/Taste

Obinovot melons are a medium to large varietal, averaging 3 to 4 kilograms in weight, and have a round to oval appearance with a prominent, protruding bump on the stem end. The rind is semi-thick, textured, and firm, covered in raised sutures extending from blossom to stem end. The rind also showcases a vibrant blend of variegated orange, yellow, green, and brown hues, sometimes covered in tan scars and cracks towards one end. Underneath the surface, the pale green to ivory, yellow-blushed flesh is thick, dense, and aqueous with a soft, tender, and succulent consistency when ripe. The flesh also encases a central cavity filled with light brown, oval seeds suspended in a mixture of stringy fibers and gelatinous liquid. Obinovot melons release a fragrant, heady, and honeyed aroma when ripe and are a softer variety compared to other muskmelons, bearing a melt-in-your-mouth texture. The flesh has a high sugar content, creating a mild, floral, sweet, and sugary taste.


Seasons/Availability

Obinovot melons are available in the late summer through the fall.


Current Facts

Obinovot melons, botanically classified as Cucumis melo, are a Central Asian variety belonging to the Cucurbitaceae family. The melons are native to Uzbekistan and are a prized cultivar for their floral-sweet flavor, soft flesh, and juicy nature. The name Obinovot roughly translates to mean the "father of sugar," and this descriptor is given for the melon's sweet, honeyed taste. Obinovot melons are a type of muskmelon harvested around 70 to 80 days after sowing and are a delicate variety, only lasting a few days after harvest. Due to this perishable nature, Obinovot melons are not grown commercially and are a seasonal delicacy. In local markets, Obinovot melons can sometimes be labeled as Obi Novot, Obi Novvot, and Obi Navvat melons. Obinovot melons are rare and are sold at premium prices, sought after by melon enthusiasts for their rich flavor typically consumed in fresh preparations.


Nutritional Value

Obinovot melons are a source of vitamin C to strengthen the immune system and reduce inflammation, vitamin A to maintain healthy organ functioning, and potassium to balance fluid levels within the body. The melons also provide fiber to regulate the digestive tract, iron to develop the protein hemoglobin for oxygen transport through the bloodstream, and other nutrients, including copper, zinc, magnesium, phosphorus, manganese, and B vitamins.


Applications

Obinovot melons have a sweet and floral flavor suited for fresh preparations. It is important to note that the variety's flesh is very soft and tender, leading it to be highly perishable. The melons should be immediately consumed after purchase and are typically eaten straight out of hand to savor the variety's unique texture and flavor. Obinovot melons can also be served on charcuterie boards, gently added to green salads or fruit bowls, or cut and used as a topping over yogurt, granola, and pancakes. In addition to slicing, Obinovot melons can be blended into smoothies and fruit drinks, combined into chilled soups, or pureed and frozen into popsicles, sorbet, and other treats. In Uzbekistan, Obinovot melons are shared as an afternoon snack or after-dinner digestive aid, often served with tea. The seasonal melons are a novel variety, and the rind is used as a serving vessel to showcase its unusual, striped variegated hue. Obinovot melons can be halved and hollowed, removing the flesh, and filled with grains, salads, soups, gelatins, or puddings. The flesh can also be dried for extended use, cut into thin strips, and stored as a chewy snack. Obinovot melons pair well with herbs such as mint, basil, tarragon, and cilantro, ginger, lime, fruits such as berries, avocado, grapes, and watermelon, vanilla, and chocolate. Whole, unopened Obinovot melons are highly perishable and will only keep for 1 to 3 days in the refrigerator after harvest. Sliced portions of the melons should be wrapped in plastic or kept in a sealed container in the fridge, consumed within 1 to 3 days of opening for the best quality and flavor.


Ethnic/Cultural Info

Obinovot melons are grown in Samarkand, a city in southeastern Uzbekistan. Samarkand is believed to be one of the oldest inhabited cities in Central Asia and is an important trade stop along the Silk Road, connecting East Asia, Central Asia, and the Middle East. The city was also named a UNESCO World Heritage Site in 2001, honoring the city's rich culture, traditions, and history. Over 160 varieties of melons are grown in Uzbekistan, and Obinovot melons are prized as a soft and sweet cultivar sold in local markets throughout Samarkand. The variety has a melt-in-your-mouth texture with high water content, creating a succulent, juicy nature. This consistency combined with a honeyed flavor is believed to encourage the release of endorphins to combat bad moods, depression, and melancholy. Melons are also considered to have other beneficial nutrients. In Central Asia, residents have a saying that "Melon makes cheeks ruddy, teeth stronger, hair silkier, and eyes younger." Obinovot melons are one of the most popular varieties in Uzbekistan and have remained a local cultivar, as the melon is highly perishable due to its soft flesh. They are primarily sold nearby their production fields and are a seasonal summertime delicacy.


Geography/History

Obinovot melons are native to Uzbekistan and thrive in hot, sunny climates. Much of the history of the variety is unknown, but the melons have remained localized to their growing regions as their delicate nature has prevented the expansion of the cultivar commercially. Obinovot melons are produced in regions including Samarkand, Bukhara, Fargana Valley, and Surkhandarya in Uzbekistan. Outside the country, Obinovot melons are grown on a small scale in Russia and California. The variety is cultivated near the high desert town of Onyx by Ruben Mkrtchyan, an Armenian farmer specializing in Central Asian and Persian melons. Mkrtchyan has been growing melons on his remote property since the late 20th and early 21st centuries and offers his melons through select farmers markets in Central and Southern California.