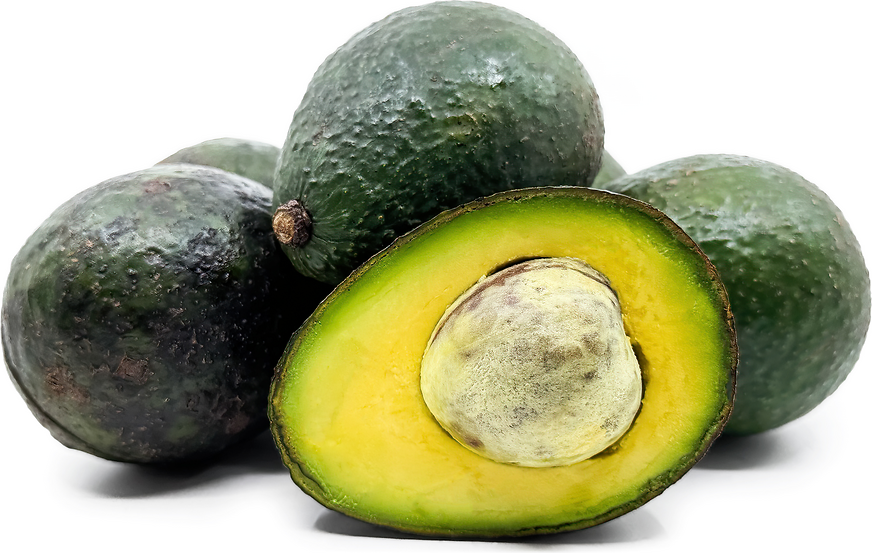 Sharwil Avocados
Inventory, lb : 0
Description/Taste
Sharwil avocados are medium-sized, narrow pear-shaped fruits, weighing between 8 and 20oz. They are characterized by their rough green skin, which stays green and does not turn black as it ripens. Their smooth, creamy flesh houses one of the smallest seeds of any avocado, which means there's an ample amount of buttery flesh inside each fruit. It also has a high oil content that gives it a deliciously rich, nutty flavor. Sharwil avocado trees are smaller than other cultivars, but they are consistent bearers, offering a long and heavy yielding season. Avocado fruit matures but does not ripen on the tree, so farmers can essentially store the fruit on the tree and control the yield of their harvest. As the Sharwil avocados mature, natural oils and fats accrue, hence avocados harvested toward the beginning of the season will be firmer, with a texture comparable to cool butter, and harvests further into the season will yield creamier and creamier fruit.
Seasons/Availability
Sharwil avocados are available in late fall through winter.
Current Facts
Avocados are scientifically known as Persea americana Mill., and are botanically classified as a berry. The avocado belongs to the Lauraceae, or laurel, family, and is the only tree in the family that produces edible fruit. The three main types of avocados are Mexican, West Indian, and Guatemalan, and included in these major categories are hundreds of varieties with different shapes, colors, and skin textures. The Sharwil avocado is a cross between Mexican and Guatemalan types, and is considered by some to be the world's best avocado, often marketed as a gourmet avocado because of its rich flavor. Avocado varieties are further identified as being either Type A or Type B, with Sharwil avocados being Type B. It is a common misconception that these indicate male and female plant types that must be planted together for successful pollination, when they actually refer to the life cycle of individual avocado flowers. All avocado flowers are in fact both male and female at various points in their daily flowering, allowing for avocado trees grown in mild climates to be productive without another tree acting as a pollinator. However, it is believed that the inter-planting of complementary flower types can boost the fruit yield by making pollen available.
Nutritional Value
The avocado is second only to olives among fruits in oil content, however the oil in avocados is packed with monounsaturated fatty acids and is actually relatively healthy, with the ability to reduce blood cholesterol. Some monounsaturated fat found in avocados, such as oleic acid, is even thought to prevent breast cancer and prostate cancer. The avocado provide nearly twenty essential nutrients, and contains more protein, potassium, magnesium, folic acid, thiamin, riboflavin, niacin, biotin, pantothenic acid, vitamin E, and vitamin K per ounce than any other fruit. They also act as a "nutrient booster" by enabling the body to absorb more fat-soluble nutrients, such as alpha and beta-carotene and lutein, in foods that are eaten alongside the avocado.
Applications
Sharwil avocados are typically enjoyed raw, as avocados do not do well with prolonged cooking. Use Sharwil avocados for fruit salads, sandwich spreads, or their most popular form, guacamole. The high fat content of avocados combines well with acidic fruit and vegetables, such as citrus, tomatoes, and pineapple, as well as with acidic dressings, and the flesh can be used as a substitute for butter, served on toast. Avocados can even be used to make milkshakes and smoothies, ice cream, and other desserts. Avocado oil can be extracted and used for cooking or preparing sauces and marinades, and can even be used for skin care products, such as moisturizers. Once picked, avocados ripen in a few days at room temperature and will keep for two to three days. To accelerate ripening, store avocados in a paper bag with a banana, as the ethylene gas released from the banana will hasten the process. To halt the ripening of avocados, deprive them of oxygen, such as by storing them in a tightly sealed plastic bag. Only fully ripe avocados should be refrigerated.
Ethnic/Cultural Info
Sharwil avocados are the only Hawaiian avocado authorized for shipment to the mainland of the United States. In 1992, the USDA banned shipment of the Sharwil avocados after an oriental fruit fly larva was found in a Hawaiian packinghouse that processed Sharwil avocados and other local produce. The Sharwil avocado was never actually identified as the host of the insect, and scientists have since determined that with certain shipping protocols in place, avocados are indeed poor hosts to fruit flies. In October 2013, the USDA's Animal and Plant Health Inspection Service approved its regulation to ship only Sharwil avocados from Hawaii to 32 mainland states, all in Northern regions that are inhospitable to fruit flies, as well as D.C. from November to March.
Geography/History
Sharwil avocados are believed to originally be from Australia, and have since been well accepted by home gardeners and commercial growers in Hawaii, particularly in Kona on the Big Island, where they are often inter-planted with coffee and macadamia nuts. Sharwil avocados are ideally suited to the rich, volcanic soil and the Hawaiian climate's blend of tropical rain and heat. In fact, Sharwil avocados constitute more than half of Hawaii's commercial avocado production.
Recipe Ideas
Recipes that include Sharwil Avocados. One

is easiest, three is harder.
Podcast